Close your eyes with me for a second.
Now imagine a stunning paradise, filled with breathtaking magnificence and splendor. Can you see it? Can you feel it? It's right there isn't it?
Now open your eyes.
Chances are, the place you just dreamt about looked strikingly similar to the picturesque island we're about to visit…
As the 1 year wedding anniversary for wifey and I approached, I thought it'd be a fun little surprise to whisk her away to somewhere unique and different for the weekend. A place that neither her or I have ever been before. After putting up with me for 365 days after all, she pretty much earned it right? 😛
So for a short weekend, we decided to close our eyes and get swept away to the island now known as the "Private Isle", formerly the "Pineapple Isle" ("Pineapple Isle" because it used to be a place where a quarter of the world's pineapples were produced and "Private Isle" because 98% of it is privately owned by David Murdock via Castle & Cooke). Here are some tips on how to best enjoy your "Lanaian" adventure. Hope it helps!
You've pretty much got two choices in terms of booking a flight to Lana`i: Island Air (who also provides flights to Hawaiian Air) and go! Airlines. Mokulele Airlines (who has recently partnered with go!) also has flights via their charter service, but booking a flight directly via their web site, at the time of this writing, was not working.
According to their route map, for flights to Lana`i, go! flies out of both Honolulu and Kahului via their go! Express service, while Island Air (and Hawaiian Air) only has flights out of Honolulu. On this occasion, booking through Island Air directly gave me the cheapest fares.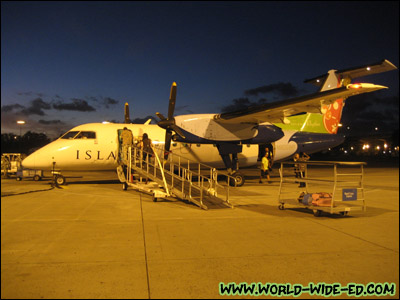 Boarding our Lana`i bound plane at sunset via Island Air
Ed's Tip: If you're weary of planes, it may be a rough take-off for you. Since it is a smaller, propeller powered flight, you will hear and feel everything during lift off. Once airborne though, everything is smoove.
Upon landing in Lana`i City, you will deplane, walk into the terminal and turn right towards the shuttle service check-in counter.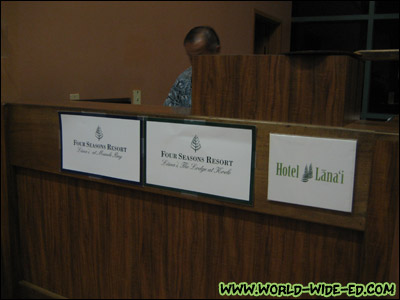 Shuttle service check-in counter
As long as you've made your reservation through one of the resorts (or Hotel Lana`i), the shuttles will be ready for your arrival. At about $20 per person for unlimited rides, it is totally worth the investment. Trust!
Ed's Tip: Unless you are planning on going gallivanting around the entire island (which is mostly via off-road jeeping), there really is no need to rent a car. The shuttle stops at the three major destinations of the island: the Lodge at Koele at the top of every hour, in Lana`i City (Hotel Lana`i) at the :15 minute mark (Manele bound) and :45 minute mark (Koele bound) of every hour, and at Manele Bay at the :30 minute mark of every hour.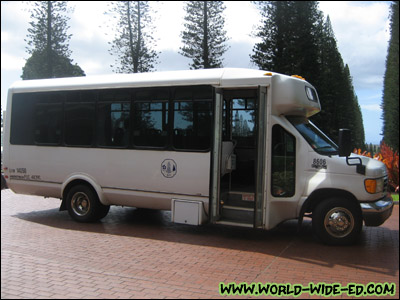 Lana`i shuttle arriving at the Lodge at Koele
Arriving at the hotel, you are immediately pampered and made to feel like royalty. You are greeted with a kukui nut lei, and, instead of standing and waiting in a long line to check in, you are asked to take a seat, while offered a hot towel to freshen up. Did I mention that they bring you a sweet pineapple beverage to quench your thirst too? Geez, a fella can get used to this!
We chose to stay at the Four Seasons Resort, Lana`i, The Lodge at Koele, a great alternative to the other two Lana`i options: Four Seasons Resort Lana`i at Manele Bay, and Hotel Lana`i.
I can't really speak on Hotel Lana`i because I've never stayed there, but I would highly recommend staying at the Lodge at Koele. And though absolutely beautiful, the Manele Bay resort is the most expensive of the three and is almost like any other beach resort you've been to, especially if you're from Hawaii. Hotel Lana`i is the cheapest and most central (right in the heart of Lana`i City), but you will not get the luxury of the Four Seasons.
The Lodge at Koele was a dream. You are in Hawaii, but it is almost like you are not in Hawaii. Like you've been swept away to a high-class countryside villa in the middle of the forest, complete with tall pines, its own pond, and elegant art strewn all about. And because of all of the greenery (and because of the higher elevation), it is much cooler – cold even – than its Manele counterpart (which sits right on the ocean front).
Four Seasons Resort Lana`i, The Lodge At Koele
One Keomoku Hwy
Lana`i City, HI 96763 (map)
(808) 565-4000
Twitter: @FSLanai
Ed's Tips: As expected at such a luxurious resort, rates are not cheap. Be sure to ask for the kama`aina rate (if you're local) and/or special golf packages (if you're a golfer). If you're on Twitter, be sure to drop them a line. They are very active on there and seem to appreciate anything and everything Lana`i. Tell 'em @worldwideed sent ya and… ya never know! 🙂 They're doing Twitter right fo sho.
One of the recommendations given to us was to try the food at Lana`i City Grille at Hotel Lana`i, so shortly after checking in and freshening up, we caught the shuttle (at the top of the hour) over to Hotel Lana`i for dinner.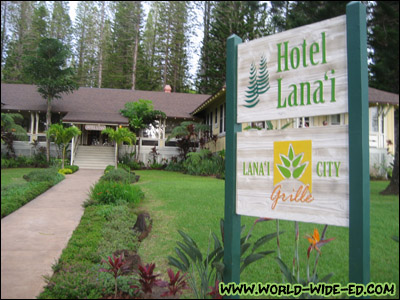 Lana`i City Grille sign at Hotel Lana`i
Wifey and I shared the Crab Cakes and Soup of the Day (a spicy lobster bisque) to start.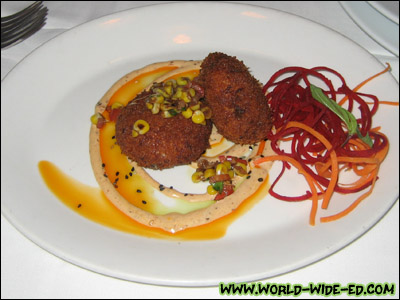 Crab Cakes – Tomato Corn Salsa and Tobiko Remoulade – $14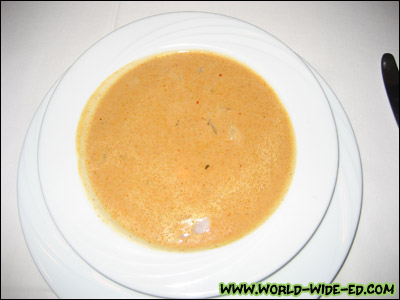 Soup of the Day – Spicy lobster bisque – $9
Then, she moved on to the Pecan Crusted Catch of the Day (Mahi) while I took on the Grilled Filet of Angus Beef.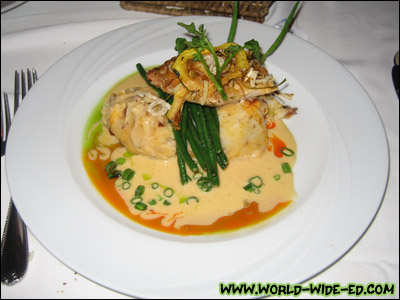 Pecan Crusted Mahi – Chipotle Honey Butter, Chorizo Potato Puree and Seasonal Vegetables – $34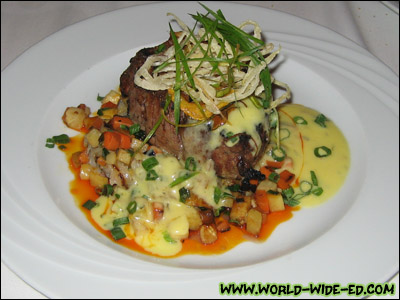 Grilled Filet of Angus Beef – Aged Cheddar Potato Cake, Roasted Root Vegetables and a Classic Bearnaise – $39
Ed's Tips: Make a reservation as it fills up fast here. Especially on Friday nights when local band Alapa Drive jams for the locals and tourists alike. Also, portions are pretty big here. Bring your appetite!
Lana`i City Grille
828 Lanai Avenue
Lana`i City, Lana`i, HI 96763 (map)
(808) 565-7211
Wed-Sun: 5pm-9pm
One thing we noticed early on about Lana`i is the people. They're extremely friendly and filled with Aloha. And I'm not talking about those in the industry, catering to us tourists. They're almost required to be nice to us. I'm talking about the local locals. Walking around, we were regularly greeted with smiles, several "Howzits!" and an occasional "Aloha!" I was really impressed and happy to see that the Aloha Spirit is alive and well here!
There doesn't seem to be a lot of crime here either. Enjoying our meal, we missed the shuttle headed to Koele. No problem, we'll just walk it back. Other than a crazy cat that leaped out of the woodworks, we felt completely safe in the darkness (street lights are few and far between). Safety? The result of a laid back lifestyle I guess.
Ed's Tip: The walk between Lana`i City and the Lodge at Koele follows a single road (Lana`i Ave) for about a mile and takes approximately 20-25 minutes. Not too bad. If you don't want to wait for the shuttle to come back around. It's also a good way to walk off your meal if you find yourself overeating. 8)
The next morning, we hit up the town square that surrounds Dole Park, also referred to as "the city". It's a cute, quaint little town that is actually listed on the National Trust's list of most "endangered historic places".
One place that we were regularly told we HAD to check out was a place called Blue Ginger Cafe, right in the heart of Lana`i City.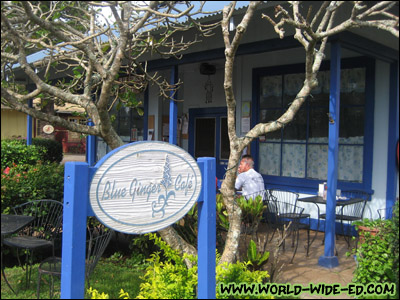 Blue Ginger Cafe, Lana`i
Not only did they seem to have the longest hours of any merchant in the square (6AM-8PM on most days), they also had a full fledged bakery selection and a flat screen HDTV to boot. Let's just hope that they have Oceanic Time Warner Cable service for this free plug. 😉
Their menu ranged from breakfast items (including Omelettes, Pancakes, French Toast, etc.), plate lunch kine stuffs (Hamburger Steak, Loco Moco, Chicken Katsu, etc.), burgers, sandwiches, saimin, fried rice, "healthy choices", their bakery options, and more!
Since it was breakfast time, I had to go with my all-time favorite breakfast meal: Corned Beef Hash and Eggs! Awwww yeaaaahhh!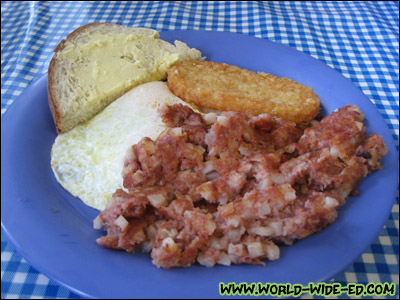 Regular Breakfast – 2 Eggs, Choice of Meat (Portuguese Sausage, Patty Sausage, Corned Beef Hash, Spam, Bacon, Ham), served with Rice, Fried Rice, Hash Brown or Toast – $7.50
Wifey enjoyed their blueberry turnover with a coffee. Perhaps she enjoyed it a little too much because she ordered 2 more to go! 😛 Nah, they were actually super onos!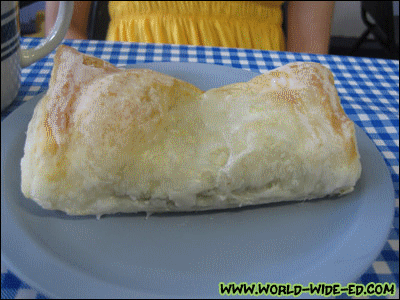 Blueberry Turnover – $2
Blue Ginger Cafe provided a great escape from the touristy resort life, and brought us back to grass root, mom and pop-type living/eating. Highly recommended!
Blue Ginger Cafe
409 7th Street
Lana`i City, Lana`i, HI 96763 (map)
(808) 565-6363
Mon, Thu, Fri: 6am-8pm
Tue, Wed: 6am-2pm
Sat, Sun: 6:30am-8pm
Following breakfast, we made a quick stop back at our room to freshen up before heading to Lana`i's other Four Seasons property: Lana`i at Manele Bay.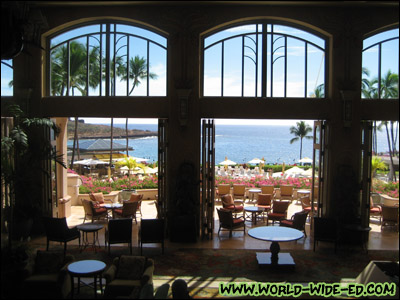 Looking out into Hulopo`e Bay from the Manele Bay resort lobby area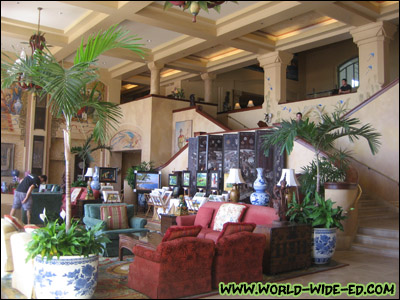 Looking into the Manele Bay resort lobby area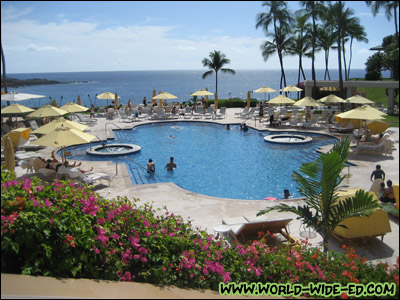 The pool area at the Manele Bay resort
As you can see in the photos, The Lana`i at Manele Bay resort is a very ritzy, beach-type resort. The kind you see in magazines and those "Win a Trip to Hawaii" contest fliers. 🙂 If this is more your style, then I would say go getum and book away!
Four Seasons Resort Lana`i at Manele Bay
One Manele Bay Road
Lana`i City, HI 96763 (map)
(808) 565-2000
Twitter: @FSLanai
As for us, we were just passing on through, on the way to the beach that sits behind the resort: Hulopo`e Bay.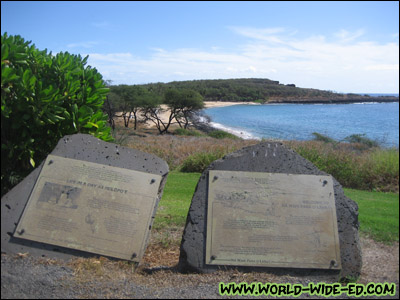 Overlooking Hulopo`e Bay
At the bottom of the trail, you'll meet up with one of the friendly employees who will hook you up with towels, an umbrella and beach chairs (and covers) to help you lounge and relax on the amazing oceanfront. And, oh yes, more refreshments!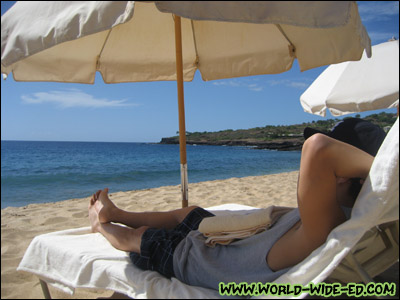 The life
Ed's Tip: Both resorts' systems are connected, so I am told that as long as you are staying at one, you can charge things at the other no problem. That means that you don't have to worry about carrying around your wallet/money. Just charge um to the room!
The beach is absolutely gahgeous. Everything you'd wish for in a dream beach: white sand, clear, blue water, and barren! Aside from the dozen or so other beach-goers at the time, we pretty much had the whole beach to ourselves.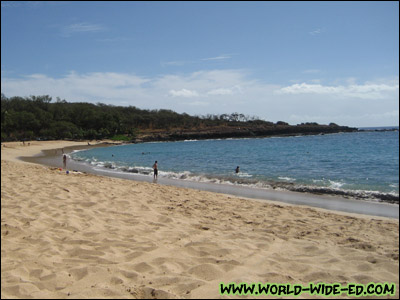 Hulopo`e Bay, Lana`i
Ed's Tips: Keep to the left side of the bay (if you're facing the ocean), as there are rocks and reef on the right side. Pack your goggles. The water is so clear that you'll be able to see all the way to the bottom of the ocean. You might even catch tiny fish swimming around your legs like us.
Once you've had your fill of Hulopo`e Bay Beach, head southeast along the beach (left if you're facing the ocean) until you get to a little trail that leads to one of two of the trail's highlights: The Hulopo`e Bay Tide Pools.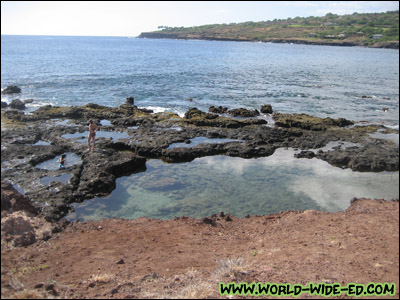 Hulopo`e Bay Tide Pools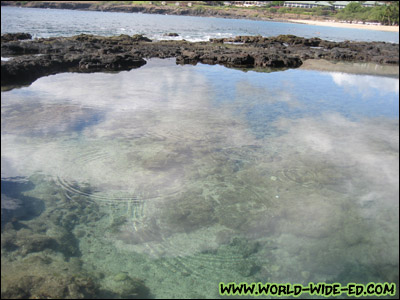 Hulopo`e Bay Tide Pools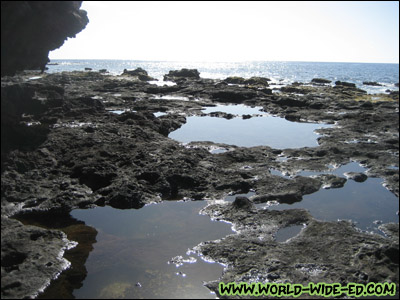 Hulopo`e Bay Tide Pools
While on the beach, I shoved my T-shirt in wifey's bag in a feeble attempt to get a tan. During the hike, I decided to put my shirt back on so I reached in wifey's bag to pull it out. To our surprise, a friendly little scorpion decided that he wanted to come along on the hike with us. Yeah a scorpion! WTH!? OK, so it probably wasn't very friendly, but it was little. In my haste, I shook off my shirt and sent the scorpion flying into one of the tide pools. Sorry little guy!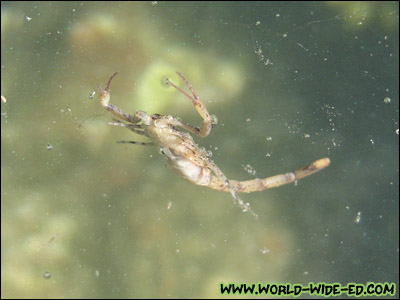 My buddy, the little scorpion, floating around in one of the Hulopo`e Bay's Tide Pools
Ed's Tip: Not sure how common these are in the area, but beware of the possibility of mini scorpions. Shake off your bags and clothing just in case.
Continuing along the trail, we got to the other highlight. The crown jewel of the area. None other than Pu`u Pehe (Sweetheart Rock).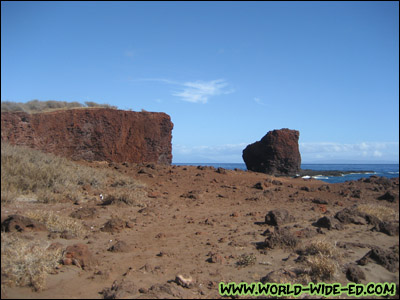 Pu`u Pehe Rock
My first thought when experiencing this remarkable work of Mother Nature was "Wow!" with the first word seeping outta my mouth being "Ho!" And it's even more amazing as you get closer.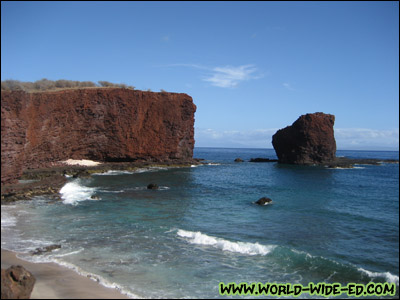 Pu`u Pehe from the cliff's edge
The rock even has an amazing story to go along with it: It is believed that Pu`u Pehe was named after a beautiful young princess from Maui by the same name. She moved to Lana`i after falling in love with a young warrior from the island. Afraid to let others see her beautiful princess, the warrior hid her in a sea cave near the rock. One day, while away gathering supplies, terrible weather hit the area. Before he could return in time, the strong, storm waves had already drowned his princess in the cave. Distraught, he asked for help from the gods, who helped him climb up to the top of the steep rock where he eventually buried his beloved princess before jumping to his death.
Talk about romantic yeah?
Either way, it's truly a majestic sight and is a definite must-see while on Lana`i.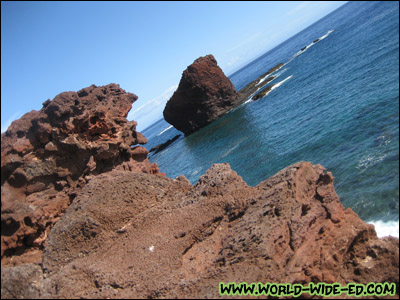 Pu`u Pehe (Sweetheart Rock)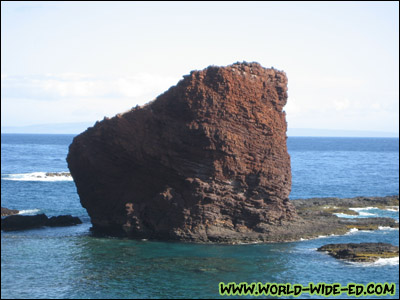 Pu`u Pehe (Sweetheart Rock)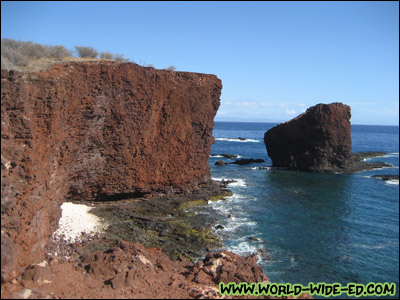 Pu`u Pehe (Sweetheart Rock)
Oops, the bottom of the hour is coming up. We better hurry back to the shuttle stop before it takes off without us!
A quick shuttle ride back to our hotel and a power nap later, and *poof* it was time for din-din. We weren't all that hungry so we opted to stay in and try the resort's Terrace Restaurant on for size. Located right across the lobby, next to the Great Hall (that included live lounge music by a local pianist), it was a relaxing meal after a long day.
Wifey enjoyed the House Made Lobster Ravioli, while I opted for the "Design Your Entree" option with my Tiger Prawns and Hamakua Mushrooms combo.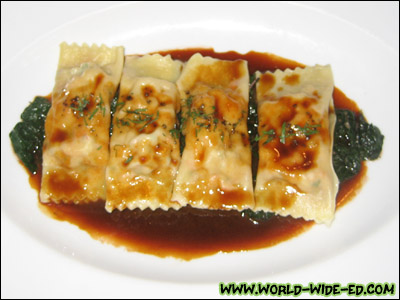 House Made Lobster Ravioli – Cabernet Butter Sauce Over Wilted Swiss Chard – $30.

"Design Your Entrée": Grilled Tiger Prawns with Mango Relish and Sauteed Hamakua Mushrooms (Garlic Butter) – $33
And then it was on to dessert with the waitress-recommended Baked Chocolate Tart.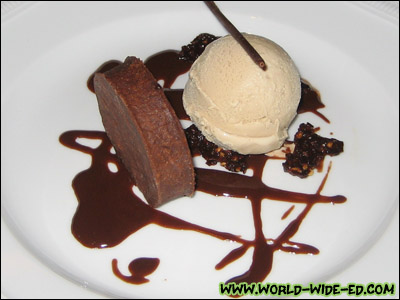 Baked Chocolate Tart – Kona Coffee Ice Cream – $9
Terrace Restaurant
Four Seasons Resort, Lanai, The Lodge at Koele
One Keomoku Hwy
Lana`i City, HI 96763 (map)
(808) 565-4000
With our bellies satisfied, it was time to head back to our room to hit the hay in preparation for our last full day on this beautiful island. Aww, too soon! 🙁
Ed's Tip: If you're a movie buff, your room comes equipped with a DVD player. You can rent from a limited selection of DVDs from the front desk for free.
The next morning marked the actual anniversary date for wifey and I and was cause for celebration. We decided to step out onto our patio area with the blueberry turnovers from Blue Ginger Cafe, hot coffee and tea from downstairs, and a little bubbly in the form of a Piper-Hiedsieck bottle of Brut Champagne, compliments of the wonderful staff at the Four Seasons Resort's Lodge at Koele. Much love guys!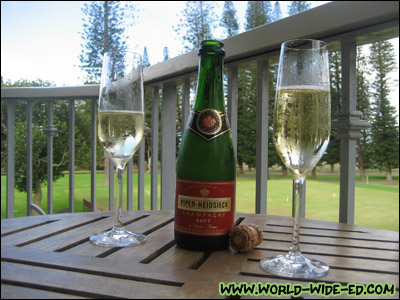 Piper-Hiedsieck Brut Champagne, compliments of the Four Seasons Resort's Lodge at Koele.
Ed's Tip: Coffee and Tea are served in the lobby area from 5:30AM-8AM every morning. We were also told that pastries would be there too, but perhaps you need to go early for those?
After sharing our memories of the last year together, it was time to make the best of our last day on the island. We started by exploring the vast grounds of our own resort, the Lodge at Koele.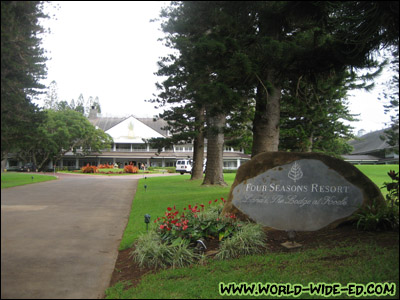 Sign for the Four Seasons Resort Lana`i, The Lodge at Koele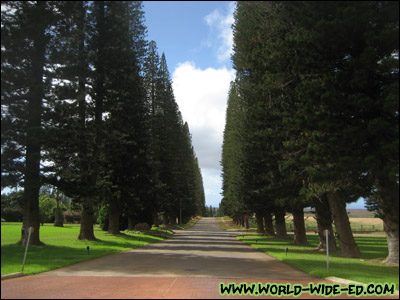 Looking out towards Keomoku Highway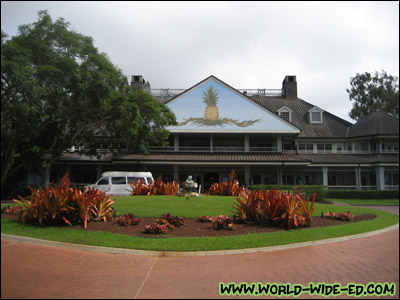 Looking towards the Lodge at Koele's main building
Enter the main building and you'll be amazed by the Great Hall. Here's a panoramic view.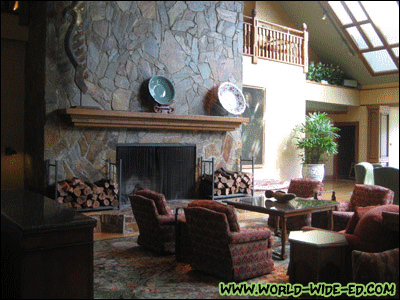 Panoramic of the Great Hall
Exit through the back of the main building and you'll run into a curious statue, one of the many art pieces around the property.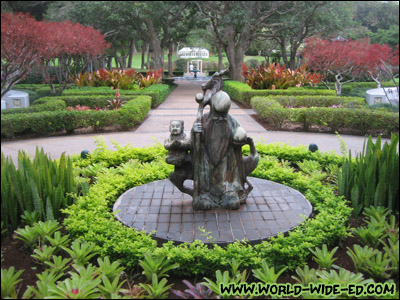 Statue at the Lodge at Koele
Walking forward for a bit, we hit the Pineapple Fountain, a popular spot for weddings.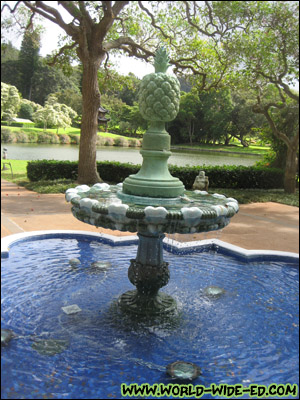 Pineapple Fountain
To the left is the property's pool and hot tub area and to the right is the Reflecting Pond. Filled with Koi, this is one of the property's main focal points.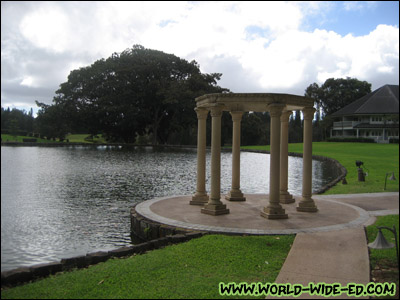 The Reflecting Pond
Probably a good a time as any to play tourist. We obliged.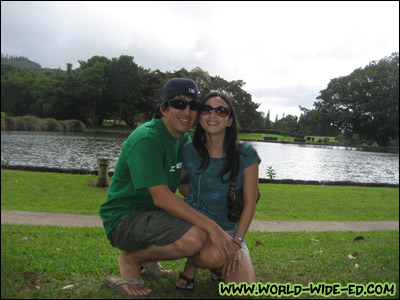 Using the Reflecting Pond as our backdrop
Close by, there is a greenhouse called the Orchid House and Gardens. Here's a description from the web: The greenhouse at Four Seasons Resort Lana'i, The Lodge at Koele is filled with the sweet scents and vibrant colours of orchids, hanging ferns, potted palms and tropical flowers. On the walk up to the greenhouse you will enjoy a breathtaking view of the mountains and the lake. Admission is free.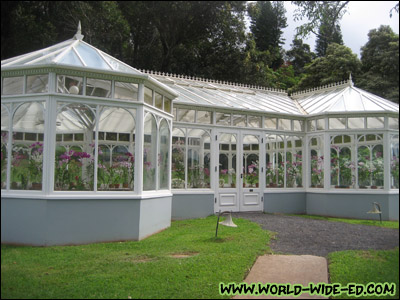 Orchid House and Gardens
To the right, is a cool, temple-like structure with an Asian influence. Check it!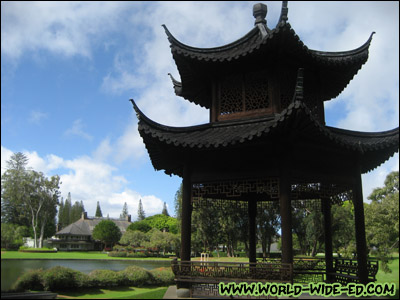 Asian influenced, temple-like structure
Depending on the season (I'm guessing), you may notice turkeys scurrying around the resort grounds. They're not very friendly, but cute nonetheless. 😛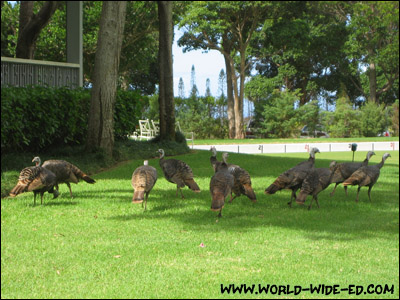 Turkeys on the Lodge at Koele grounds
Continuing right, you'll find one of the coolest, golf-related things I've ever seen: a full, 18-hole miniature golf putting course, complete with water hazards, sand traps and all! Just ask the front desk to rent a putter and ball. It's free.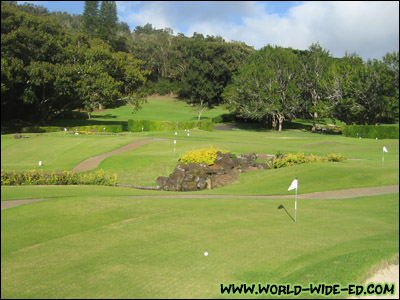 18 hole miniature golf putting course
Ed's Tip: Unless you've got mad, Tiger Woods type skillz like me 😛 , you may want to either putt and run, or have your friend/mate/partner go up ahead and "protect" your ball. Some greens are really fast, with impossible turns, that your ball will inevitably be drawn to go for a swim in the shimmering water. 😉
Our last day in Lanai was coming to a close, but we were starving. One last stop at Lanai City to grab lunch should do the trick. We hit up Blue Ginger Cafe's neighbor Canoes Lana`i (formerly Tanigawa Restaurant, est. 1953).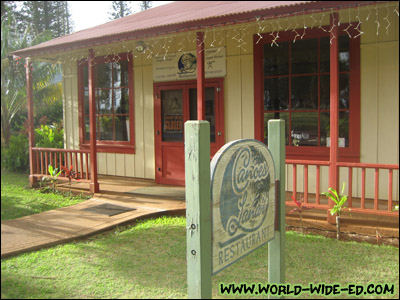 Canoe's Lanai Restaurant
The sign out front said, "Home of the Famous Tanigawa Burger" so you betchyo bottom that's what I hadta have. (And yes… for you eagle eyes out there who noticed the "Closed" sign above: this photo was taken the day before. Sheez, let a brutha slide once in a while won'tcha? 😛 )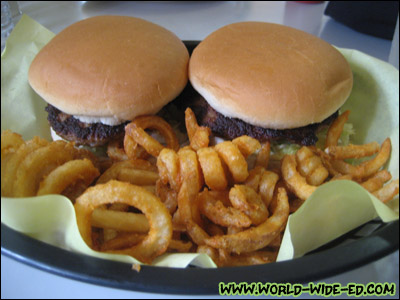 Tanigawa Burger – Mrs. Tanigawa's original recipe. A Lana`i tradition since 1953 – $2.30 each with an order of curly fries – $2.09
Ed's Tip: The Tanigawa Burger runs on the small side, so I would advise you to order two if you're hungry. At least that's what the waitress told me all the local boys do.
Wifey was craving fried rice at Blue Ginger the other morning, but they were all out. The urge must've still been ever-present cause she fried riced it up here for lunch.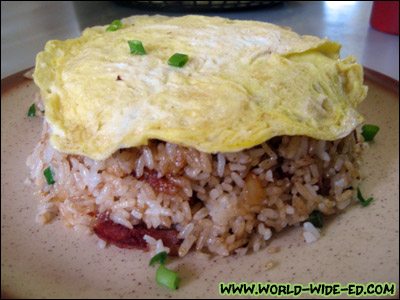 Fried Rice and Egg – $5.69
Canoes Lana`i Restaurant
419 7th Street
Lanai City, Lanai, HI 96763 (map)
(808) 565-6537
Open daily: 6:30am-1PM
Before we knew it, it was time to wake up from this dream and head to the airport for our flight back home to reality.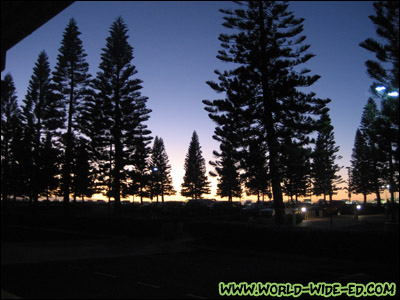 View from Lana`i Airport at dusk
But then again, our eyes were open the whole time…