If you've driven anywhere near the vicinity of Piikoi Street recently, you've probably noticed a rather peculiar looking building fronting Hopaka Street. Covered with large kanji characters, big blue waves, and bright red fish, it's hard to miss. And if you're anything like me, your mouth probably started to salivate (along with your imagination) at the sight of such flamboyancy.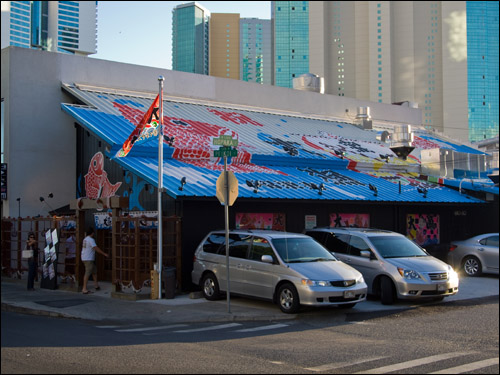 Izakaya Tairyo Exterior [Photo Credit: Dale Yasunaga]
In Japan, the more nigiyaka (busy/cheerful/bright) the izakaya, the better (… at least in my experience), so seeing such a building come up in the heart of Honolulu, to be quite honest, excited me. So off my friend and I went to check it out shortly after they opened.
Literally translated, tairyo means great/large catch. When fishermen have a good day, they usually say they had a "tairyo". As we explored in a past article, izakaya is a specific style of Japanese dining, usually consisting of small dishes of various items. So the Izakaya Tairyo name makes a lot of sense. Nigiyaka exterior – check, fitting name – check… So far so good! Let's check out the interior.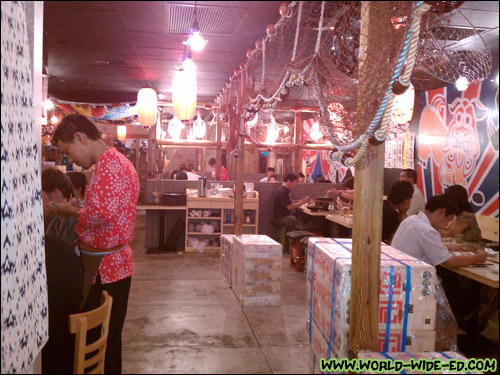 Izakaya Tairyo Interior
Wow, if you thought the exterior was flashy, check out this interior. Bright lights, fishing nets, and the familiar oshinagaki (menu items) adorned the roof and walls.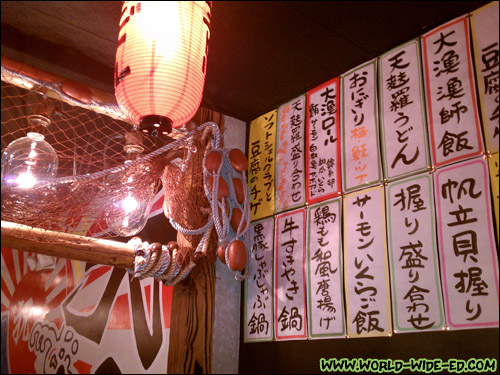 Bright lights, fishing nets, and oshinagaki to the right, inside Izakaya Tairyo
Adding to the ambience, some patrons get to sit on old school, Japanese style seating made of upside-down beer crates. Wins!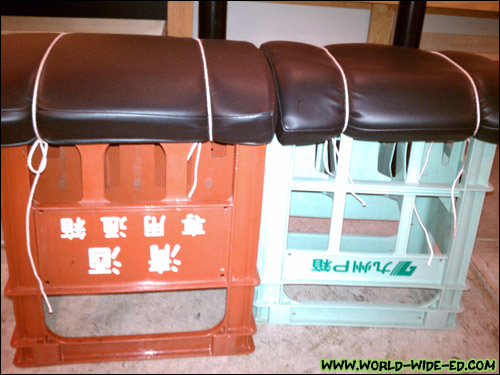 Unique seating at Izakaya Tairyo
On to the food!
At the top of their "Rice and Noodles" section was #55 on the menu: Tairyo Fisherman's Bowl (assorted sashimi over rice) for $9.75. That sounded like a great place to start.

Tairyo Fisherman's Bowl: Assorted sashimi over rice ($9.75)
The dish comes with a teapot-like container filled with dashi-flavored tea so you can opt to mix it in and eat it chazuke style. I'm a purist, so I started by eating just the fish and the rice, but gave the flavored tea a chance and ended up using it all up. Really good flavor!
One thing that we complained about was that what we were served looked nothing like what was pictured in the menu. There were key pieces of fish that were definitely missing. They did however, make good by offering us sashimi on the side (served on a chilled plate) at no additional cost.

Sashimi from Izakaya Tairyo
The next thing that sounded interesting was the Grilled Chicken Meat Ball with Tairyo's Secret Sauce. We picked that one up for $7.25.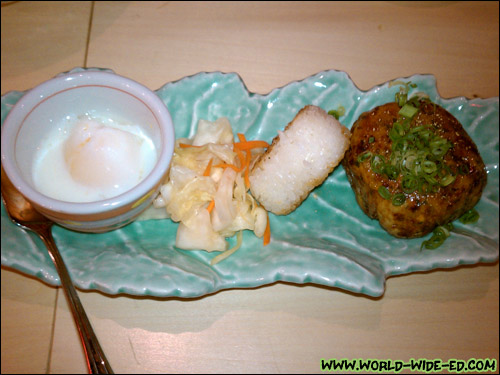 Grilled Chicken Meat Ball with Tairyo's Secret Sauce ($7.25)
As before, it looked nothing like the picture in the menu, but we shook it off and figured it was just a part of their growing pains as a new restaurant.
The next two fried dishes actually did look somewhat like their menu photo (LOL!). First up was the Japanese-Style Fried Chicken Thigh.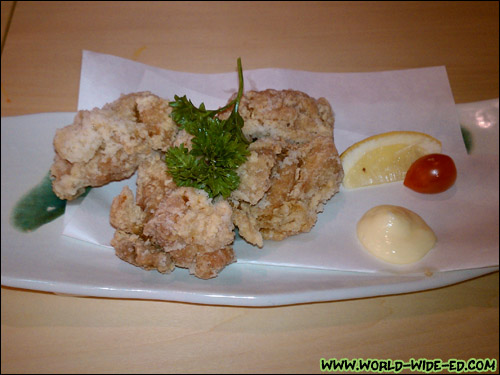 Japanese-Style Fried Chicken Thigh ($6.50)
These were fairly tasty.
We also got the Sweet Potato Fries with Honey Mayonnaise.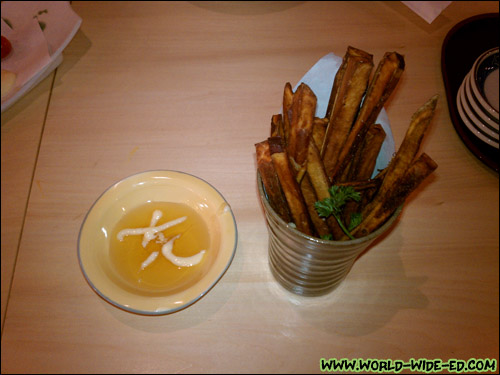 Sweet Potato Fries with Honey Mayonnaise ($6.25)
I wasn't a big fan of this dish, especially with the odd honey sauce combination, but can definitely appreciate the creativity. The sweet potato fries by itself wasn't all that bad.
An overall reasonable first experience in my opinion. I think we can mostly attribute the ups and downs to them being a new restaurant and still in, like I said, their growing phases. I am definitely interested in returning later to see how they've grown. Hopefully, it'll be a definite "tairyo" then! 🙂
Izakaya Tairyo
514 Piikoi St
Honolulu, HI 96814
(808) 592-8500