Growing up as a second generation Japanese American, my taste buds have not always lined up with what was being offered here in Hawaii. Sure, I can pound a plate lunch as good as the next fella, but I contend that it is only because of the presence of "two scoops rice"! LOL!
I remember when mama used to pack us little home lunches that featured rice as the staple. Whether it was as a starch to go along with the other items, or as the star of the show in the form of onigiris (musubis/rice balls), you could bet your bottom dollar that we were well fed rice (rice) babies.
In the middle of the onigiris, we would often find a treat when she slid in oshake (salmon), chirimenjako (small anchovies), or any variety of kombu (kelp), and then she would wrap it all up with a tasty slice or two of nori (seaweed). As I grew up and eventually flew the coup, I realized just how spoiled I was when I suddenly had difficulty finding onigiris of the same caliber.
Enter one Mana Bu's on South King Street.

Mana Bu's on South King Street
Self proclaimed as Hawaii's Musubi Headquarters, Mana Bu's serves up healthy onigiri – like mama used to make – at very reasonable prices. Here's an interview I recently had with company president Manabu Asaoka.
[Edward Sugimoto] Please give us a little history about yourself.
[Manabu Asaoka] After graduating from Tokyo University of Foreign Studies, I worked at The Tokio Marine & Fire Insurance as a marine (hull) insurance underwriter for 16 years. At the age of 38, I decided to change my life to be more enthusiastic, independent and happier, so I quit my job. (Since The Tokio Marine is one of the most highest-waging companies in Japan, this decision may've sounded reckless or ridiculous to my co-workers and bosses.)
Prior to starting my own business, I believed that I had to "study" at the target place to grasp not only the market size but also its culture and the people's sense of value. I got into HPU in September 2005 and obtained a Master's degree in Communication (MA-COM). Throughout the Master's program, I focused on the intercultural communication and the customer satisfaction models. At the end of 2007, I finished the MA-COM program with "Distinction" and started establishing my own business. Finally, I opened the musubi deli "Mana bu's" on May 14, 2008.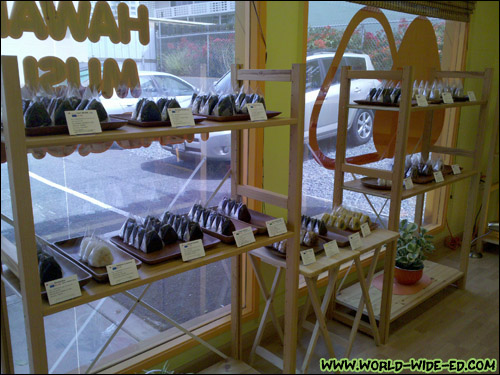 A Look Inside Mana Bu's
[Edward Sugimoto] Why did you decide to open a musubi place here in Hawaii?
[Manabu Asaoka] Hawaii was the most attractive market to try my own sense of business, because of its diversity of culture. Especially, as a Japanese national, Hawaii's food culture was quite intriguing. It is clearly affected by Japanese dishes; most of the locals love shoyu and miso. On the other hand, I noticed that the local Japanese food had been somewhat skewed; the Japanese people in Japan would NOT eat tempura, sushi, mochiko-chicken, butterfish, etc. so often. Rather, they are more familiar with variety of veggie foods, even in the drinking situations at Izakaya. When it comes to some foods for "snack", now in Japan, musubi is very popular. Here in Hawaii, musubi mostly refers to SPAM musubi and some super-dried bland musubi at the okazu shops, despite that the locals' love of rice dishes. I just wondered why nobody had tried to focus on musubi. So I decided to do this by myself.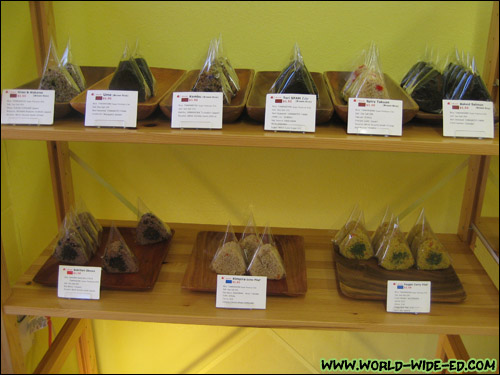 Mana Bu's Partial Selection of Musubis
[Edward Sugimoto] How important is it to you to keep your prices low?
[Manabu Asaoka] Before recognizing myself as a business owner, I am always a consumer in this local community. As a consumer, under this tough economy, if I can easily buy tasty and healthy foods, that will be fine. I will try to keep the price as cheep as possible using good quality ingredients. At the same time, I must say sorry to some customers who would like to use their check-cards / credit-cards. The "Cash Only" system is very very important for us to save the cost.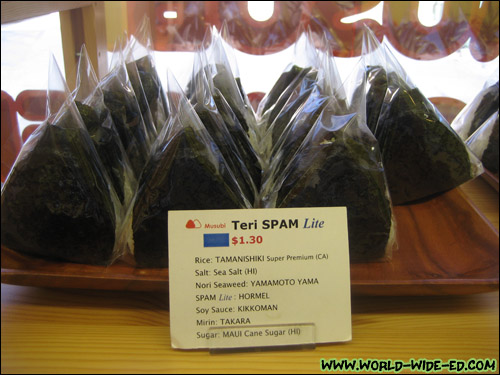 The popular Teri SPAM Lite Musubi from Mana Bu's – $1.30
[Edward Sugimoto] Did you expect the popularity that you've been enjoying thus far?
[Manabu Asaoka] No. But I strongly believed that as far as we make tasty foods and sell them with affordable price, the local customers would, sooner or later, notice our shop and be regular customers. In reality, it was pretty short time, though…
[Edward Sugimoto] Serving healthy food and using only the highest quality ingredients seems to be a focal point for you. Why?
[Manabu Asaoka] One of the core missions of this musubi business is "To provide the locals EASY ACCESS to Japanese healthy foods". For this mission, we stick to using only familiar ingredients which are available at the local supermarkets. We would like to suggest to the local customers that the healthy Japanese dishes, such as musubi and some veggie kinds, are NOT difficult to make by themselves.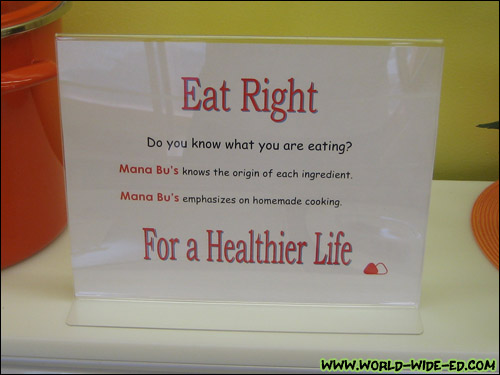 Sign at Mana Bu's
[Edward Sugimoto] How many different varieties of rice do you use? Which is the most popular?
[Manabu Asaoka] We use:
White-rice: TAMANISHIKI
Organic White-rice: KOSHIHIKARI
Brown-rice: TAMANISHIKI
10-Grain-rice: Our original blend which includes TAMANISHIKI white/brown rice.
Mochi-rice: HAKUBAI
Still, White-rice musubi is the most popular kind.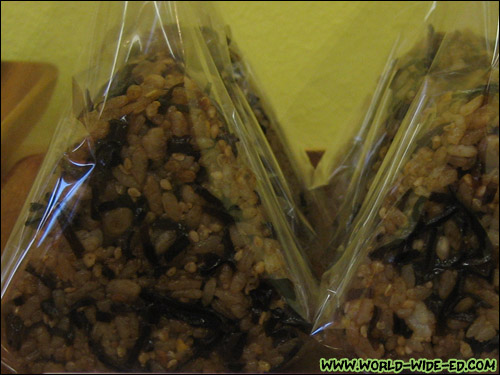 Close up of the Kombu Musubi using 10-Grain Rice – $1.50
[Edward Sugimoto] How many different varieties of musubi do you offer? Which are the most popular?
[Manabu Asaoka] 32 varieties on weekdays. 33 on Saturday. Best sellers are…
White-rice Salmon
White-rice Teri SPAM-Lite
White-rice Tuna & Mayo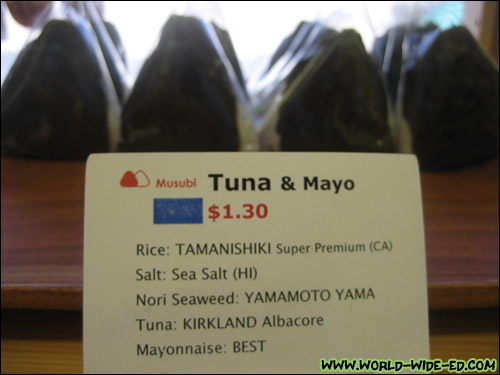 Tuna & Mayo Musubi from Mana Bu's – $1.30
[Edward Sugimoto] Any new ones in the works?
[Manabu Asaoka] Another 10-Grain version is under consideration. Also, we would like to try some more fillings with organic white rice. However, it depends on the market's expectation based on the local economy.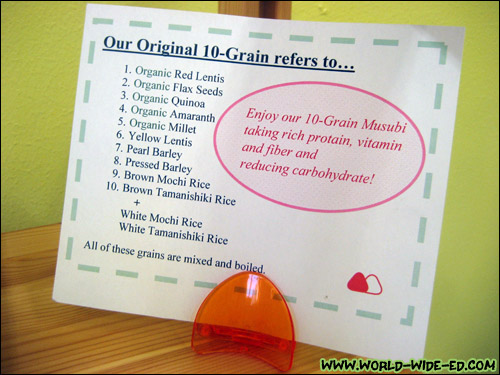 10-Grain Sign at Mana Bu's
[Edward Sugimoto] You just celebrated your 2nd anniversary right? Anything special planned?
[Manabu Asaoka] Precisely, it is on May 14. Although we are thinking to show our appreciation to the customers, we haven't decided it yet.
[Edward Sugimoto] Anything else to add to your current or future customers?
[Manabu Asaoka] We just want to say utmost Mahalo to the local customers. Their smile always encourages me and my wife Fumiyo. We are very very proud of this business strongly supported by the local customers and the local employees.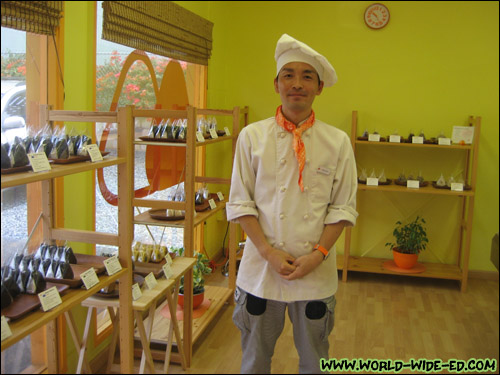 Manabu Asaoka Poses In Front of his Musubi Selection at Mana Bu's
Ed's Tips for Mana Bu's:
Go early! – Manabu, along with his nutritionist wife Fumiyo, starts at 12AM-1AM every morning to prepare for the day. Mana Bu's (which, incidentally, is a play on the Hawaiian term Mana, which means strength/energy) opens their doors at 7AM with 8 different kinds of musubis (and organic coffee). At 8AM, they have 16 musubis available and at 9AM, they have 32. They close at 1:30PM but are usually wiped out well before then.
They also offer healthy okazu and dessert options after 9AM.
If you have any questions at all, feel free to ask Manabu. He is a wealth of knowledge and can explain each ingredient to you.
I think my mama has finally found some competition, as, the Rice is definitely Right here at Mana Bu's. Cue Bob Barker…
Mana Bu's
1618 S.King St.
Honolulu, HI 96826 (map)
Phone (808) 358-0287
Mon-Fri: 7AM-1:30PM
Sat: 9:30AM-1:30PM
Sun: Closed
UPDATE!
Mana Bu's was featured on the nationally televised "The Best Thing I Ever Ate" show (on the "Regional Favorites" episode) on Food Network TV! It was one of Ask Aida's Aida Mollenkamp's favorites. See the clip below. Omedetou Manabu-san!