[Editor's Note: Kakaako Kool closed its doors on January 23, 2015,
but is now operating as Island's Finest Shave Ice]
Now that we're in the midst of summer, we've gotsta find ways of cooling off from that hot Hawaiian sun. One way, of course, is to slurp down a local fave known as "shave ice" – or "ice shave" if you're from the Big Island 😉 (See my article about other shave ice places here). The place I love to go to get my shave ice fix whenever I'm in town is Kaka`ako Kool on Queen Street, next to Fresh Cafe.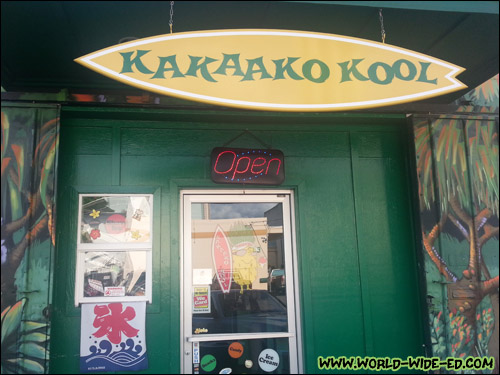 Outside Kaka`ako Kool
Opened in June 2010 by antique and collectible fan Keith Tanaka, Kaka`ako Kool is chock full of, well, antiques and collectibles. They sit right alongside the many other offerings Kaka`ako Kool serves like cold drinks, ice cream, chips, crack seed, and much more. It's like a cool, urban mini mart that happens to sell ono shave ice.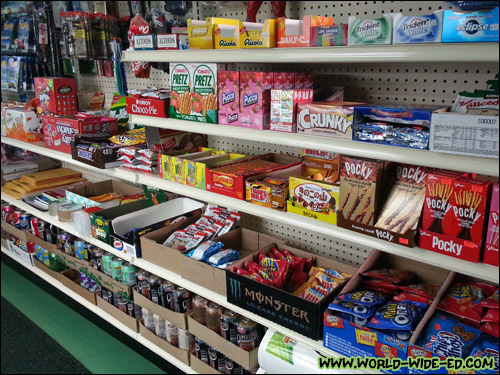 Some of the snack offerings at Kaka`ako Kool
Tanaka goes to the swap meet at least once a week and displays his finds throughout the store. People actually come to the store regularly specifically to see what new toys Tanaka has brought in.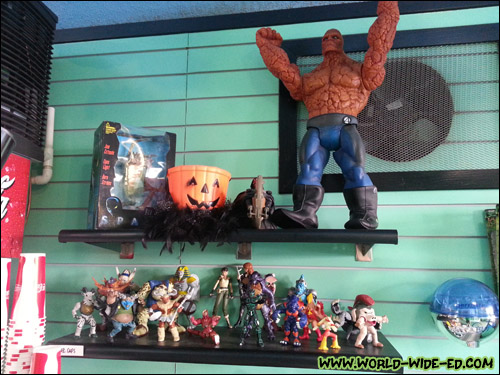 The Thing is quite excited to be here at Kaka`ako Kool
For their shave ice offerings, there are about 25 different flavors to choose from with strawberry being the most popular. Store Manager Jana Park says that the tropical flavors like Pineapple, Mango, and Lychee also do quite well.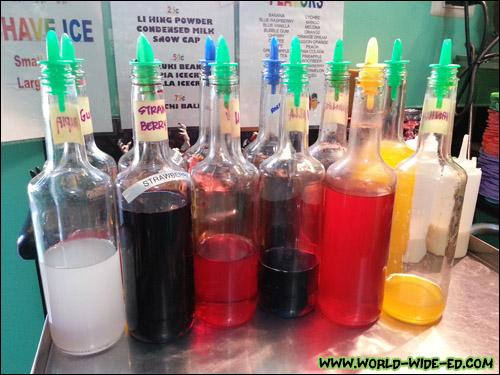 Just a few of the many flavors Kaka`ako Kool offers
In addition, you can order locally made, premium haupia or vanilla ice cream, azuki beans, mochi balls, condensed milk, snowcap (condensed milk & evaporate milk), or lihing powder to go along with your shave ice.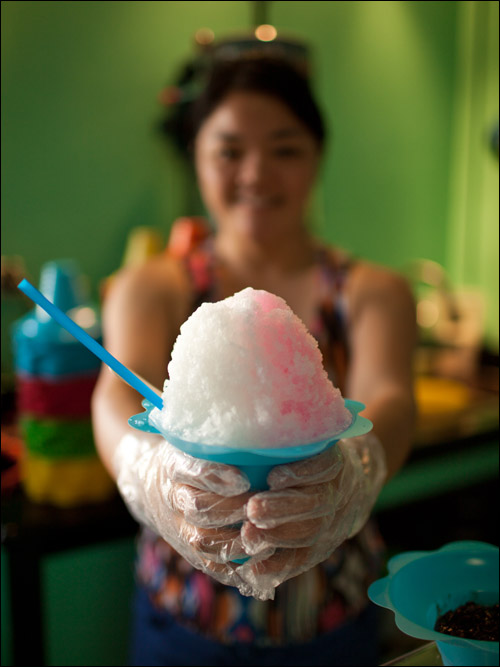 Shave Ice from Kaka`ako Kool [Photo Credit: Marc Orbito of Hungry Eye Photography]
So the next time you're in need of a shave ice fix to beat that summer heat, stop by and say hi to Jana folks at Kaka`ako Kool. There's lots of parking with 2 stalls right in front and about 15 or so in the garage to the left of the store.
For further info, here's a profile video the Skinny Hawaiians did on Kaka`ako Kool.
Kaka`ako Kool
831 Queen Street
Honolulu, HI. 96813 (Street View)
808-589-2488
Mon-Fri: 8am-4:30pm
Sat: 11am-4pm
[youtube=http://www.youtube.com/watch?v=g6fspcsRH8U&w=500&h=400&rel=0] Tarp Surfing in Hawaii – VH07V Style (Click to Play!)