Pops and I have this ongoing joke/battle with each other about where the best Japanese eats are around town. Hailing directly from the heart of Tokyo, he's got this unyielding, old school, traditional Japanese palate, while I have more of an open "nu skool" hunger for innovative dining experiences. Who's right? Let's get it on and see shall we?
When you think of traditional Japanese fare, you think tsukemono, miso soup, okara, chawanmushi, nabeyaki udon, oden, tonkatsu, and much more. Oxtail rahmen, sushi pizza, spicy tuna summer rolls, or beef tataki with balsamic sushi doesn't exactly enter the mind. As well, sliding shoji or fusuma doors, tatami mats, and servers dressed in yukata kimonos are all what you would relate to a traditional Japanese restaurant. Not, funky light fixtures and eclectic design aspects, in an upbeat, colorful setting.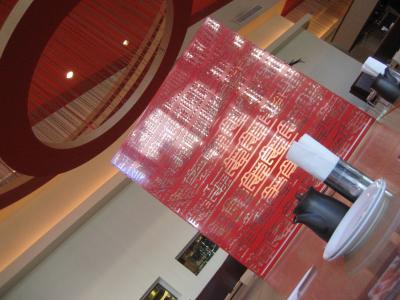 I think this is where I'm losing pops.
Shokudo Japanese Restaurant & Bar, located on the ground floor of the Ala Moana Pacific Center on Kapiolani Boulevard (next to Angelo Pietro), opened its doors on March 2nd, 2005 and has been rolling ever since. In their first year in Hawaii, they earned the Gold Hale `Aina Award for "Best Japanese Restaurant" and have continued to garner accolades since. As part of a franchise of Dream Dining Honolulu LLC, they have since successfully spawned a second store by the name of Tokyo Table in La Cienega California in late December 2006.
Dream who? Dining what? Shokudo Restaurant Manager Geraldine Jordan details the history: "Tetsuya Emura, President & CEO of Dream Dining Honolulu LLC. d.b.a. Shokudo Japanese Restaurant & Bar, once occupied many important roles in management for Watami Food Service Co. in Japan. Watami is a food service conglomerate that owns 400 restaurants which operates 10 different types of restaurants. In 1998, he was appointed the position of the founding CEO of T.G.I. Friday's Japan, Inc. This company established a subsidiary of Watami Co. in a joint venture between Carlson Restaurants Worldwide, Inc. Watami Co. acquired a T.G.I. Friday's restaurant in Guam that gained him the invaluable experiences with the unfamiliar laws, foreign business custom, and new market. He also got involved in the setting up of a Japanese Izakaya restaurant named 'Watami' in Hong Kong. His successes and invaluable experiences from Watami had led him to venture on his own and introduce Japanese food culture overseas."
One of the greatest things about your dining experience at Shokudo is just that, it's an experience. I've been here for large parties (private room holds up to 20-25 people), after work get-togethers (excellent bar selection, including wine, beer, sake, shochu and vodka sodas), the first stop of a bachelor party night (don't ask), and date nights with the lady, and all experiences proved to be equally fulfilling, festive and fun. Taking one look at the company info page on their web site, it's not hard to understand why. They take great pride in balancing and enriching their customers, employees and company to create what they refer to as the Triangle Theory. Jordan explains:
"The Triangle Theory and philosophy is one of the main reasons why I came to join the company in the first place. It consists of three major aspects: the employees, the guests, and the company. It is important to harmoniously balance and equally enrich these areas to build a wholesome and successful business. It is also good for the community to raise these values in their business. We have to understand that the business success is due to the employees that will take care of our guests. And if our guest is well taken cared of, we create loyalty. My past experiences working in the food and beverage in larger corporation may have etched somewhat of this theory in their mission statement, but was never practiced or really valued. Look at it like a tripod. If one leg is in poor condition or missing, the result will lead the tripod to fall. It's really a simple analogy yet so profound with fundamentals to building a successful business."
With everything now in perfect harmony, let's get to the food!
Shokudo's selection is as eclectic as its interior design. Research & Development Manager Norimasa Okazaki is responsible for most of the 60 or so diverse dishes they carry. A few of the items on their seasonal and grand menu have been influenced by the staff that Nori could not resist putting in the lineup.
Their best seller is the Chicken Karaage. Not particularly unique on its own, but with the Spicy Tartar Sauce, it gives it that extra oomph that you're looking for.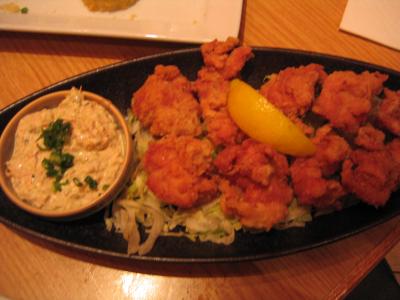 Chicken Karaage with Spicy Tartar Sauce
According to Jordan, other popular dishes include their homemade fresh tofu, tofu salad, Ishiyaki (hot stone bowls), and the mouth watering Honey Toast.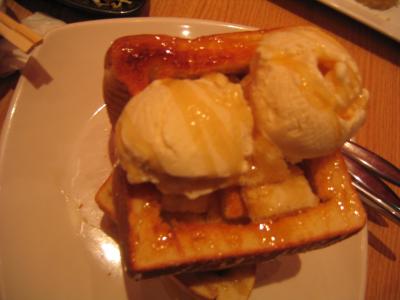 Honey Toast
But are you going to take the Restaurant Manger's word for it or mine? 😉 (kidding Geri!)
I've had the Chicken Karaage with Spicy Tartar Sauce, homemade fresh tofu and of course, the Honey Toast, and yes, I agree with you peeps that these are definitely the must-haves. However, I'm not one to go with the crowd. I run with scissors and talk to the driver while the bus is in motion. You can't stop me! 😛
For me, the one constant is their Agedashi Tofu. Good lord! Deep fried and covered with katsuobushi, two types of negi (onions) and their shoyu-based sauce, it's Fergalicious!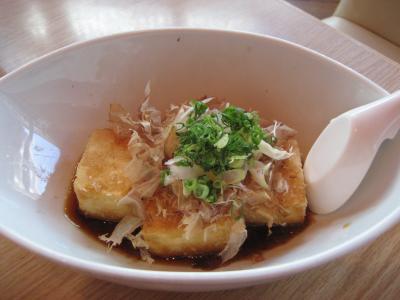 Agedashi Tofu
Other personal favorites include the Rock Shrimp,

Rock Shrimp
the Clam Miso Soup,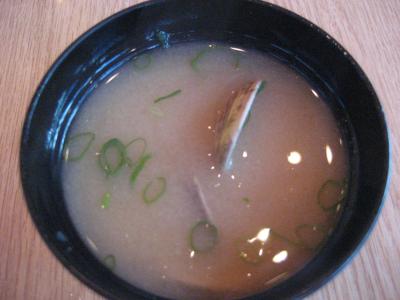 Clam Miso Soup
and the Fried Chicken with Sweet & Spicy Sauce.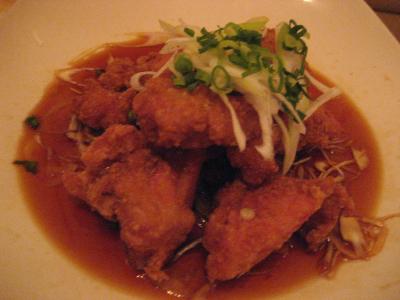 Fried Chicken with Sweet & Spicy Sauce
If you're bringing a hot date here, some fun things to try are one of the many variations of Vodka Soda,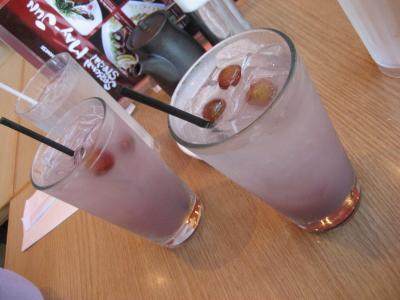 Grape Calpico Vodka Soda
the Honey Toast of course, or the Garlic Marlin Seared on Hot Plate.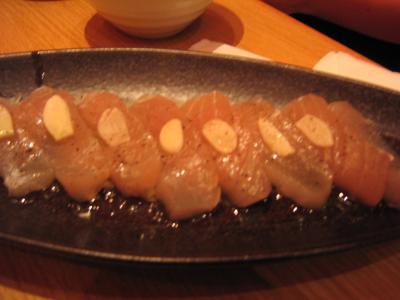 Garlic Marlin Seared on Hot Plate
This is a truly interactive dish and can prove to be the ice breaker you need to save this "hot" date of yours. The seasoned garlic marlin comes raw and is cooked by you on a provided hot plate.
(! – World Wide Ed Tip: Next time you stop by, be sure to sign up for their Dream Diner E-Frequent Member Card! It's free and will collect valuable points (special hours will earn you double points) every time you dine there, good for special savings and a 1 in 20 chance to win a lottery prize giveaway. Best of all, you automatically earn a one time $25 birthday reward, which you can redeem during your birthday month.)
Future plans are to open up more restaurants in the L.A. area by the end of the year, and continue to service their loyal customers here in Hawaii.
"We can't thank the community enough for all their love and support. Without the community support, we would not exist. But I cannot forget to mention our staff that truly loves serving our guests that they developed a bond beyond business. Some of our regular guests are like family to us. And we welcome anyone to join our family here at Shokudo Japanese Restaurant and Bar." says Jordan.
As soon as I publish this article, I'm sending the URL to pops. It won't be long until he joins me back in the Nu Skool…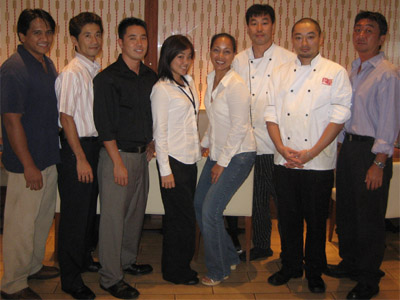 The Shokudo Management Staff (L to R): Sam Eligio (Operation Manager), Takaaki Fujii (General Manager), Justin Mizufuka (MIT/Manager in Training), Kellyn Higa (MIT/Manager in Training, Geraldine Jordan (Restaurant Manager), Yuji Shimojo (Kitchen Manager), Eiji Kato (Kitchen Manager in Training), Takahide Kukidome (HR and Kitchen Manager in Training).
Shokudo Japanese Restaurant & Bar
Ala Moana Pacific Center, Ground Floor
1585 Kapiolani Boulevard
Honolulu, Hawaii 96814 (map)
(808) 941-3701
Sunday-Thursday: 11:30am to 1am
Friday-Saturday: 11:30am to 2am
E-mail: InfoSHOKUDO@hawaii.rr.com