[MOVED]
When wifey and I spontaneously decided to have date night out in Haleiwa the other night, I did what any unassuming young American would do: I checked out Yelp one fast one. At the top of the list was this curious place called Opal Thai Food. Curious because 1) it was a wagon and 2) it was a wagon that didn't serve your banal Haleiwa shrimp. What are the chances? 😛
No offense to you non-locals, but my strategy when it comes to review sites like Yelp is to give higher precedence to da kama`aina. We're usually quite honest about our eateries and tend not to get caught up in the hype of a place. After that, like most, I take into consideration the rating level and the number of reviewers rating it. Opal Thai Food had a winning combination of all: great reviews from us locals, high ratings (4.5 out of 5), and a high review count (currently at 75).
Done. We were off to visit our north shore neighbors for some curious Thai food for din-din.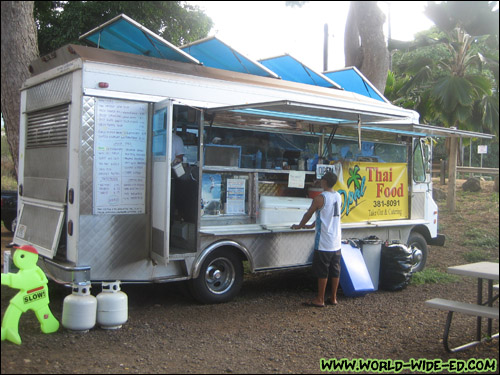 Opal Thai Food Wagon in Haleiwa
Ed's Tip: If you Google their listed address, it'll actually show that they're somewhere near Matsumoto's Shave Ice. The Opal Wagon is actually more in the beginning of Haleiwa (coming in from the south), across the street from McDonald's, where some of the other shrimp wagons are.
We started with their Spicy Glaze Garlic Chicken Wings (with deep fried basil) appetizer.
Woah.
Talk about nom-nom-licious!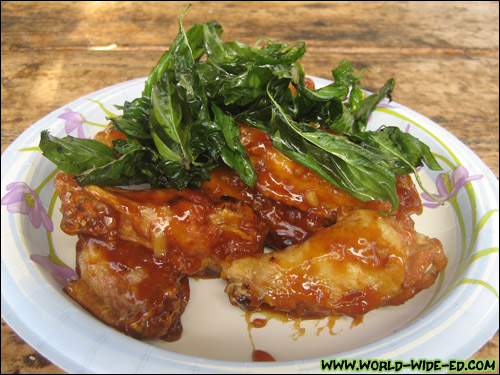 Spicy Glaze Garlic Chicken Wings (with deep fried basil) – $7.95
I'm not even a basil fan, and I loved the way the flavor of the deep-fried basil matched up nicely with their sweet, semi-spicy glaze. This is a MUST TRY!
Next up, we ordered our two go-to Thai dishes: Shrimp Pad Thai and Yellow Chicken Curry, with a side order or Sticky Rice.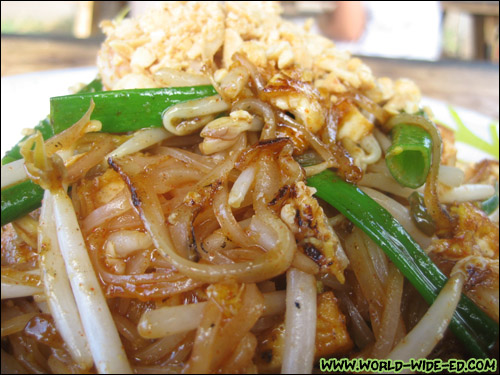 Shrimp Pad Thai Noodle – $8.75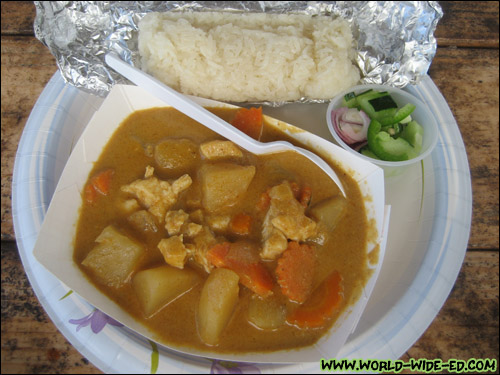 Yellow Chicken Curry – $8.25, with a side Order of Sticky Rice – $1.75
Like what some of the Yelp reviewers wrote, the wagon's proprietor Opal was very friendly. He brought over a tub of a dry chili flake mixture and suggested that we add it to our Pad Thai. Later, he came over and poured the cucumber/onion namasu looking side dish (see above photo) into our curry and said that it'll enhance the flavor. It did.
Opal seems to have a pay-after-you-eat methodology, much like sit down restaurants. We felt a little guilty digging in without paying for anything, but we just went with it. I'm convinced that he does this so that he can speak to each customer as to how they enjoyed their meal.
If you're a big eater, you would probably think that the portions are on the small side. We did come near the end of the night (they close at 6pm with last call at 5:30pm) though so that may've possibly had something to do with it.
Ed's Tip: Since you're pretty much "roughing it" and dining on their outdoor tables, you may experience some annoyances from your friendly neighborhood fly or 6. You may consider asking for a take-out plate so you can close/cover things as you eat or take it with you if da little buggahs get to be a little much for you.
Overall a great find that we will definitely return to for future date nights.

Our Yellow Chicken Curry, Shrimp Pad Thai and Spicy Glaze Garlic Chicken Wings in front of the Opal Thai Food Wagon
Ed's Tip: BTW, bring your Road Runner Mobile connection because it works here as well!
Opal Thai Food Wagon
66-460 Kamehameha Hwy
Haleiwa, HI 96712 (map)
(808) 381-8091
Hours: Wed-Sun 11am-6pm (last call at 5:30pm)
Don't forget… THIS month…
===========================================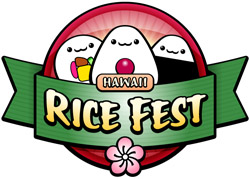 Diamond G Rice presents the 1st Annual Hawaii Rice Festival
Waterfront at Aloha Tower Marketplace
September 11, 2010 from 12PM-8PM
For more info:
Ricefest.com
/
Twitter
/
Facebook
To RSVP:
Twtvite
/
Facebook Event
===========================================