[Editor's Note: Osake Sushi Bar and Lounge closed its doors in April, 2007]
OK, so I lied.
We were supposed to still be in Kauai right about now, eating more of the mouth-watering treats that the Garden Isle had to offer. Instead, here we are, back on Oahu, consuming treats of a different kind: Sake and Sushi. But trust… whether you're a Japanese fusion food fan or a nightlife neophyte, this'll definitely be worth your while.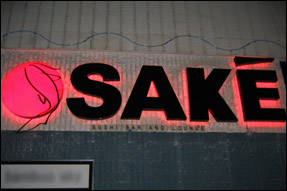 Osake Sushi Bar and Lounge sign outside
My initial exposure to Osake Sushi Bar and Lounge was actually at a work function. I got invited to the Oxygen Network's VIP Launch Party, which was hosted here at one of today's swankiest hotspots. I couldn't stay long that night, but during that time, I quickly sensed a sexy, ultra cool, loungy vibe goin' on that I just had to get more of.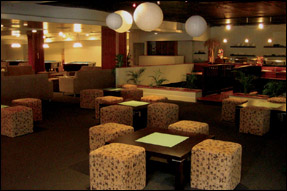 Living room style lounge areas with pool tables in the background
Osake Sushi Bar and Lounge (formerly known as KOI) opened their doors in January of 2006, taking the place and space of the old Blue Tropix Nightclub (remember 'dem wild monkeys in the news?). Recollecting what this once desolate space on Kapiolani Boulevard used to look like and seeing what they've done to it today, one would never think that it was the same place. It was almost as if Ty and his jolly gang came to town to work their magic for an episode of Extreme Home Makeover. And in speaking with Osake's General Manager Grant Yonehiro, this was done intentionally.
"We wanted to enlighten the atmosphere and create a sort of Japanese elegance," said Yonehiro.
An elegance that led all the way down to the details of the Koi filter system, which was intentionally made audible to create a soothing ambience while enjoying your meal.
Osake's is the brainchild of a group of young and ambitious 20-30-somethings: Justin Henson, Keoni Chan, Shane Tsubaki and Brian Hasegawa, who "oh-by-the-way" already own and operate the hip and successful sports bar above called Skybox Sports Lounge. No matter how old you are or where you are in your professional life, you gotta admire and respect these young entrepreneurs for having the vision and seeing it through. Mad props guys… Mad props!
But um, back to lecture at hand…
So why this, why now? What can one expect to find when coming down for dining pleasures? Grant is glad you asked.
"We offer something different. A gourmet sushi experience in a lively, lounge atmosphere. Why sit in traffic?"
(! – Osake offers a unique, happy hour on handrolls from 5-8PM every night, except Tuesdays when they are closed. You can order these select sushi handrolls during this time: spicy tuna, California roll, tuna salad, shrimp, and veggie for just a buck. Hmm… Yummy $1 handrolls or battling through stressful rush hour traffic? What do you think?)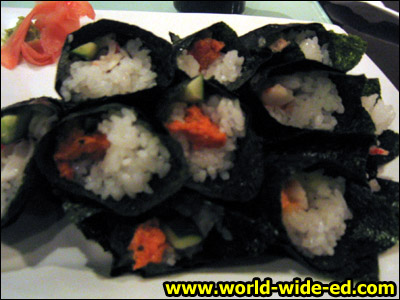 17 handrolls for two people? Don't hate! 🙂
During this interview session, I was also fortunate enough to chat with Osake's Master Sushi Chef Norlan Horita (of Sushi Supreme fame), who proceeded to present dish after delectable dish.
First up was a special, not-yet-on-the-menu sushi sampler, which is to be consumed in a specific sequence. Since it is not yet on Osake's menu, I'll have bruddah Norlan explain the dish in his own words:
"From left to right we have a maguro nigiri, a traditional sushi item with a little twist. It features thinly sliced myoga and a drizzle of unagi glaze. Next we have another traditional menu item, salmon or 'sake' nigiri, that has been given even more of a twist. I have given the salmon nigiri a generous amount of O-sake's (soon to be) world famous soy vinaigrette, and then piled on some katsuo bushi. Next is what I like to call my 'sweet snapper surprise.' I took a simple shiromi nigiri, gave it a squeeze of lime, a slice of jalapeno, piled high with chiffonade of fresh chiso, and finished off with a colorful topping of citrus tobiko. Last but not least, we have our ahi tataki nigiri with our world famous firecracker sauce. In this dish, the conversion from left to right is a transition from old to new, and also from mild to spicy. On the left we have a very traditional nigiri with traditional toppings and sauce. As the dish progresses to the right, it evolves with more new wave sauces and dressings and increases in spice."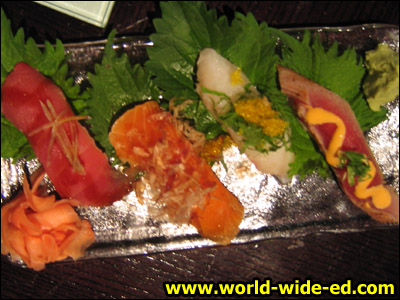 Left to right: Maguro Nigiri with a drizzle of unagi glaze; "Sake" (salmon) Nigiri with O-sake's soy vinaigrette, topped with katsuo bushi; "Sweet Snapper Surprise" with a squeeze of lime, a slice of jalapeno, piled high with chiffonade of fresh chiso, and finished off with a colorful topping of citrus tobiko; and Ahi Tataki Nigiri with firecracker sauce.
They were all lusciously lip-smacking, but if I had to pick my favorites, I'd go with the oshake (salmon) and ahi tataki nigiris.
One of their more popular items (and self-proclaimed prized dish) on the menu is the Filet Mignon Beef Sashimi with Soy Vinaigrette. It's not actually raw, just cut sashimi style. This is one you gotta try!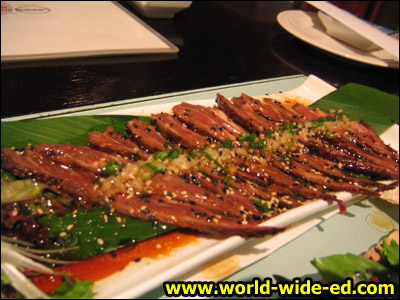 Filet Mignon Beef Sashimi with Garlic & Soy Vinaigrette, $16 – This is the prized dish of Osake. Quickly seared with herbs and spices, then cut sashimi style. Drizzled with their famous soy vinaigrette and garlic. Served with organic greens.
Another popular dish is their Portabella and Fire Roasted Red Bell Pepper Quesadilla with Feta and Mozzarella (and choice of meat). CPK ain't got nothin' on 'em!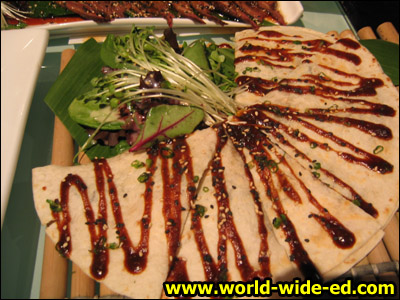 Portabella and Fire Roasted Red Bell Pepper Quesadilla with Feta and Mozzarella – Served with their spicy hoisin vinaigrette and organic greens. This crowd pleaser is available with your choice of any one item: Original ($8), Chicken ($10), Pork ($10), Steak ($12), Shrimp ($12).
Next we have the Sweet and Spicy Szechwan Chicken. If you're worried about spiciness, no worries, I can't handle spicy food for beans, but this one I could handle. Chance um!
And yes, that is an empty space in the bottom left corner. Chef Norlan couldn't wait to dig in before I took the photo! That should tell you how good this dish is! *grin*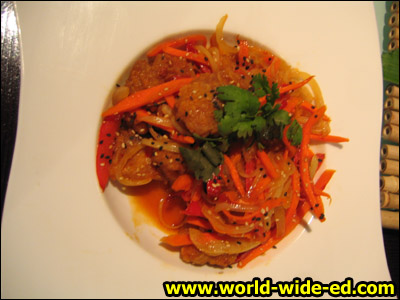 Sweet and Spicy Szechwan Chicken, $10 – An adaptation of a northern Chinese dish. In this recipe, they stir-fry bell peppers, carrots, and onions with their own Szechwan glaze.
On a previous trip to Osake's, I ordered their famous Dynamite Chicken. Here's a snap of the dish and associated caption/description. Yeah gang, it IS as good as it looks!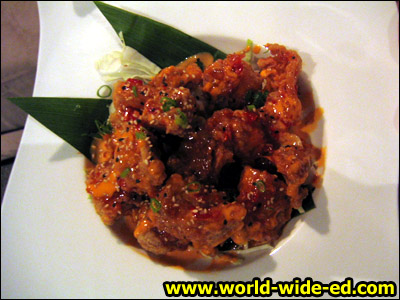 O-sake's Famous Dynamite Chicken, $10 – An ancient secret recipe passed down through many generations. Tastefully redesigned to appease the modern palette. Instantly addicting!
I'm a little embarrassed to admit it, but I didn't even get a chance to try this next dish: the Ahi Tartare Martini. I was so intent on getting the interview and all the photos right, that it slipped my mind. According to the menu, it is Chef Norlan's all star pick, so I guess we're just going to have to make a return visit and give it a whirl!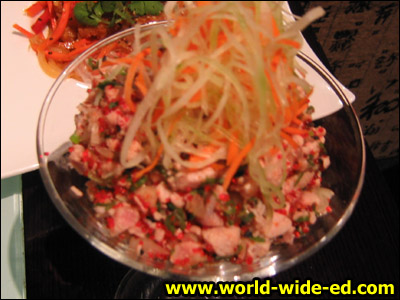 Ahi Tartare Tataki Martini, $10 – Chef Norlan's all star pick, a must try! Ponzu lime ceviche jous, myogo, tobiko and chiso. Served in a martini glass.
Lastly, we had the "Bomb"-ucha Roll. You don't really get a good appreciation of the engineering that goes into creating this bridge-like masterpiece at first glance, but when you realize what it is and what it contains, you're floored. Mystified? OK, I'll animate it for you to show you what lurks inside: crispy shrimp tempura, unagi, crab, kaiwara and cucumber!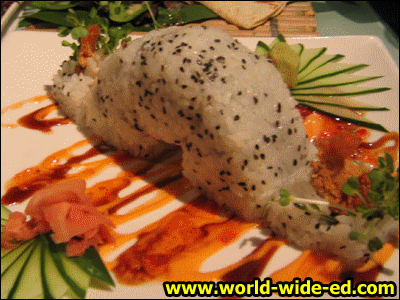 The "Bomb"-ucha (Bumbucha) Roll, $16 – Crispy shrimp tempura, unagi, crab, kaiware, and cucumber with 3 special sauces.
(! – They recently started offering teishoku, or set menu items, so if you've been here before and missed it, go on back.)
Convinced yet my pretties?
Well, if the food above isn't enough to get your mouth watering, how about the prospect of tasting one of 34 different brands of sake (and counting) they carry. It's their namesake after all.
"We have customers in the know who buy bottles and bottles at a time from us," proclaims Yonehiro.
Even if you're a sake beginner, you'll find a warm home here, as well as in your tummy.
"We make it a point to train and educate our staff with all of our sake products, so if you have any questions or just want to try, come on down and see us," says Yonehiro.
If you're more of a beer fan, Osake carries all of the imports you expect to find, and even a rarely seen Japanese import beer called Echigo. Kanpai!
If you're throwing a special get-together or just want to ack PIMP for one night, Osake's even has a VIP room that is available for rent.
A bit of a night owl are we? Well, bring your dancing shoes to dinner because we haven't even mentioned the "it" hotspot that this quaint restaurant metamorphosizes into when the clock strikes 10PM.
That's right, every night from 10PM-2AM, Osake's goes from chic eatery to bumpin' hotspot in a flash. Friday nights – promoted by local radio station Hot 93.9 – is their busiest night, bringing in 1,000+ of Hawaii's most modish peeps. Saturday nights are just as hot. Wednesday nights offer live music from 7-10PM and is also known as martini night.
No matter what craving it is you may have, Osake Sushi Bar & Lounge is sure to satisfy. Good eats, a wide assortment of refreshing beverages, live music, scratching your dancing itch, people watching, whatever. Osake is where you'll find it. Support your local businesses and go check um out won'tcha?
Aren't you glad we flew back from Kauai for this?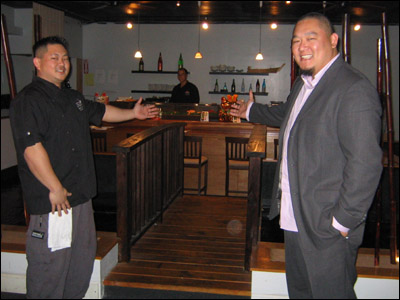 Master Sushi Chef Norlan Horita (left) and General Manager Grant Yonehiro welcome you to the sushi bar at Osake Sushi Bar and Lounge
Osake Sushi Bar & Lounge
1700 Kapiolani Blvd.
Honolulu, HI 96814 (map)
(808) 956-1600
Wednesday through Monday from 5-10PM for dinner and 10PM-2AM for after hours. Closed on Tuesdays.