OK gangy… We're back as promised. Albeit a month overdue, we're back nonetheless. Another exciting round of good eats from our friends on the Garden Isle. *ding ding*
Part 1 brought a lot of feedback and suggestions and I thank you all for that. Hopefully, I'll make my way back and hit up those hotspots you mentioned to put together Kau Kau Kauai – Part 14. 😛 One place cited repeatedly was Dani's Restaurant. I won't be covering them here today (haven't been there just yet), but I thought I'd give 'em some pub since they seem to have a strong following.
Ready to go for part 2 folks? Let's do this thang!
Since our last stop was at the Lizard Lounge in Kapa`a, why don't we start our day there – bright and early for breakfast – at another Kapa`a favorite?
Ono Family Restaurant was suggested to us by the good people at Thrifty Car Rentals. They are well-known for their breakfast. Ono's, not Thrifty's! 😉
(! – Always ask the "locals" when looking for restaurant suggestions! They know best.)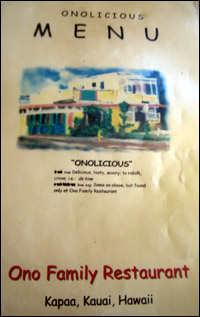 Ono Family Restaurant menu
Located just north of central Kapa`a Town, this quiet, little family style restaurant gives you an old town feel with all the comforts of home.

Inside Ono Family Restaurant
Don't drive too fast when going up Kuhio Highway as it will suddenly and inconspicuously sneak up on you on the right.
On this occasion, we decided to go traditional and order your typical breakfast items: omelette, fried rice, hash browns and corn beef hash.
Yes, not very exciting, I know… Waddayah want from me? I was hungry! *grin*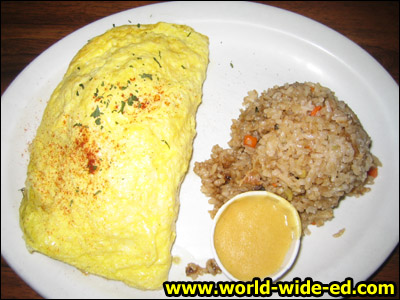 Mushroom / broccoli omelette with a side scoop of fried rice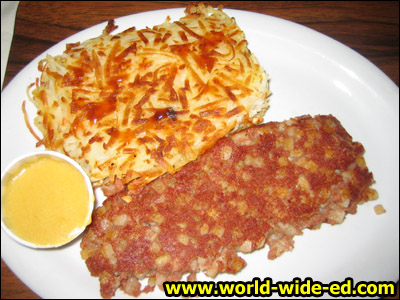 Side order of hash browns and corned beef hash
With both dishes, they included a mini cup of their (I'm assuming) popular Hollandaise-type sauce. It's hard to really ruin breakfast, but with Ono's fresh ingredients, everything was, well, ono!
Ono Family Restaurant
4-1292 Kuhio Highway
Kapaa, HI 96746 (map)
(808) 822-1710
For reasons of proximity, better judgment would tell us that we should go to Bubba's Burgers located right around the corner (still in Kapa`a), but for reasons of insanity and a strong desire to drive for no reason, let's take an unnecessarily out of the way drive to Hanalei to visit Bubba's up north. (Editor's note: The real reason is because I've never visited the Bubba's in Kapa`a and I didn't know how else to admit it to you… 😛 ). So let's take a superfluous drive won't we!?
Located in the middle of historic Hanalei town, you can't miss the bright yellow building that houses this popular burger joint.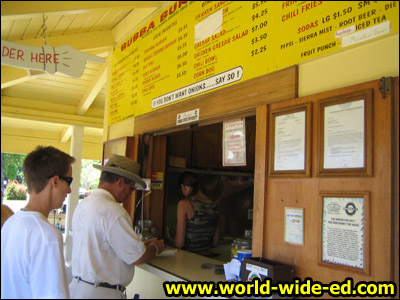 Patrons ordering at the Bubba's Burger window
The entire staff on this day were comprised of scantily clad women, an obvious play towards the Hooters crowd. And, from the look of their web site, I'm sure this day was no exception (you didn't see me complaining).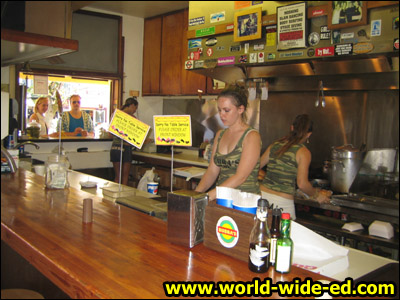 Employees at Bubba's Burger in Hanalei
Skimpy unis notwithstanding, the burgers (and fries) were actually pretty tasty and delish.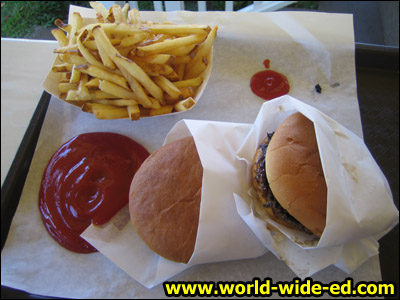 Bubba's Burgers and fries
Bubba's Burger – Hanalei
5-5161 Kuhio Hwy
Hanalei, HI 96714 (map)
(808) 826-7839
Bubba's Burger – Kapa`a
4-1421 Kuhio Highway
Kapaa, HI 96746 (map)
(808) 823-0069
Both locations open 7 days a week from
10:30am to 8:00 pm
obubba@aloha.net
Before you hear about the location of our next stop, let's just close our eyes for a second and imagine ourselves back in town. Dream a little dream that tells us that we didn't just drive a billion miles north only to turn around and drive back for our next meal. Don't be mad, get glad. 🙂
[insert Wayne's World teleporting here]
YUM, wasn't that some burger from the Kapa`a location of Bubba's Burger!? Just play along! *nudge*
You Kauai natives will love the next stop… The ever so popular Hamura's Saimin. Like Tasaka Guri Guri in Maui, Big Island Candies or Kona Coffee from the Big Island, or Leonard's Malasadas or Waiola Shave Ice on Oahu, Hamura's is synonymous to Kauai. Whenever you return from a trip to Kauai, the first thing someone inevitably asks you is "You wen go Hamura's or wot?"
Before we head over to this legendary eatery however, let's first stop by The Fish Express to pick up some poke. It'll be a yummy supplement to the hot saltiness of the saimin.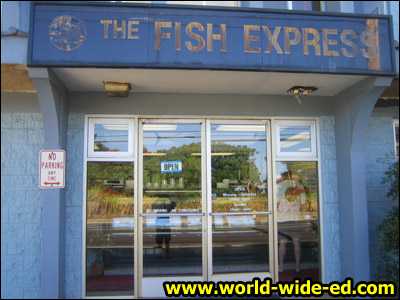 Sign outside The Fish Express (and some goon's reflection)
Located on Kuhio Highway in Lihue, right across from the Wal-Mart parking lot, this popular fish market sells an assortment of fish treats you'd typically see at other fish markets.

Fish selection at The Fish Express
I went for a quarter pound of my favorite Ahi Limu today.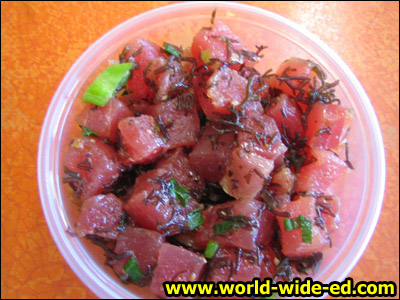 My Ahi limu poke sitting atop the table at Hamura's, waiting to be demolished
(! – For those of you like me who care, the fish was of the previously frozen variety. I'm hoping it was only this batch and not always this way.)
The Fish Express
3343 Kuhio Hwy. # 10
Lihue, HI 96766 (map)
(808) 245-9918
Monday-Saturday from 10am-6pm
Sunday from 10am-4pm
With poke in hand, we made our way to Kress Street in Lihue.
(! – If you're a first-timer to this area, drive slow, as it's easy to miss.)
Once your circle the block a couple of times looking for that dang street sign, you'll make your way onto Kress Street and eventually the gem they call Hamura's Saimin.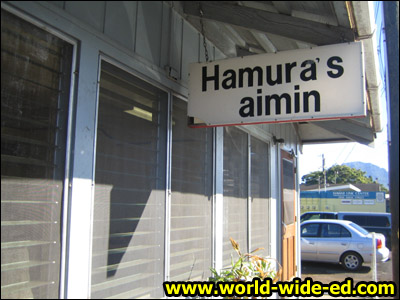 They really have to get someone to pencil in that "S" (on both sides no less!) on the Hamura's Saimin sign.
Hamura's has all the familiar makings of an old world, old town, old Hawaii place making you feel like you're in an old plantation town taking a break from picking pineapples.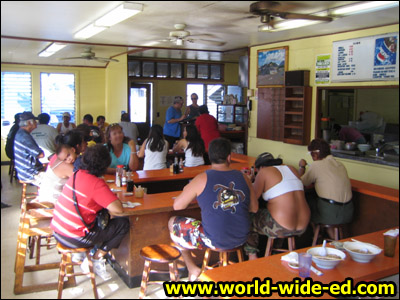 Inside Hamura's
The reminiscent feel however is also part of its lure.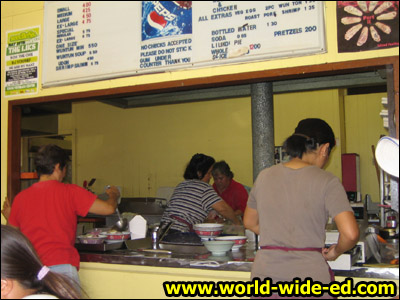 A look into the kitchen
Grab a seat, check out the menu and order away. They are most known, obviously, for their saimin, but their BBQ beef and chicken sticks also have a strong following. Whatever your tum-tum desires, the simple menu is sure to suffice.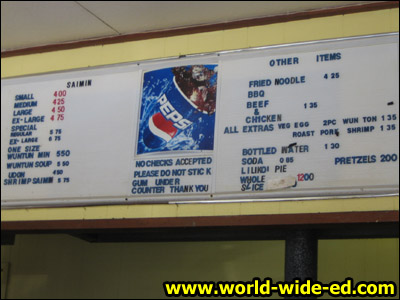 Hamura's simple menu
Now, it's time for the good stuff… Da Food! We ordered a Wuntun Min ($5.50), which comes in only one size, and a Medium (regular) saimin ($4.25).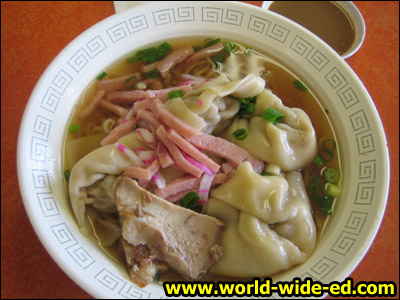 Wuntun Min ($5.50), which comes in only one size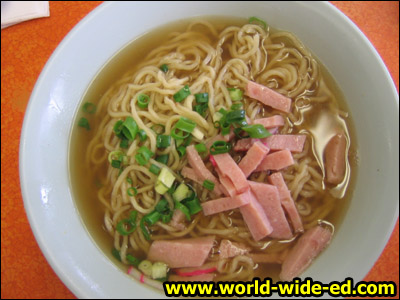 Medium (regular) saimin ($4.25)
Don't forget the condiments!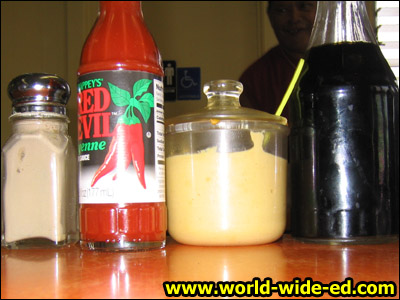 Mandatory saimin condiments: pepper, chili sauce, mustard and shoyu
OK, I know I'm going to be vilified for saying this, but Hamura's isn't the best "local style" saimin I've ever had. That award goes to Shige's in Wahiawa (Oahu), my favorite by far. I dunno, maybe I just have strange taste buds compared to all y'all, but I don't think it's crazy delish like its popularity merits. Don't get me wrong, it's still a fun meal and experience… I just don't want to convey the same "to-die-for" message that everyone else preaches about Hamura's. It's just ok for me.

Side note: Whenever I give my boy (and Kauai native) Kenji my not-so positive review of Hamura's, he gives me this angry stare like he's about to pull out my spleen and rip it in two. The look is so priceless that nowadays, I just cut down Hamura's in front of him so I can see that look. But he's not alone with his Soup-Nazi-type love affair for Hamura's. So don't take my word for it… Here's Kenji's quote about Hamura's:
"Hole in the wall atmosphere with wooden stools, good prices and the best damn saimin on the planet. What more could anyone ask for?"
Hamura's Saimin
2956 Kress Street
Lihue, HI 96766 (map)
(808) 245-3271
Open daily at 10am
Since we've done nothing but eat our brains out thus far, I think it's time we head back to the hotel, rest our fat bellies and take a quick power nap. We'll meet back in 2 and 2 and head over to Pizetta in Kapa`a for din-din.
Now that we've had enough time to rest our heavy selves, let's head on over to Pizzetta's Italian Family Restaurant on Kuhio Highway in Kapa`a.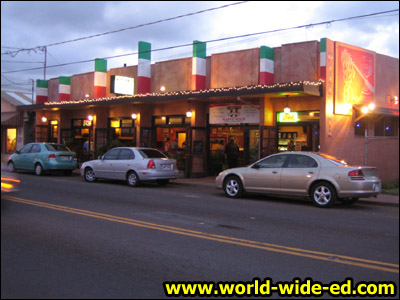 As you enter, you are met with a strong Italian energy that starts from the bar that sits up front.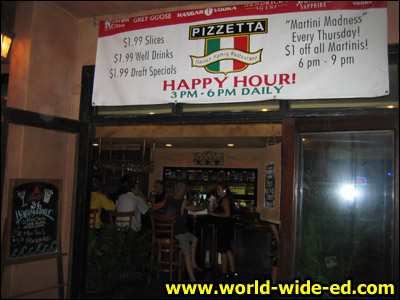 The energy continues to the kitchen and comes through in the flavors of their foods. On this evening, we ordered their Stuffed Mushrooms appetizer (stuffed with petro & quattro formaggio, baked until golden) for $6.95 and their Penne Siciliano (Penne tossed with homemade marinara, Italian sausage, sauteed green peppers, onions & mushrooms) for $10.95.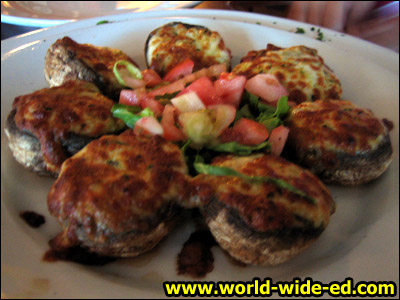 Stuffed Mushrooms – stuffed with petro & quattro formaggio, baked until golden for $6.95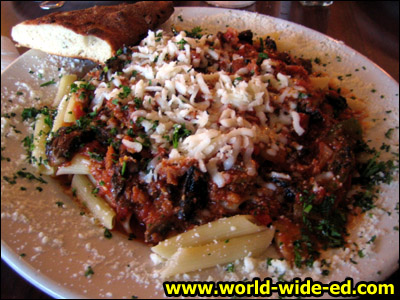 Penne Siciliano – Penne tossed with homemade marinara, Italian sausage, sauteed green peppers, onions & mushrooms for $10.95
Pizzetta's Italian Family Restaurant – Kapa`a
4-1387 Kuhio Highway
Kapaa, HI 96746 (map)
(808) 823-8882
(closed permanently)
Pizzetta's Italian Family Restaurant – Koloa
5408 Koloa Road
Koloa, HI 96756 (map)
(808) 742 8881
pizzettahawaii@pizzettarestaurant.com
Since we all feel like Jabba the Hutt after stuffing our faces all day long, I promise… no more eats. Let's end our day, by going to another local favorite bar/hangout in Duke's.
Located on the sands of Kalapaki Beach in front of the Kauai Marriott Resort, Duke's Canoe Club Barefoot Bar & Restaurant is a frequent stop for locals and tourists alike.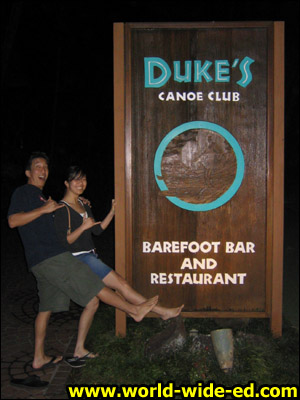 Duke's Canoe Club – Kauai
3610 Rice Street
Lihue, HI 96766 (map)
(808) 246-9599
Shooting the breeze here while dreading that plane ride home tomorrow morning is bittersweet, but we'll no doubt be back. I think I have enough in my photo arsenal for a 3rd and final part in this Kau Kau Kauai series, so keep an eye out for that. Yeah yeah, I have Brick Oven Pizza, Polynesia Cafe and Sunday Brunch at Cafe Hanalei (among others) lined up so relax tampax… I'll get to it, guaranz.
Until then, much love for listening. I'll be coming to a town near ya soon…
P.S. I'm going to Denver–>Las Vegas–>L.A.–>Diego next month, so if you have any hot tips on places to go (I've already got Versailles and Pink's lined up), be sure to let me know. I'll also make it out to the Big Island one of these weekends so same smell… let me know a-ight?