It wasn't long after wrapping up the final part in my 5 part series on Hawaii's best ramen, that people started harassing me. "You need to cover saimin now!" "What about Hawaii's best saimin places!?"
As good as their suggestions were, prior to my interview with Sun Noodle president Hidehito Uki, I was a full-on ramen snob. I would normally only "stoop" to eating saimin out of desperation. At Zippy's, in a drunken state, during the wee hours of night during our clubbin' days. When driving to a ramen place in town was too far. Or when your whole group agrees on a saimin place and it's too late to renege on your previous "up to you" comment.
I'm of course exaggerating (I love anything with noodles!), but Mr. Uki seriously slapped some saimin sense in me with his life changing, epiphanic quote:
"Each area in Japan has their own, unique style of ramen. Kyushu has Hakata style (tonkotsu), Hokkaido has Sapporo style (miso)… Saimin is Hawaii's style of ramen."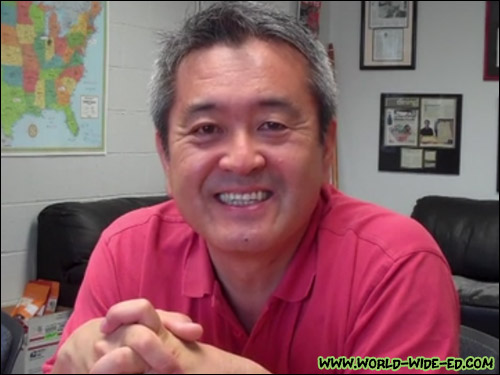 Sun Noodle's Hidehito Uki during our "Hawaii Ramen Quest – Part V" interview back in February
Hellooooo!? The world now made perfect sense to me. And with that, I was no longer a ramen snob, ready to tackle the next noodle adventure around the state. "Saimin Adventures", here we come!
We start with my favorite saimin place in the state: Shige's Saimin Stand in Wahiawa.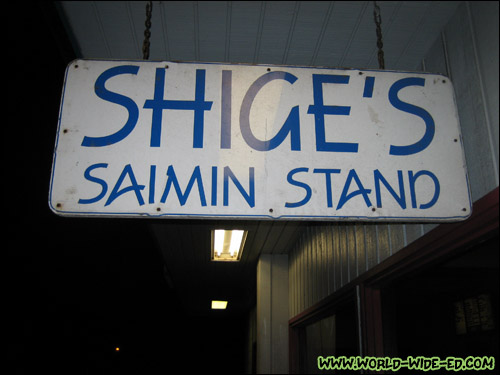 Shige's Saimin Stand sign
Living and working in the often chilly Central Oahu, it's easy to pay this place a visit at least once a week to warm the ol' soul. But it's not because of convenience that Shige's tops my list for local style saimin, it's taste.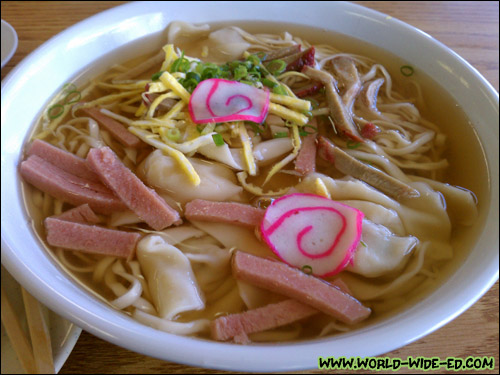 Large Wunton Mein
Although their menu boasts a fair amount of alternatives like Hamburger Steak, Loco Moco, Fried Saimin, Roast Beef Sandwiches, and udon, I *always* order their Wunton Mein. I just can't bring myself to go to Shige's and NOT order saimin. The soup base is "clean" & subtle, and not overbearing, while the homemade, signature, flat noodles is always soft and never clumpy (my pet peeve). The balance of noodles to Wunwon/garnishes (another pet peeve of mine) is also jussssst riiiight.
If I'm hungry (or I have someone to share it with), I like to order their BBQ Cheeseburger on the side to round out my meal. She go!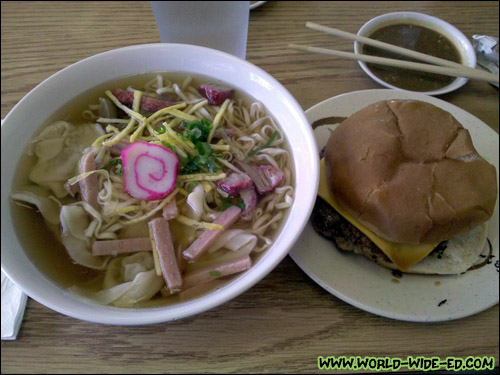 Large Wunton Mein and BBQ Cheeseburger
I did notice a sudden increase in their prices lately, but I think it's only because I've been spoiled to their 80s style pricing up until now.
Shige's Saimin Stand
70 Kukui Street
Wahiawa, HI 96786 (Street View)
(808) 621-3621
Mon-Thu: 10am-10pm
Fri & Sat: 10am-midnight
Closed Sundays
The next place has been somewhere I've been trying to get to for a long time: Nakai Saimin. There is a family association between Shige's and Nakai (the noodles are based on the same recipe), and since Shige's is up there on my list, I wanted to see how Nakai compared. So I enlisted the help of Twitter friends and Nakai regulars Russ Sumida (@ParkRat), Brandon Suyeoka (@WeHeartHawaii) and Rick Nakama (@RickNakama).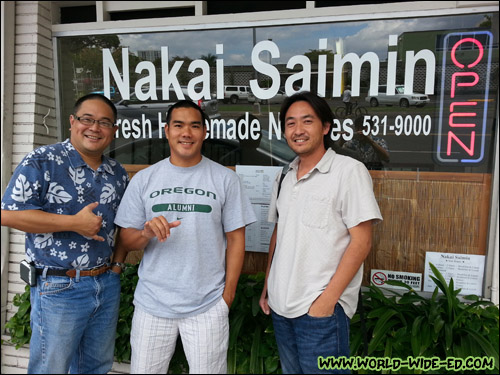 Russ Sumida, Brandon Suyeoka and Rick Nakama outside Nakai Saimin
The first thing you notice is the soup base. It's clearer with a tad less flavor. And I'm hoping I caught them on a bad day, but remember how I said that my pet peeve was clumpy noodles? There were some elements of clumpiness going on there. It seemed that the noodles and the won ton may've been of the previously frozen variety.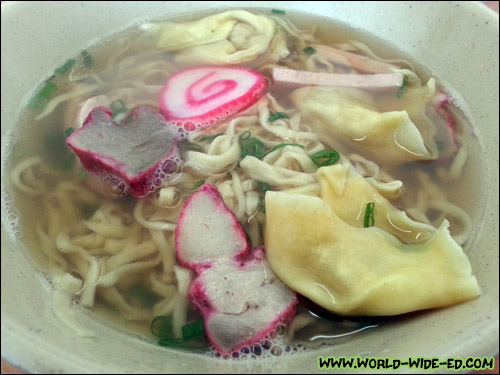 Small Won Ton Mein ($5.95)
For good measure, I thought I'd give their popular BBQ Stick a try.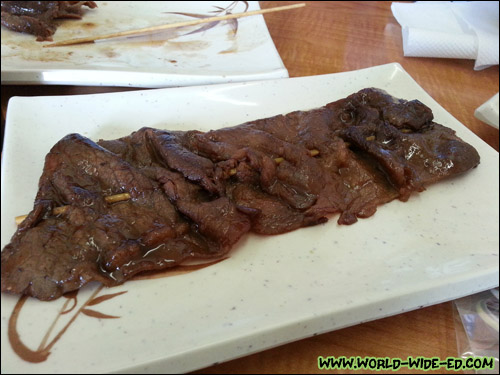 BBQ Stick ($2.75)
Although it wasn't as hard/crisp as what I'm used to with BBQ sticks (which may actually be a good thing), this one had good flavor throughout.
I'm willing to go back again for sure, but if I had to pick a winner between Shige's and Nakai (based on this visit), I would have to give it to Shige's. The boys didn't agree with me.

Russ Sumida, Brandon Suyeoka and Rick Nakama give their review of Nakai Saimin
Nakai is expanding both their hours (see below) and their footprint. Rumor has it that another Nakai Saimin recently opened up in Haleiwa, the town where it actually all started (their original location was in Haleiwa back in the '50s).
Nakai Saimin
1329 Nuuanu Ave
Honolulu, HI 96813 (Street View)
(808) 531-9000
Mon, Tue, Thu, Fri: 6am-2:30pm (Breakfast & Lunch)
Fri: 5:30pm-9pm (Dinner)
Sat: 7am-2:30pm (Breakfast & Lunch)
Sat: 5:30pm-9pm (Dinner)
Sun: 7am-3:30pm (Breakfast & Lunch)
Wed: Closed
(permanently closed)
Lastly, let's pay a visit to everyone's favorite late night eatery: Zippy's! Like Shige's, it's difficult for me to go there and NOT get the saimin. In this case, it's Zippy's signature favorite: the Zip Min.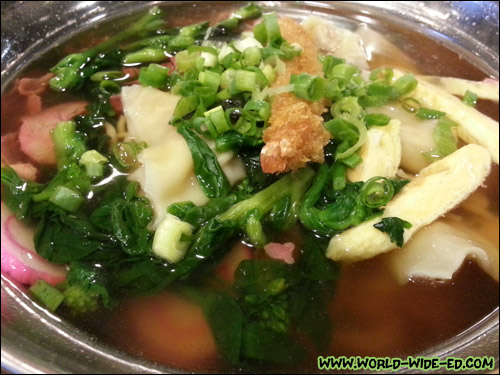 Zip Min (Saimin noodles, wun tun, breaded shrimp, choi sum, fishcake, dried seaweed, egg, sweet pork, and green onions.
In a recent visit there, the wun tun had a noticeably different (and stronger/"garlic-y") taste. Over the years, the portions – as with many of the other menu items here – seem to be shrinking while the cost continues to rise. A sign of the economic times I suppose.
Zippy's
Locations: Varied
Hours: Varied
808-973‑0880
Look for more during our "Saimin Adventures" where we explore the famous noodles from places like Hamura's on Kauai, Sam Sato's on Maui and Shiro's right here on Oahu. If you have any other suggestions for places I should visit (yes, Palace is on my list! 🙂 ), leave a comment for me below.
[youtube=http://www.youtube.com/watch?v=g6fspcsRH8U&w=500&h=400&rel=0] Tarp Surfing in Hawaii – VH07V Style (Click to Play!)