My journey to Agu actually started online.
As mentioned in my review of Hokkaido Ramen Santouka last month, I haven't seen much of the outside world following the birth of our second child. So looking at the most tastiest looking photos on Facebook and Instagram of a new ramen place called Agu, was about as close to "eating out" as I was going to get.
Finally, the day came… When all the stars seemed to align! We were in town first of all. Baby #1 just crashed out and Baby #2 had a nice, long, scrumptious feeding. I had mentioned to the wife before that I wanted to check this new place out, but she was always worried about how we're going to handle it with two youngins.
Enter the in-laws.
They are ramen lovers just as much as we are, so we all decided that we would attempt an outing together because with 4 against 2, the odds were in our favor. 😉
We headed to 925 Isenberg – the old Da Kitchen location and the back of the Saint Louis Alumni Association Clubhouse – early and walked right in (they had recently opened their hours to include lunch so we weren't sure how the crowd would be). It was cold and slightly wet outside… the perfect weather for ramen.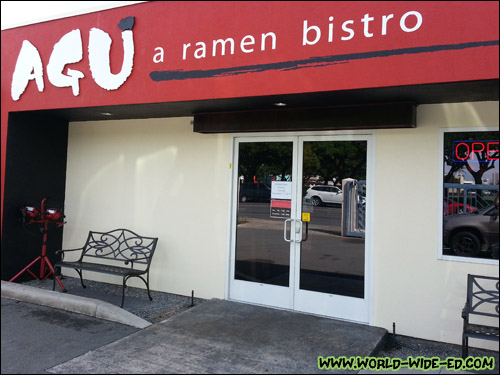 Outside Agu Ramen Bistro
Inside, things were very clean and new-looking. Cute even. Perhaps a nod to the "Bistro" in their name.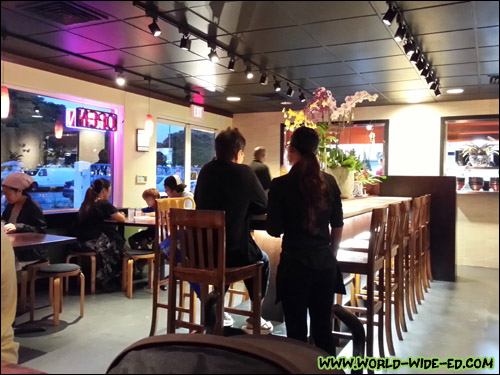 Inside Agu Ramen Bistro
First up was the Agu Gyoza stuffed with ground pork, cabbage and nira (garlic chives) and served fresh daily!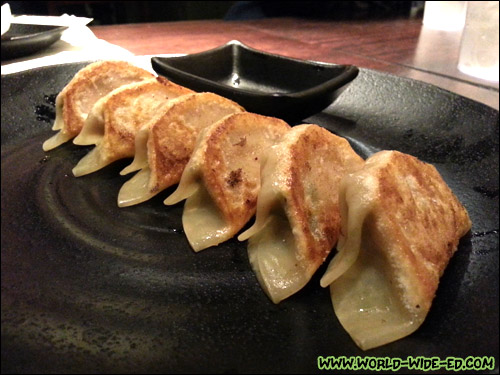 Agu Gyoza – 6 pc, ground pork, cabbage and nira (garlic chives) – $5.25
Delicious, but nothing I haven't tasted before. And then… dun dun DUNNNNN! The ramen came… BRAAAAAH!
Here's a look at the wife's Shoyu Tonkotsu Ramen, topped with house made char siu, aji tamago, menma (fermented bamboo shoots), negi (green onions), chopped onions, kikurage (cloud ear mushroom) & sesame seeds.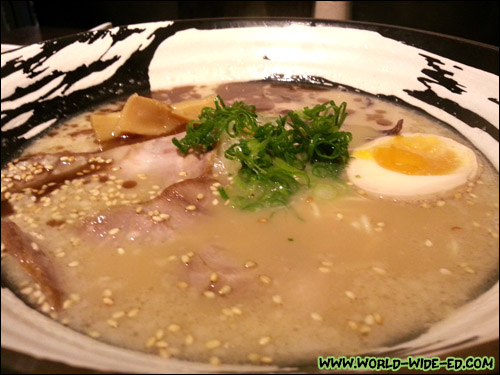 Shoyu Tonkotsu Ramen – bonito infused shoyu tare served with black sesame paste. – $10.75
The chashu is marinated in sake-soy, using only premium grade pork from Okinawa called Agu, the namesake of the restaurant, while the Tonkotsu broth is made by cooking hundreds of pork bones at a rolling boil for 18 hours with, as they say "Aloha and patience." They use traditional Hakata style thin noodles, which you can request both the "well done-ness" of (I like um al dente) as well as the quantity ($3.50 to double the amount).
Here's my Kotteri Tonkotsu Ramen with house made char siu, aji tamago, menma, negi, kikurage & sesame seeds, sans the chopped onions. My bowl also included garlic chips and seabura (pork fat). Cha-Ching!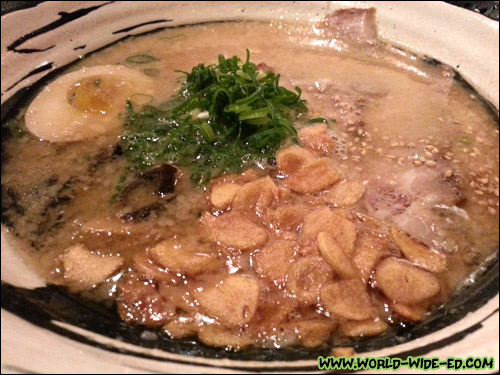 Kotteri Tonkotsu Ramen – extra rich broth made with garlic & silky back fat – $11.75
You can also opt to kick your ramen up a notch by requesting a spice level from 1-5. If you're daring enough (or just plain nuts), there is a level that even goes beyond that, appropriately called "Epic". The waiter we spoke with said he sees about 1 in 50 customers crazy enough to go for the Epic Spicy level, most of whom cannot finish it (no can handle Randall). Here's a look at what levels 1 and 3 look like.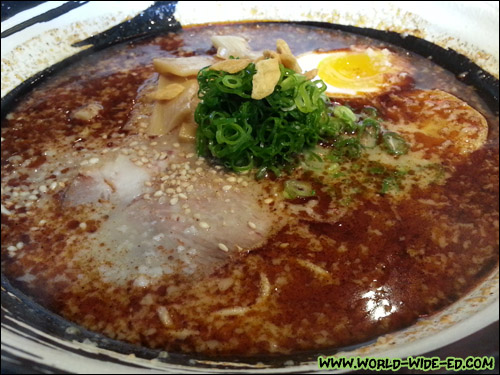 Spicy Kotteri Tonkotsu Ramen (with spice level 1) – $12.75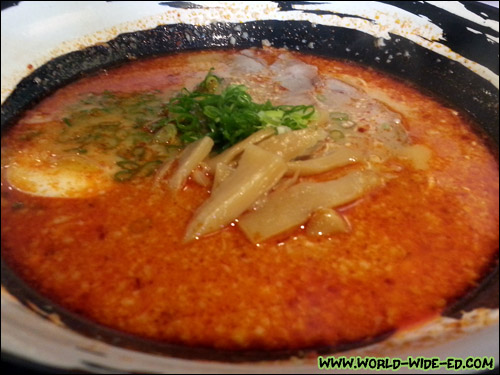 Spicy Kotteri Tonkotsu Ramen (with spice level 3) – $12.75
Up until now, my two favorite ramen restaurants in Hawaii were Yotteko-Ya in McCully and Tenkaippin on Kapahulu, hands down. After just this one sitting, Agu has already officially been added to my list of "Top Ramen Fo' Grind"… Yeah, it's that good!
I'm now looking forward to the day when the stars once again align…
For more on ono kine ramen restaurants here in Hawaii, check out my Hawaii Ramen Quest series here: Part I | Part II | Part III | Part IV | Part V
AGU Ramen
925 Isenberg St. (Back of the Saint Louis Alumni Association Clubhouse)
Honolulu, HI 96826 (Street View)
(808) 492-1637
Hours: Sun-Thu: 11am-9pm
Fri & Sat: 11am-10pm
Facebook: https://www.facebook.com/AGURAMEN
[youtube=http://www.youtube.com/watch?v=g6fspcsRH8U&w=500&h=400&rel=0] Tarp Surfing in Hawaii – VH07V Style (Click to Play!)