Anyone who knows anything about me, knows that my love for ramen runs deep. It borders on obsession. So much so that I'm convinced my mom cut her milk with ramen soup before popping the bottle into my mouth.
So it was a no-brainer to follow up my popular "Poke Paradise" series with this here Ramen Quest, a pursuit for the perfect bowl of ramen, right here in Hawaii.
Now when I say ramen (or rahmen / ラーメン as we Nihonjins like to call it), I'm not talking about the localized interpretation of it referred to here as saimin (no offense saimin lovers). I'm talking about the hardcore, straight from the muthaland kine noodle and soup combination that you fantasize of. I've tasted some of the best there is in Japan, and have been living to replicate that euphoria ever since. (See, I told you I was obsessed! 8) )
First up is Yotteko-Ya, located on the west end of McCully Shopping Center (opposite Fook Yuen).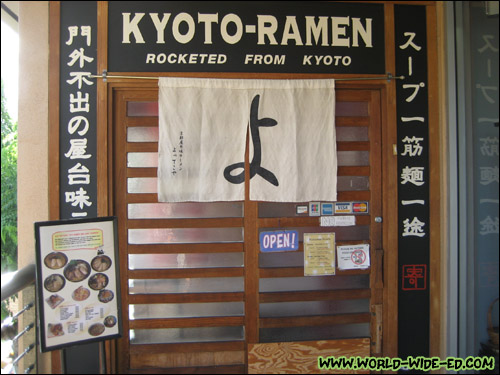 Yotteko-Ya entrance
The specialty here is their Paitan soup base, which is described as a "richer, more flavorful chicken & pork based broth" and simmered for hours. In it, swims their perfectly cooked, al dente (Japanese style) noodles and homemade chashu pork, along with green onions, seaweed and sesame seeds.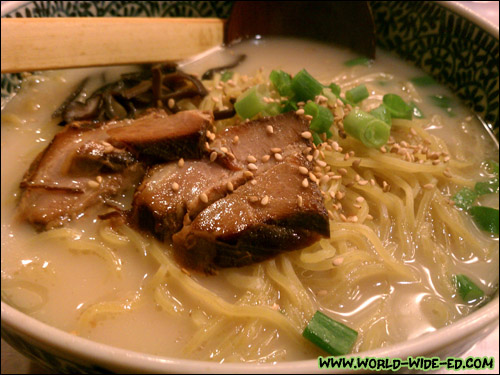 Paitan Ramen from Yotteko-Ya
They also have an amazing Chashu Gohan (which includes chunks of chashu similar to the one in the ramen) that my wife goes absolutely gaga over.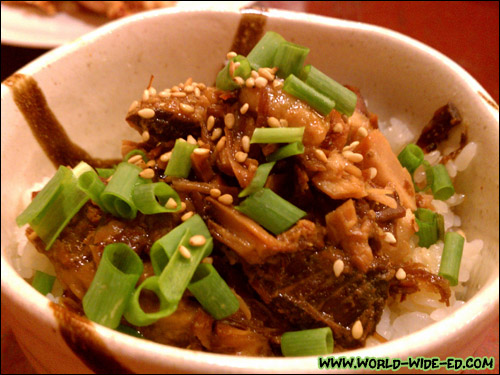 Chashu Gohan
Our go-to meals here are usually the Paitan C Set, which includes the Paitan Ramen, Chashu Gohan (or Mini Yakibuta Chahan), and Gyoza, or the Paitan D Set, which includes the Paitan Ramen, Chashu Gohan (or Mini Yakibuta Chahan), and Karaage (fried chicken).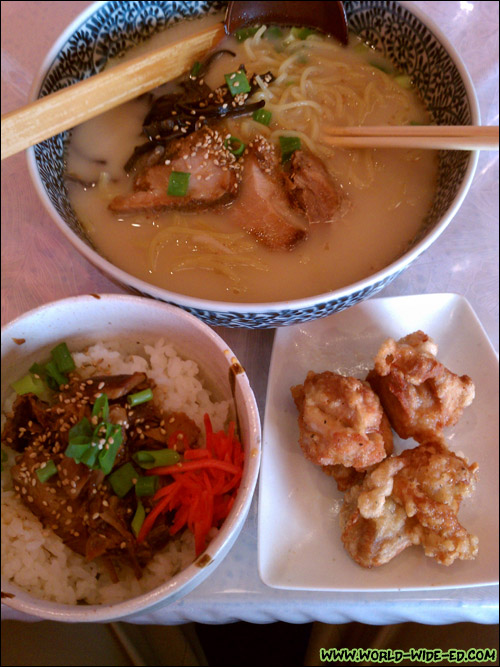 Paitan D Set: Paitan Ramen, Chashu Gohan, & (Chicken) Karaage – $12.95
It should come as no surprise that the ramen I featured first in this series is a franchise straight from Japan. In fact, during a trip there in '08, we actually went to the one in Odaiba.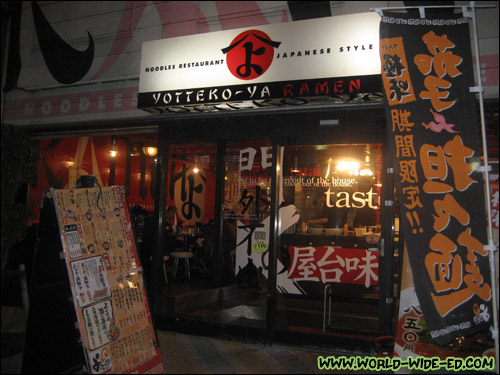 Yotteko-Ya in Odaiba Japan (Tokyo)
Here's a look at what the Chashu Ramen looked like there.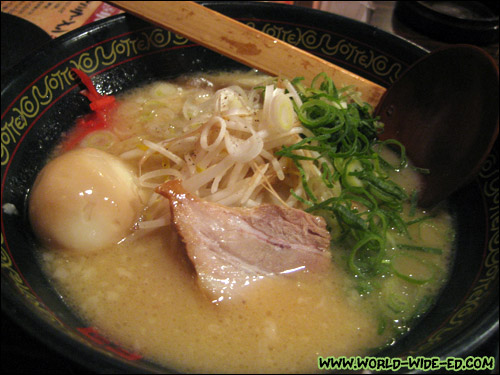 Chashu ramen from Odaiba's Yotteko-Ya in Tokyo
Yotteko-Ya
1960 Kapiolani Blvd #214
Honolulu, HI 96826 (map)
(808) 946-2900
Lunch Hours: Mon-Sun: 11am-2pm
Dinner Hours: Mon-Sat: 5pm-11pm, Sun: 5pm-9pm
@ramen_yottekoya
I first covered our next spot back when they were located in Waikiki.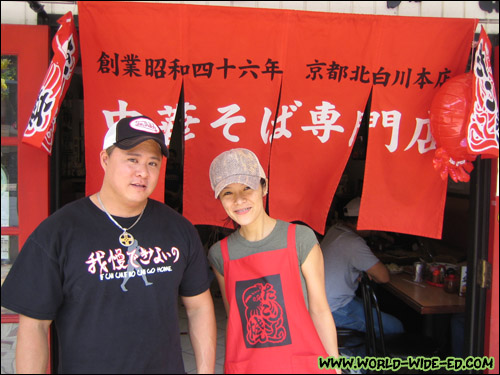 Owner Scott Suzui and his wife Mayumi outside the original Tenkaippin location in Waikiki
The restaurant is called Tenkaippin Ramen (which is also a franchise straight from Japan) and is owned by Scott Suzui and his wife Mayumi. If you think they look familiar, they have since become local celebrities of sorts, thanks to their show on OC16 called "Ultimate Japan".
This is my go-to restaurant whenever I'm in the area, and I usually like to bring along a friend or two. On this occasion, I brought my boy Bari who seems to be enjoying his bowl of ramen just a little too much. 😛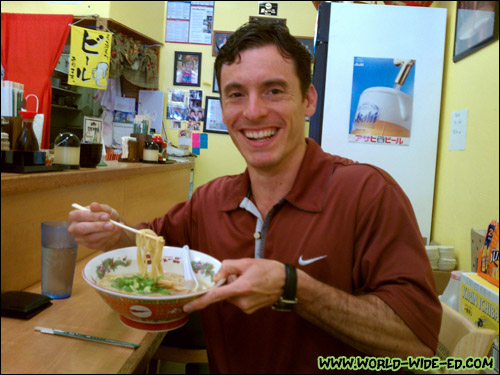 Bari loves his Tenkaippin Ramen
Similar to Yotteko-Ya, Tenkaippin is known for their soup base (known here as kotteri) which is accomplished by stewing chicken and vegetables for over 10 hours. Most ingredients are actually flown in fresh from Japan too!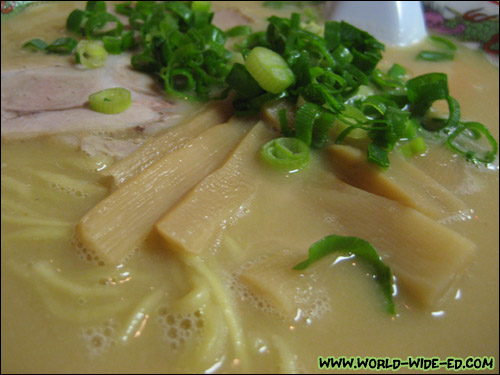 Tenkaippin's Kotteri Ramen – $8.75
Here's a peek at what it actually looks like to scoop a mouthful of noodles from this thick, kotteri soup base.
Video of Kotteri Ramen from Tenkaippin's
Tenkaippin Ramen
617 Kapahulu Ave
Honolulu, HI 96815 (map)
(808) 732-1211
Mon-Thu: 11am-10pm
Fri-Sat: 11am-11pm
I had to fly all the way to Waikoloa on the Big Island (FBI!) to get this next bowl of yummy goodness. It's the D.K.'s Crab Ramen from Sansei Seafood Restaurant & Sushi Bar (Queen's MarketPlace, Waikoloa Beach Resort).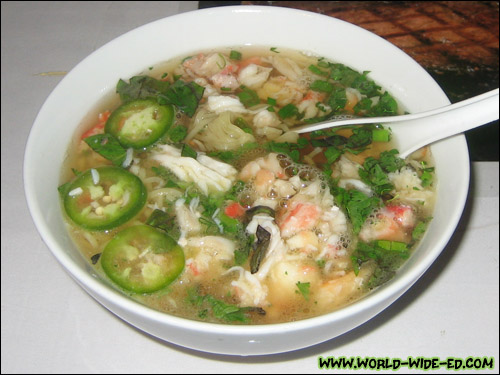 D.K.'s Crab Ramen and Asian Truffle Broth with King Crab, Cilantro, Thai Basil and Mild Jalapenos – $17.95
One word of caution. After tantalizing our taste buds with this one while on vacation at Waikoloa, we were excited to have it again (and again) at the Sansei closer to home (Waikiki). It was a HUGE disappointment. It did not come close to what we remember enjoying FBI-style, and, if you take a look at the photo below from Sansei Waikiki, you'll see that it looked nothing like it either.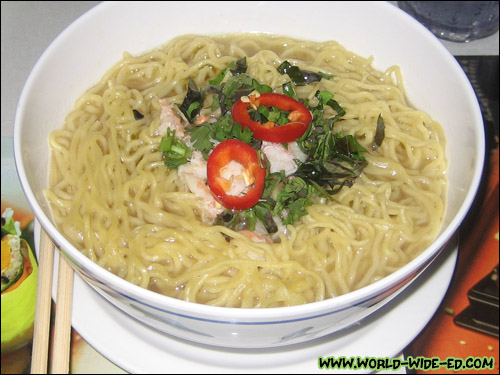 Disappointing Crab Ramen from Sansei Waikiki
We actually tried our luck again on a trip to Maui, and the one at the Kapalua Resort turned out to also be a letdown.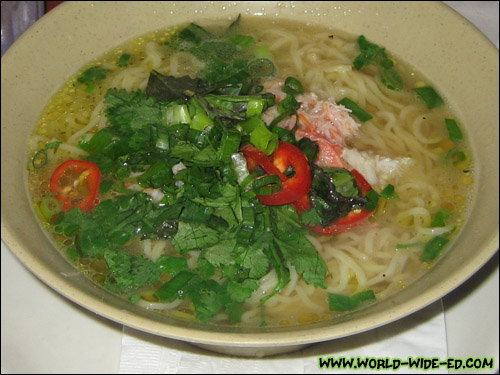 Disappointing Crab Ramen from Sansei Kapalua
We're actually afraid to go back to try the one at Waikoloa in case it was a McDreamy, one time (all-stars-aligned type of) thing. Sansei peeps, if you're reading this, what's the scoops?
Sansei Seafood Restaurant & Sushi Bar (Queens Market Place, Waikoloa Beach Resort)
201 Waikoloa Beach Drive Suite 801
Waikoloa, HI 96738 (map)
(808) 669-6286
Dinner Nightly: 5:30pm-10pm
Late Night Dining: Friday and Saturday: 10pm-1am
And finally, talk about good timing… Shirokiya is in the middle of their "Best of Japan: Ramen & Gyoza Festival", where they bring in popular ramen (and gyoza) vendors from Japan to be featured at their new Yataimura area for two weeks at a time.
The first in the series (featured from 08/23-09/05) was Menya Ifudoudou Ramen from Osaka who served 7,658 bowls during their two week stint! They presented their Kuroton Shibori (dark) and Akaton Shibori (spicy/red) options. Here's a look at both: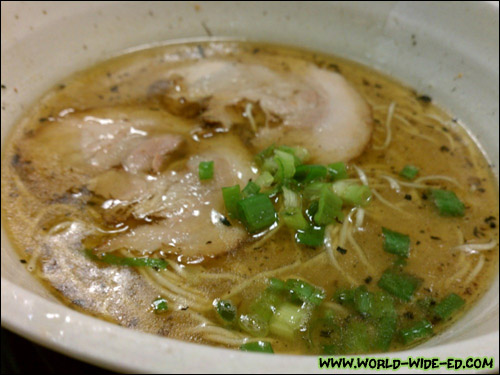 Kuroton Shibori Ramen from Menya Ifudoudou Ramen from Osaka Japan – $8.95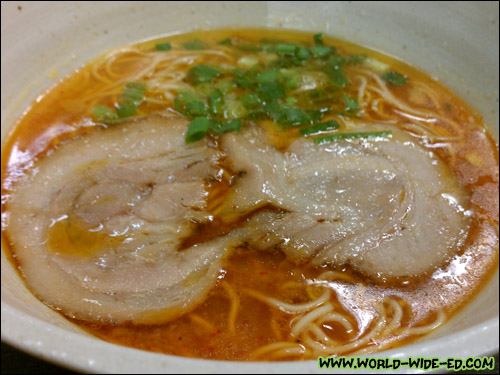 Akaton Shibori Ramen from Menya Ifudoudou Ramen from Osaka Japan – $8.95
I don't know if it was because it was the last day of the series and they were running low on noodles, but the portions were REALLY skimpy.
The second in the series (featured from 09/06-09/19) was Manshuya Ga Ichiban from Fukuoka who served 9,619 bowls of their "Original" Tonkotsu Shibori Ramen. Due to my crazy life as a new dad, I missed this series, but my buddy Rick Nakama was able to check it out (three times!). Here's his Takana Shibori bowl: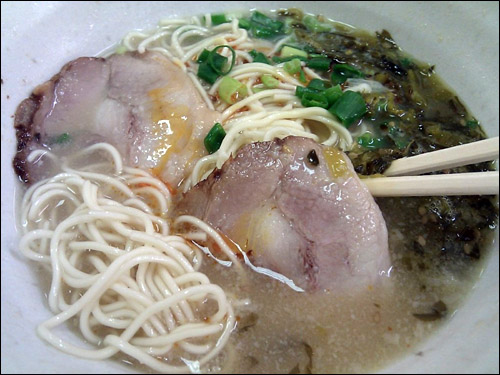 Takana style Tonkotsu Shibori Ramen from Manshuya Ga Ichiban from Fukuoka – $9.95 [Photo Courtesy: Rick Nakama]
Rick's main complaints were about the quantity (again) and the inconsistency of the ramen noodles and taste.
The third in the series (which is currently being featured as I write this – 09/20-10/03) is Hakata Chouten from Fukuoka. I was most excited for this because some of the best ramen I've ever tasted in Japan came from the Hakata area in Fukuoka.
UPDATE: This series served 7,805 customers.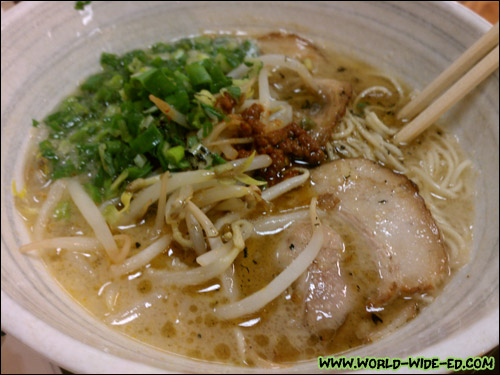 Barikoku Negi Tonkotsu Ramen from Hakata Chouten in Fukuoka – $10.95
The soup base was pretty tasty, but, again, the quantity was very minimal compared to what we had to pay: $10.95!

Rick Nakama finishing his bowl while Russ Sumida "poses" with mine. 8)
The fourth in the series happens from October 4th through the 17th and features Hokkaido's Sapporo Menya Yoshiki who will have three choices of soup base: shiro (white), kuro (black) and aka (red). Following that will be Fukuoka's Hide Chan Ramen from October 24th-November 6th.
Shirokiya Yataimura (at Ala Moana Shopping Center)
1450 Ala Moana Blvd, Ste 2250
Honolulu, HI 96814 (map)
(808) 973-9111
Mon-Sat: 9:30am-9pm
Sun: 9:30am-7pm
So there you have it. Some interesting options for ramen here in Hawaii right? And that was just part 1! I still have at least 4 more juicy parts to this series (including Gomaichi, Goma Tei, Menchanko-Tei, Chinpei, Kiwami, etc.), but if you have any others suggestions on where I should hit up, holla atcho boy! Shoots!