Not to be outdone by their "townie" counterparts, this collection of merchants all make the claim that the westside is the bestside when it comes to serving up ono bubble drinks for us country bumpkins. Let's take a looksee for ourselves shall we?
Coffee or Tea? (Pearl Kai)
Hallelujah! Our prayers have been answered!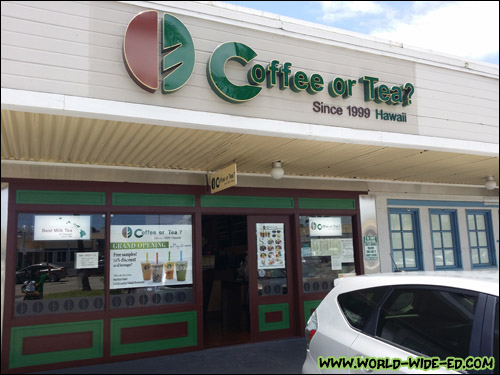 Outside Coffee of Tea? (Pearl Kai)
As westsiders, making the trek to McCully Shopping Center to get our Coffee or Tea? fix is like going to the moon. We'll make it a point to go if we're already nearby, but if not, ah, no can. The wife and I kept joking with each other saying, "Wouldn't it be perfect if 'Coffee or Tea?' opened up another location closer to us? We should just ask the owners if we could start our own franchise!" That's when we knew we were insanely obsessed. Thankfully, those dreams became realty when long-time employee Shuru Yang was awarded her very own franchise in the Pearl Kai Shopping Center by owner Hunter Chao.
"I worked there for 7 years since I was in high school." says Yang. "The owners treated me like family and one day told me to look for a location for my very own store."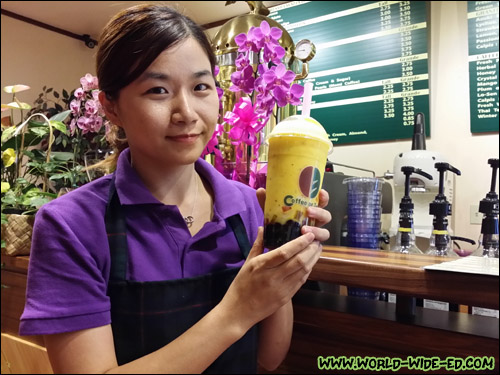 Coffee of Tea? Pearl Kai Owner Shuru Yang with their popular Passionfruit Smoothie
The new Pearl Kai location – right next to Tadashi Japanese Restaurant – only opened its doors on May 21st of this year and we've probably already been there about half a dozen times! If you've been to the McCully Shopping Center one (see Part I to refresh your memory), you'll immediately recognize the layout. In fact, it's almost an exact carbon copy of the original, only flipped (cash register on the right and seating area on the left).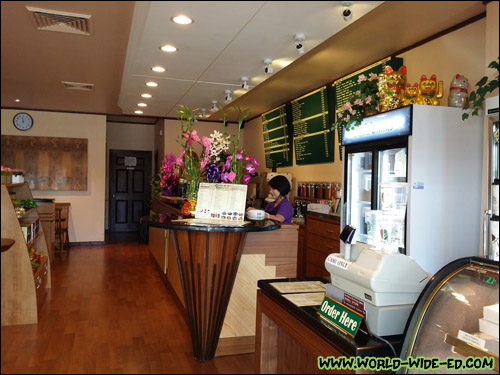 Inside Coffee or Tea? Pearl Kai
Be sure and support Shuru and her team (Grand Opening special: 10% discount off all beverages through July 31st) and see why they are one of our favorite Bubble Tea drinks around!
Wife says: "Wow!!! Coffee or Tea closer to home? Yes, please!!! I couldn't be happier that my favorite milk tea joint opened a second location… Which makes it easier for me to get my milk tea fix! The taste of their milk tea & boba is exactly the same as the original location (in McCully). I love that their drinks are so consistent! Even the layout of the store is an exact replica of the original location (except flipped). The owner of this location is super sweet & friendly, too!"
Coffee or Tea? (Pearl Kai)
98-199 Kamehameha Hwy, Unit C6
Aiea, HI 96701 (Street View)
808-487-5168
Sun-Thu: 9am-10pm
Fri-Sat: 9am-10:30pm
Tea Time (Taiwan)
I don't remember how we first heard about Tea Time, but I vaguely recall someone telling us about a new place in Pearl City and how it had some kind of association with Taste Tea. Something about the former owner of Taste Tea leaving to open Tea Time. Whether it is an actual partner/franchise operation or a spin-off, I'm not sure, but the layout and ordering method is eerily similar.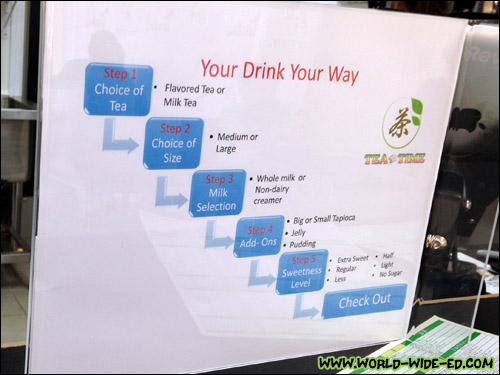 How to order your bubble drink at Tea Time
Since Tea Time only recently had their soft opening (early February of this year) and their official Grand Opening on February 22, they are still relatively new to the area and internal processes. Like their Taste Tea counterparts (see Part II), they've run out of large tapioca balls (boba) on me on more than one occasion, one of my pet peeves.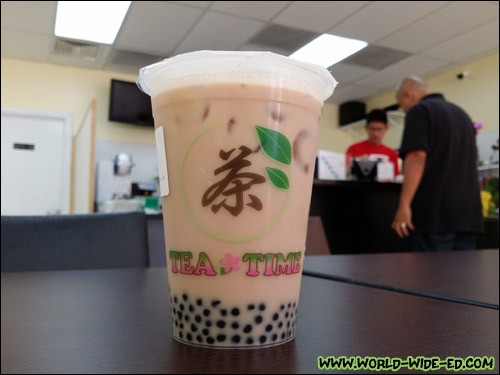 Medium Milk Tea with Small Tapioca Balls (not by choice)
Since the milk tea from Tea Time and Taste Tea supposedly come from the same roots, I asked my friend and die-hard Taste Tea fan Mel Sumida to compare the two. Her response pretty much sums it up: "I like the milk teas at both locations. The Taste Tea one is on the sweeter/milkier side, and the Tea Time one is less so, more 'tea-ey'. For the milk tea portion, I probably prefer Taste Tea just a little more. But, oddly, I like the tapioca balls better at Tea Time. I'm weird."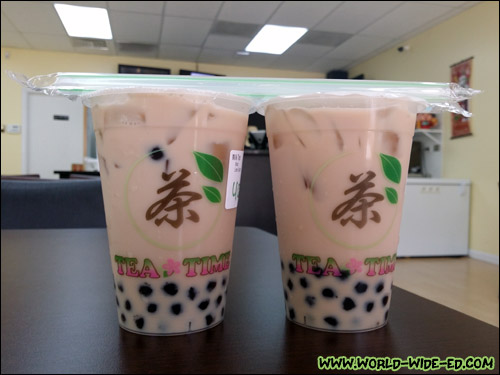 Medium Milk Tea with Large Tapioca Balls x 2
As always, wife has the last word…
Wife says: "This tea shop reminds me a lot of Taste Tea. The menu options are quite similar to Taste Tea – you can customize your boba size, level of sweetness, & select from a variety of tea flavors. I was so excited to try the milk tea & it didn't disappoint – the milk tea wasn't too sweet & the boba was soft & firm. However, the last two times we tried the milk tea it tasted different… I can't figure out exactly what was different about it, but it seemed a little more watery than normal and the boba was also slightly harder."
Tea Time (Taiwan)
98-1254 Kaahumanu St, Suite 172
Pearl City, HI 96782 (Street View)
808-488-8898
Sun-Thu: 10am-10pm
Fri-Sat: 10am-11:30pm
Bambu Desserts & Drinks (Aiea)
Bambu came with a lot of fanfare behind it. Following the release of Part I in my Bubble Tea series, I've had my fair share of requests to go and check them out, and, with a 4 out of 5 star rating with 150+ reviews on Yelp!, it's hard to argue.
Though again, since I live in boonieland, making my way to their Kapahulu location in town proved to be quite the challenge. Upon further research, I discovered that Bambu was actually part of a larger franchise with locations as far away as California, Georgia, Nevada, Oregon, Pennsylvania, Texas, Virginia, and Washington, to the more convenient Aiea, Hawaii (next to Aiea Town Square).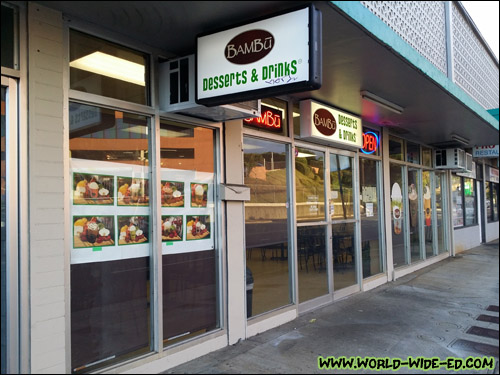 Outside Bambu Desserts & Drinks in Aiea
The Bambu location in Aiea opened its doors at the end of last year (December 14th), so it is still relatively new to the area. The interior has that polished, new, franchise feel to it.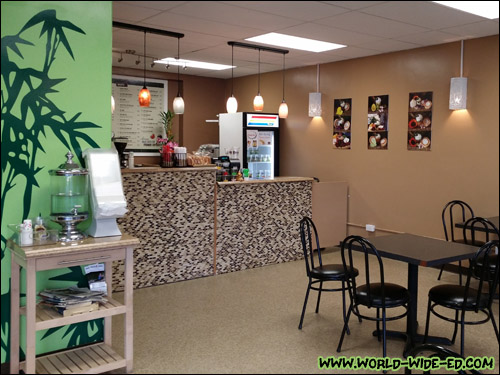 Inside Bambu Desserts & Drinks in Aiea
Milk Tea-wise, the flavor was on point. Nice, strong tea flavor with just the right amount of milk. The tapioca balls however, were a letdown. They were way too soft & mushy. I'm hoping that it was just this batch and not always this way.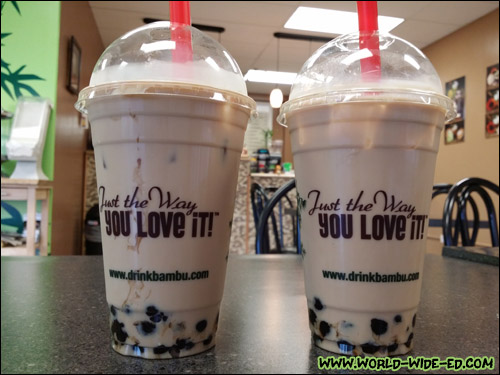 Black Milk Tea x 2
Wife says: "We heard a lot of great things about Bambu's drinks, so we had to check it out! Although the menu is extensive, we wanted to try the milk tea with boba. The milk tea tasted yummy (it had a slightly stronger tea taste as compared to other milk teas I've tried, but still good). But it was the boba that was suuuper soft (almost mushy!) the batch we had was definitely overcooked. Shucks! I'm assuming that it was just a fluke since we heard great things about them."
Bambu Desserts & Drinks
99-165 Moanalua Rd, Suite 200
Aiea, HI 96701 (Street View)
808-484-0288
Open 11am-9pm Daily
(Closed permanently)
HulaShake
With two young kids, an exciting night out these days for us usually means a trip to Target out in Kapolei. On the way there, we often grab dinner from Pho808 in the Kapolei Marketplace. On a somewhat recent trip there, we noticed a bright, colorful store that had the makings of a froyo shop and had to pop in to check it out.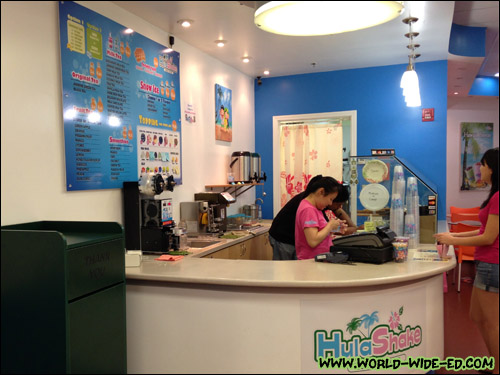 Inside HulaShake
According to a poster in the store, their 12 most popular drinks are the Strawberry Green Tea, Japanese Tea Smoothies, Mango Smoothies, Chocolate/Belgium Chocolate drink, Coconut Milk Tea, Taro Smoothies, Green Apple Green Tea, Passion Fruit Green Tea, Taro Milk Tea, Blue Coral drink, Thai Tea, and their Signature Milk Tea.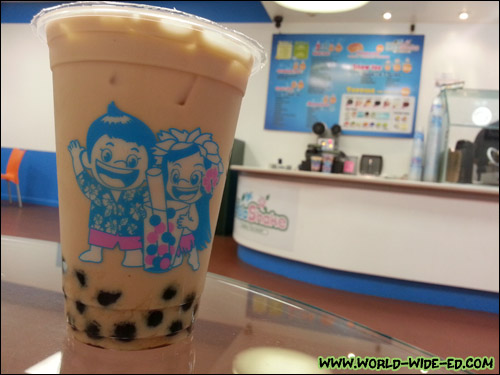 Signature Milk Tea from HulaShake
I particularly enjoyed it, especially since the owner Hillary had a lot of energy and seemed very passionate about making her new business (opened in August of last year) work. The store layout, professional product shots, and logo and icon usage had all the makings of a franchise but I could not for the life of me find any other affiliated stores. If Hillary is doing all of this on her own, that's very impressive.
Side note: Not to be confused with HulaShake, Hula Boba in the Crossroads at Kapolei Shopping Center (Simply Organized, Chun Wah Kam, Brick Oven Pizza, etc.) across the street also serves up bubble drinks, though they do not have fresh tea options at last check.
(For HulaShake) Wife says: "I was pleasantly surprised that this cute little shop served freshly brewed milk tea drinks! The decor is cheery & bright and reminds me of a frozen yogurt shop. I had no idea it served bubble drinks! My first experience was amazing… the owner was working & she was very helpful & friendly. The two workers that made our milk tea drinks made it perfectly! I was so happy that I found a great place to get milk tea without having to drive into town. However, I tried this shop a couple more times & have been disappointed. The signature milk tea drink tasted nothing like my first delicious cup! The mixture of the milk tea didn't taste right. I suppose it depends on the worker(s) who are making your cup?"
HulaShake
Kapolei Marketplace
590 Farrington Hwy, Unit 517
Kapolei, HI 96707 (Street View)
808-260-1098
Mon-Sat: 10am-9pm
Sun: 10am-6pm
Hi Sandwich & Drink
When we first started researching (yes, there is actual research that goes on here every once in a while…) for bubble drink places on our side of the island, Hi Sandwich & Drink was one of the first that came up. Located in the Waimalu Shopping Center between Zippy's and Chun Wah Kam, Hi Sandwich & Drink – as the name suggests – serves up both drinks (smoothies and dessert drinks) and sandwiches (on fresh baked bread).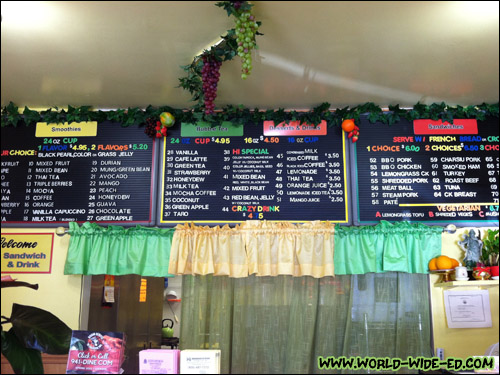 Menu board at Hi Sandwich & Drink
Since parking was a challenge to find, as it often is here, the wife just ran in to grab a drink for herself as I left the car running with two knocked out kids in the backseat. Her quickie photo and feedback are as follows.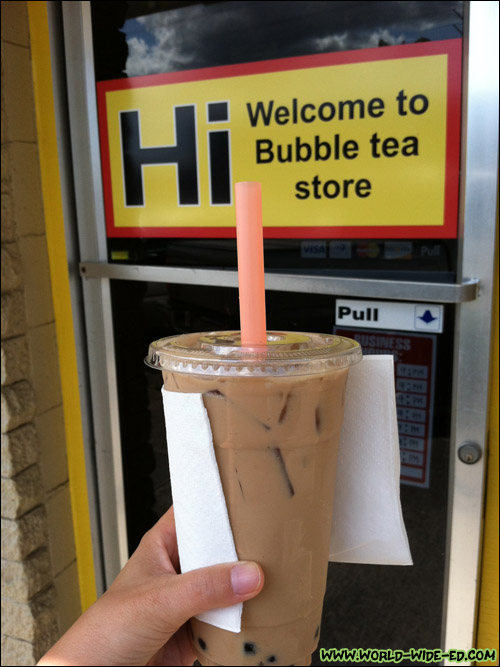 Milk Tea from Hi Sandwich & Drink
Wife says: "Hi Sandwich & Drink is a cute, tiny shop that we heard served bubble drinks. Of course we had to give it a try! On our first trip, I tried the milk tea with boba and I was in heaven! This place made a super delicious milk tea & great boba! I even compared it to my favorite place Coffee or Tea! Of course we went back again to get more… but I was disappointed that it tasted so different than the first time! Almost as if they used a creamer or powder??? I can't say for sure, but it definitely tasted off. We even tried it a third time, and again, I was puzzled by its unusual taste. At least the boba had a good consistency. I'm guessing people go here more for their sandwiches and fruit drinks."
Hi Sandwich & Drink
Waimalu Shopping Center
98-042 Kamehameha Hwy
Aiea, HI 96701 (Street View)
808-487-7372
Open 10am-9pm Daily
Bee's Dessert House
Bee's is one of those early day drink shops that everyone seems to know about. Conveniently located in the northwest end of Moanalua 99 marketplace in Mapunapuna (formerly 99 Ranch Market), Bee's serves up a wide variety of drinks, desserts, and burgers even!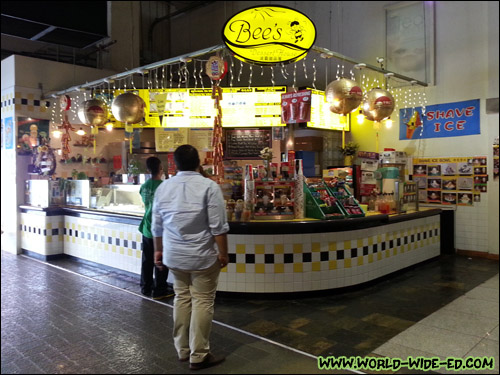 Bee's Dessert House at Moanalua 99
We went there so long ago that the only thing I remember was that I ordered a blueberry bubble drink with no whip cream yet it was very milky/melty as you can see in the (left) image below. I took that picture as soon as I got it and it was already running all over me.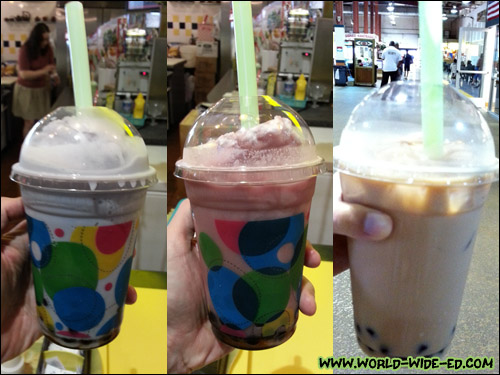 Blueberry, Strawberry and Milk Tea Bubble drinks from Bee's
Wife says: "I don't remember. Maybe we need to go back again!"
Bee's Dessert House
Moanalua 99
1151 Mapunapuna St
Honolulu, HI 96819 (Street View)
808-834-8888
MON-SAT: 8am-10pm
SUN: 9am-7pm
Lyndliz Bubble Drinks
I used to go to the Lyndliz in Wahiawa when it was a small, closet-like walk-in store and was moderately saddened when they closed a few years ago. I recently rediscovered them when they re-opened at the much larger (former Tutti Frutti) location in Wahiawa Town Center just a couple doors down.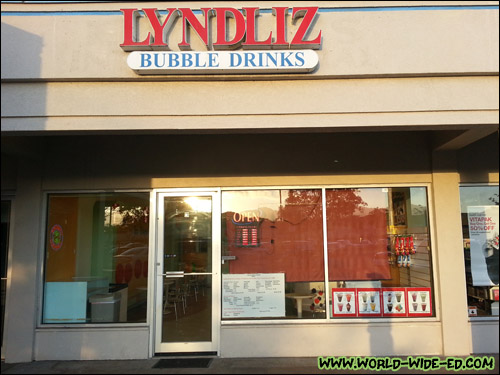 Lyndliz Bubble Drinks
Back in the day, I used to always get their fruit-flavored bubble drinks, which, although very sweet, is still on point.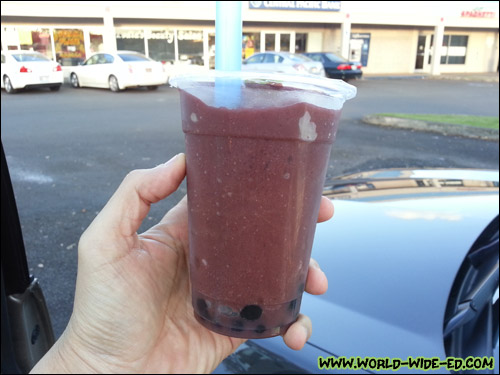 Acai Bubble Drink from Lyndliz
With the wife's crazy Milk Tea obsession, I had to grab her one from here too. They told me that they usually make it in a blended format, which we don't like, so I requested the iced/liquid version.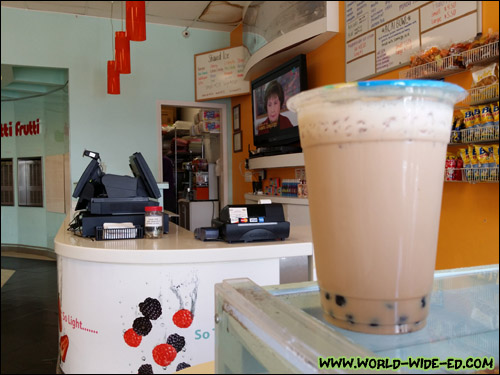 Milk Bubble Tea from Lyndliz
They assured me that it was fresh tea (as opposed to a powder) which is perfect, but the milk ratio was a little too rich/creamy for me. Almost as if they used an artificial powder/creamer.
Interestingly enough, when researching Lyndliz, I came across this video from their old shop which somewhat documents how they make their Thai Tea Bubble Drink. Watch if you please. 🙂
[youtube=http://www.youtube.com/watch?v=unjrGwihMFU&w=500&h=400&rel=0] How to make a Thai Tea Bubble Drink from Lyndliz
Wife says: "I don't remember. Maybe we need to go back again!"
Lyndliz Bubble Drinks
Wahiawa Town Center
935 California Ave
Wahiawa, HI 96786 (Street View)
808-621-8262
MON-FRI: 9am-7pm
SAT: 11am-7pm
SUN: Closed
Bubble-Drink.com
Although named after a domain name, ironically the web site does not work. Either way, I went to this place mostly out of convenience (I was at Pearlridge for work).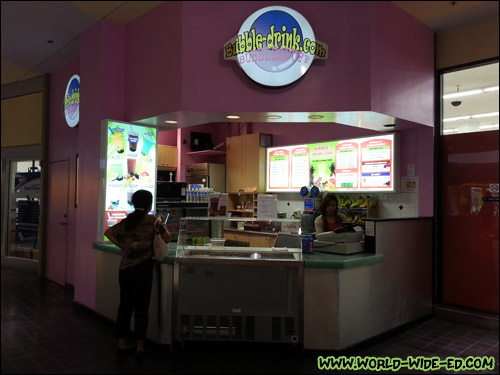 Bubble-Drink.com at Pearlridge Downtown
Like Lyndliz, the Blueberry Bubble Drink I got was really sweet. I don't recall the wife making any commentary on the Milk Bubble Tea I got her.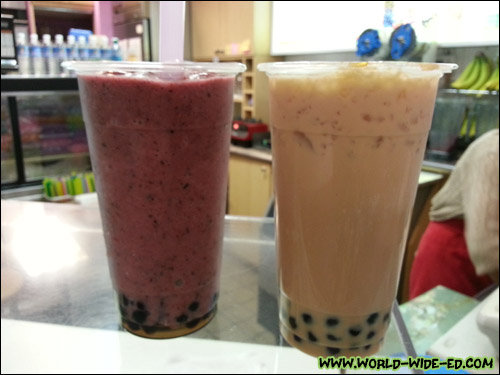 Blueberry and Milk Tea Bubble Drinks
Wife says: "I don't remember. Maybe we need to go back again!"
Bubble-Drink.com
Pearlridge Downtown
98-1005 Moanalua Rd, Suite 402
Aiea, HI 96701 (Street View)
808-488-2990
MON-SAT: 9am-9pm
SUN: 9am-6pm
And that about wraps things up in this series on Bubble Drinks. I know I missed a few places like the newly opened LemonTea Hawaii in Pearlridge Uptown II (TWC WiFi here!), the soon to open Mr. Tea Café, Timi House, Bubble Puff & Tea, Hawaii Juice Factory… The list goes on and on. Perhaps it'll be a good way to satiate the Milk Tea Nazi known as my wife and lead us into Part IV in the series. You nevah know… 😉
WESSSSTSIIIIIIDE!
[youtube=http://www.youtube.com/watch?v=g6fspcsRH8U&w=500&h=400&rel=0] Tarp Surfing in Hawaii – VH07V Style (Click to Play!)