Well, we've finally made it gang. The 3rd and final part in our Kau Kau Kauai series. Please! Hold back your tears!
In part 1, we spanned the Garden Isle for favorites such as Tip Top Motel & Cafe, Waimea Brewing Company, and Jo Jo's Shave Ice. The 2nd part of our series took us to Ono's Family Restaurant, Hamura's Saimin and Duke's, among others! Now, we'll round it all out with stops at such hotspots like the Cafe Hanalei Sunday Brunch, Brick Oven Pizza and Polynesia Cafe.
Those previous Kau Kau Kauai adventures were written under the pretense that you were visiting these places all in a day's work, when in actuality, each and every one of the Kauai restaurants were visited over the course of many, many visits there. The mishmash was then somehow puzzled together to create a single piece supposedly taking place over the course of one day. If you were fooled, please accept my humble apology. If you were not, but played along anyway, please accept my humble gratitude.
In this final piece, there ain't no hidin' it. It's going to be a feeble attempt at throwing in the best of the rest, if you will, so prepare yourself for multiple breakfasts, numerous lunches, many dinners and miscellaneous treats in between for good measure. 😉
Conveniently located in the Coconut Marketplace in Kapa`a, Eggbert's is not hard to find.


Eggbert's Sign
Out front, they have a sign that boasts about their Loco Moco so guess what dis buggah just haaad to get.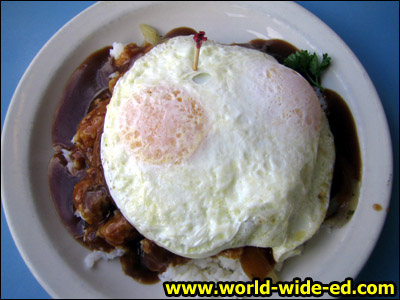 Loco Moco from Eggbert's
Out Honestly, the details are a bit fuzzy (I last visited there in October of 2005), but I do know that it wasn't bad. As I'm sure with most of you, I only remember bad food experiences very vividly.
Eggbert's Kauai Family Specialty Restaurant
Coconut Marketplace
4-484 Kuhio Highway
Kapa`a, Kauai, HI 96746 (map)
(808) 822-3787
There were no plans on eating at this next stop really, but after many visitor requests about this place in my previous column, I just had to check things out at Dani's for myself.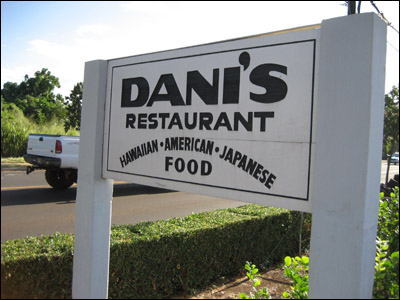 Dani's Sign
I had the $6 Corn Beef Hash with 2 eggs and rice special. The other options for this special were Rego's Portuguese Sausage (instead of the corned beef hash) and toast or hash brown (instead of rice).
Now because momma always taught me that if I have nothing good to say, don't say anything at all, I'll just say that I enjoyed my other Kauai breakfast stops a lot more. I know this is a local favorite, but to me, the portions were quite small and tasted "canned".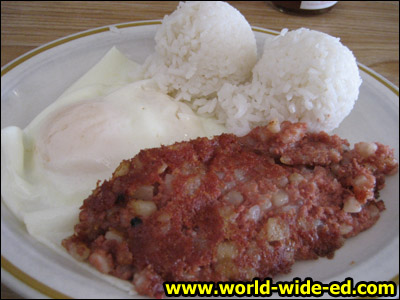 Corned Beef Hash with Two Eggs & Rice
On the other hand, my eating partner Art enjoyed his $6.20 hamburger steak with scrambled eggs & rice combo.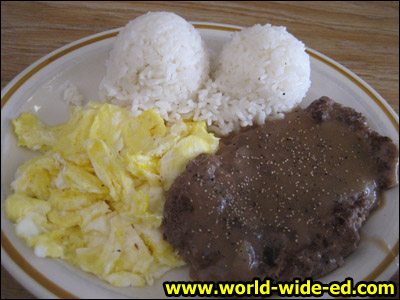 Hamburger Steak with Scrambled Eggs & Rice
Dani's Restaurant
4201 Rice Street
Lihue, Kauai, HI 96766 (map)
(808) 245-4991
Full yet? I'm just getting started my dears. Let's drive on up to the the Princeville Resort where, every Sunday, they have the popular Cafe Hanalei Sunday Brunch.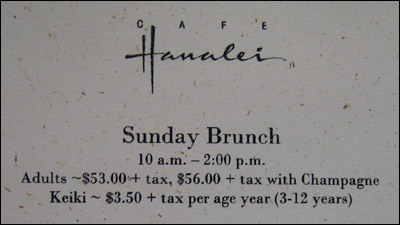 The menu and prices are noted as subject to change without notice, but on this occasion, it boasted the following:
Salads:
Kilauea Baby Greens with Assorted Dressings
Crisp Romaine Caesar Style
Chicken Pad Thai Noodle Salad
Hawaiian Sweet Potato Salad
Kailani Spinach and Chinese Duck Salad
Spicy Crab and Kimchee with Cucumber
Marinated Heart of Palm and Artichoke
Spicy Thai Beef Salad
Local Potato Macaroni Salad
Thai Style Ahi Tuna Poke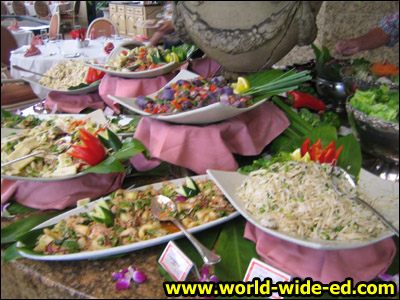 Miscellaneous Salad Items
Chilled Seafood and Specialty Items:
Iced Seafood Display
Peel & Eat Shrimp, New Zealand Mussels and Dungeness Crab Legs
Horseradish Spiked Cocktail Sauce
Fresh Lemons
California Rolls with Wasabi and Pickled Ginger
Imported and Domestic Cheese Display
Assorted Water Crackers and Breads
Crisp Vegetable Crudite with Selection of Dips
Atlantic Smoked Salmon Display
Bagels and Cream Cheese with Red Onion and Capers
Grilled Marinated Vegetable Display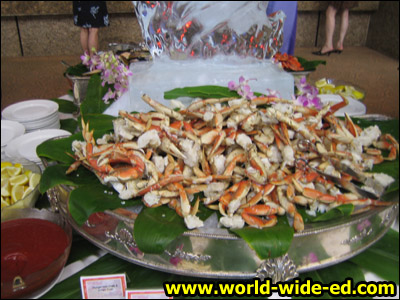 Dungeness Crab Legs
Entrée:
Fresh Island Catch of the Day
Tossed Pasta of the Day
Eggs Benedict
Chef's Brunch Potato
Carved Slow Roasted Beef
Wok Seared Kauai Prawns
Moloaa Tomato Bisque
Chinese Style Fried Rice
Crisp Bacon, Link and Portuguese Sausage
Stuffed Roasted Loin of Pork
Pancit Noodles with Crispy Asian Duck
Seasonal Local Vegetables
Chef's Omelette Station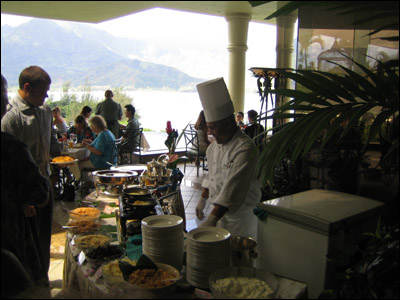 Chef's Omelette Station
Desserts:
Pastry Chef's Dessert Display
Fresh Crepes with a Variety of Fillings
Sliced Island Fruits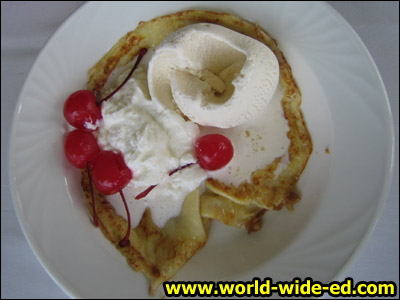 Fresh Crepes with Cherries and Vanilla Ice Cream
As made obvious by my packed plate, I was a fan…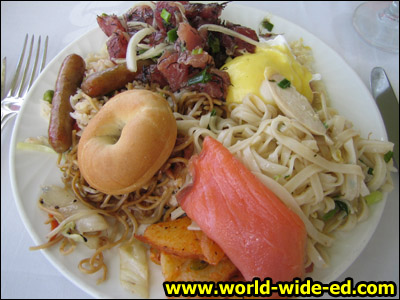 Just part of the damage I was doing to the buffet….
Though the food is good, the highlight of the Sunday Brunch is actually the view. (! – If you come at the right time and request to sit outside, you may be able to get a table with an amazing view…)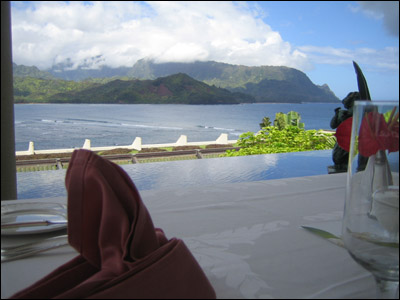 Your view from Cafe Hanalei
Cafe Hanalei
Sunday Brunch: 10AM-2PM
Princeville Resort
5520 Ka Haku Road
Princeville, Kauai, HI 96722 (map)
(808) 826-9644 – TEL
(808) 826-1166 – FAX
For the next two stops in our never ending day of gluttony, I have to apologize… Thumbing through my photo archives didn't turn up many results in terms of usable pics. The Deli & Bread Connection, Inc. and Brick Oven Pizza are however, two stops that cannot go unmentioned.
Located in the Kukui Grove Shopping Center, this sandwich joint is always crowded during the lunch hour. They also sell fresh baked bread and, according to their business card, gourmet kitchenware as well.

Two different sandwiches from the Deli & Bread Connection, Inc.
Deli & Bread Connection, Inc.
Kukui Grove Shopping Center
3-2600 Kaumualii Highway #1005
Lihue, Kauai, HI. 96766 (map)
(808) 245-7115
(808) 245-3492 – FAX
Long revered as the best pizza on Kauai, Brick Oven Pizza sits conveniently off Kaumualii Highway in Kalaheo. These pizzas are hella fresh and homemade in their brick hearth.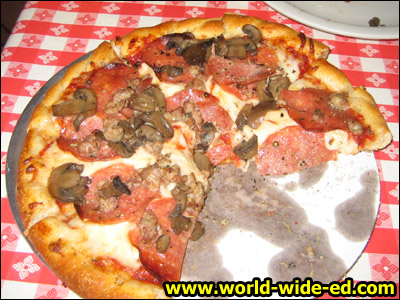 Pepperoni and mushroom pizza from Brick Oven Pizza
Brick Oven Pizza
2-2555 Kaumualii Hwy
Kalaheo, Kauai, HI 96741 (map)
(808) 332-8561
Tues-Sunday 11AM-10PM
Closed on Mondays
While we're here, we might as well cross the street and continue our foodfest at the Kalaheo Cafe & Coffee Co.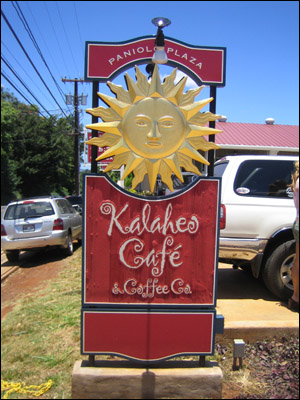 Kalaheo Cafe & Coffee Co. Sign
Not only do they serve delicious coffee from the wee hours of the morning, they also offer fresh baked breads and serve up a healthy menu for lunch and dinner. On this occasion, I ordered up their special of the day: Eggs scrambled with roasted veggies & a tiger shrimp seafood mix, topped with hollandaise sauce & served with hash browns & toast for $10.25.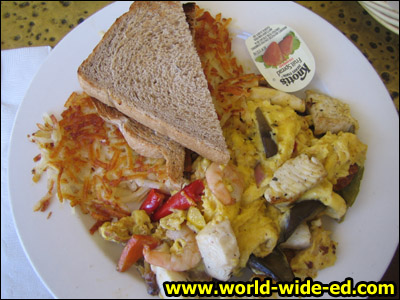 Eggs scrambled with roasted veggies & a tiger shrimp seafood mix, topped with hollandaise sauce & served with hash browns & toast for $10.25.
We've finally reached the end of the road gang. Our last stop in this journey of Kauai Kau Kau takes us back north to the city of Hanalei. Located just inside the main entrance of the Ching Young Village Shopping Center, Polynesia Cafe is one of those pleasant surprises you won't find very often. Billing themselves as gourmet food on paper plates, this little surfer's-style cafe delivers on that mantra.

Entrance to Polynesia Cafe
Their menu is chock-full of gourmet entrees like Mac-Nut Herb Crusted Ahi or Thai Tofu & Veggie, salads, sandwiches and a variety of Mexican dishes. They even had a dessert case filled with tasty looking delights.

Dessert case at Polynesia Cafe
On this occasion, we ordered up Sesame Chicken and Chicken Quesadilla and a Lemon Bar for good measure for dessert.
On the menu, the Sesame Chicken was defined as "orange ginger glaze with curry batter" and went for $9.95. It came with mixed veggies and was served over a bed of rice.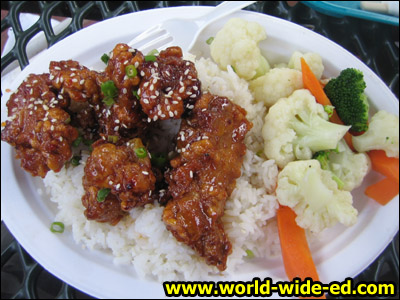 Sesame Chicken – orange ginger glaze with curry batter for $9.95
The Chicken Quesadilla went for $8.95 and came with rice, beans and condiments for the quesadilla.

Chicken Quesadilla from Polynesia Cafe for $8.95
I don't quite recall how much the lemon bar was, but lemme tell ya, it was worth every fattening bite!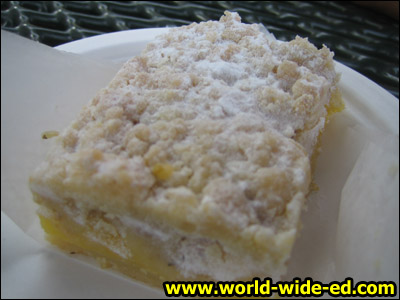 Lemon Bar from Polynesia Cafe
Polynesia Cafe
Ching Young Village Shopping Center
5300 Ka Haku Road
Hanalei, HI 96714 (map)
(808) 826-1999
…Annnnd I'm spent!
So there you have it! The season finale, the fairytale ending, the photo finish… You won't ever have to hear the words "Kau Kau Kauai" and "World Wide Ed" in the same sentence anymore… Well, at least until I work on the prequels. *grin*
Much love for hanging in there with me gang. It was fun! Now… to work on "Munchy Maui" and "Broke Da Mout' Big Island!" 😉