Last month's visit to Brooks Takenaka at the United Fishing Agency Honolulu Fish Auction brought about the name "Rachel Haili". As part of this ultimate poke quest we're currently on, Brooks suggested I talk to Rachel to get her perspective on the history of poke in Hawaii. When the boss of the Honolulu Fish Auction speaks, I listen.
Rachel Haili – Haili's Hawaiian Foods
I visited Haili's back when they were at the old Farmer's market, but had not yet made my way out to either of their new locations. Twitterville has been active talking about them too. Ah, better late than never right? Here are some photos of my visit to their Kapahulu location and my interview with Rachel Haili to follow.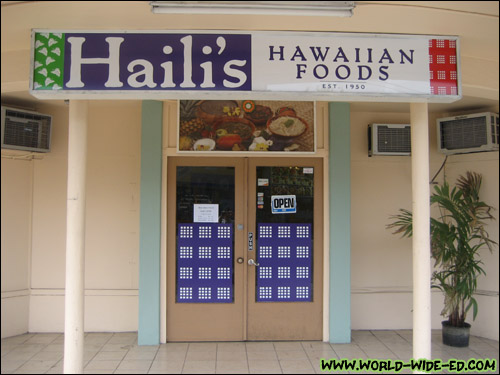 Haili's Hawaiian Foods sign
Conveniently located on Palani Ave, right off of Kapahulu, the interior at Haili's is very clean and welcoming.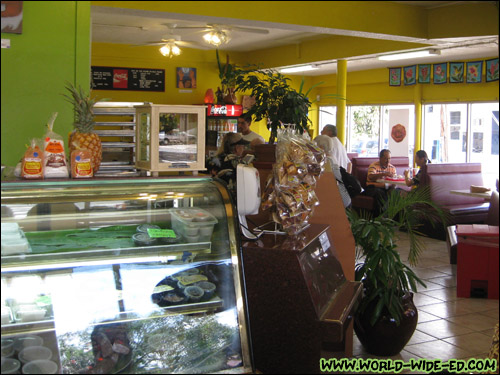 Interior of Haili's Hawaiian Foods [Photo Credit: Arthur Betts]
Though they have a nice selection of poke…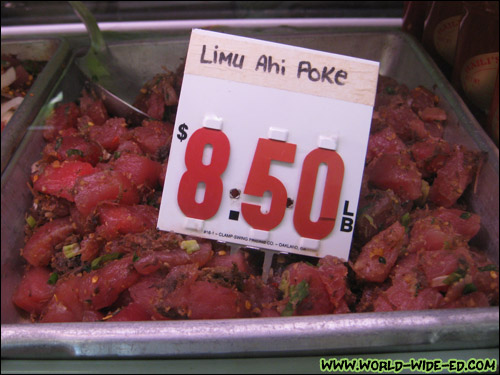 Limu Ahi Poke [Photo Credit: Arthur Betts]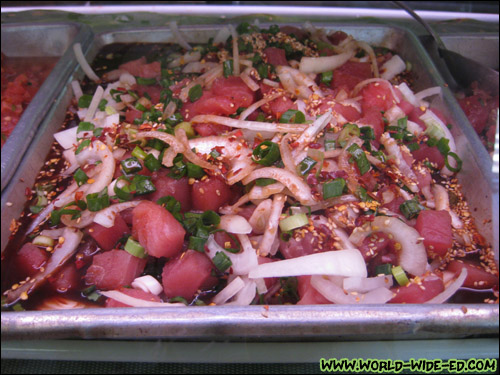 Ahi Shoyu Poke [Photo Credit: Arthur Betts]
… their bread and butter is still their traditional Hawaiian fare.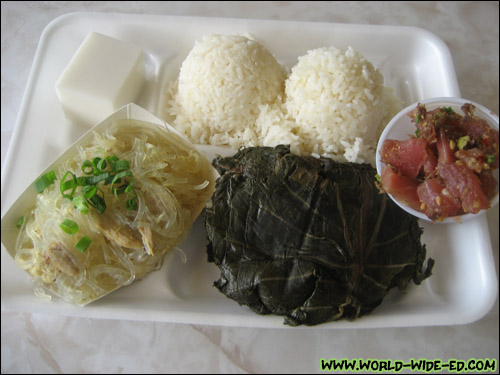 My "custom" plate with Lau Lau and Chicken Long Rice, which included Limu Poke, Haupia and two scoops rice!

Rachel Haili of Haili's Hawaiian Foods
[Edward Sugimoto] Your mom "Rachel Sr.", if you will, started Haili's back in 1950. What made her want to do a restaurant?
[Rachel Haili] Well actually we started out in the bar business after the war. They had like a cafe where they served food and liquor, and then, as our family grew, my mother decided that she didn't want her family to be in the liquor business, so she branched out on her own and started her own Hawaiian food store and fish market. And my parents worked by themselves to build up that business. And it was more of a market type thing, not so much a cafe or restaurant, and that's where she learned (cause my mother was pure Chinese) she learned to do more of the Hawaiian foods.
[Edward Sugimoto] You began at the old Farmer's Market. What were those days like?
[Rachel Haili] Yeah, originally, that's where my parents started, so they were like one of the oldest tenants there. And back then, it was all little stalls of fish markets, meat markets, vegetable skins… and then now it's more modern of course.
[Edward Sugimoto] And poke, was that pretty big back then?
[Rachel Haili] Back then, I remember when we were kids, there wasn't poke per se, like how we're selling it by the pound, pre-made. What you did was you bought the whole fish, and then you asked them to prepare like how you wanted. Back then you bought an aku for like 50 cents, then you tell them, "OK, I want half of it, steak it for me to fry, and then the other half, cut it for me to poke." So when you sold the fish, you actually had to prepare it for them then. It wasn't pre-made. And then, it started developing like into a bigger demand for poke, and people were more in a hurry, so, then my parents started pre-cutting the poke. I remember because back then, I had to learn how to clean fish because you know we were so busy. Soon, we had to learn how to cut poke and make the different types of poke. Although when the people bought the fish, you know, then they'd say, "I want to buy a cup of limu and add that into my poke, and put chili pepper (water) for me." You know, so they kind of dictated what they wanted in their poke. Then, as the demand for poke got bigger, and you pre-made the poke, you had to like make maybe a batch of plain poke, aku or limu aku, and then, at that time, shoyu aku evolved. It wasn't something like automatic. I remember shoyu aku became popular when I was like in my teens. It wasn't like, now you go to the supermarket and you see a whole array of pre-made poke. You had to buy the whole fish and then they made it for you. Just like the different types of poke, although we do more traditional poke, where we do awa, and we do like palu, you know, lomi oio, that kind of thing, nowadays it's evolved into more a modern kind of thing. Where fish now has become similar to chicken or pork, so you do different varieties of it.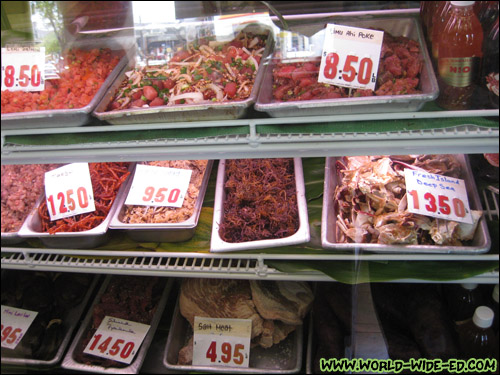 Display case at Haili's Hawaiian Foods [Photo Credit: Arthur Betts]
And then, I think a lot of the sushi bars, because raw fish is so popular, they've come up with all kinds of new creations that are pretty to the eye. You know you have fruit in it or masago, all different kind of things. It's just like how if you order pasta, you have all different things that you put in it. So now, what's popular is the poke bowls, where you get the poke and you get any kind of topping that you want, sorta like the frozen yogurt. Start out with the basic and then you put whatever, you concoct whatever you want onto it. So you know, that's what it's become. But, originally, you bought the whole fish and then they prepared it for you, or you took it home and prepared it yourself.
[Edward Sugimoto] Unfortunately, or fortunately, depending on how you look at it, your lease expired and you decided to open up a lunch wagon called Haili's Backyard Luau. What was the story behind that?
[Rachel Haili] Um, let's see. Well, you know we've been there (at the Farmer's Market) for 60 years, in fact, this is our 60th year that we've been in business. Marukai wanted to expand and they wanted the whole building, so Ward Center decided to convert that whole area into Marukai's market so we had to move out. One of the options that we came up with in order to keep in contact with our customer base who was primarily in that area, was a lunch wagon. Although we can't offer everything that we had there, it was a way that we could still keep in contact with them until we found something that was more suitable for us, you know in food offerings that we had. Then we finally came across this area in Kapahulu, and so far, it's turning into something nice. It's a little different, in terms of, we shifted from a market to a more deli and restaurant atmosphere. We actually didn't intend to be a restaurant. You know, it was more of a counter service and you come and sit down, so that's what we're hoping to create over here. But you can buy either lunches, and you can take it out or eat it here, or you still can buy our Hawaiian foods by the pint, or the pound as we sold it in the market before.
[Edward Sugimoto] And business is booming. We're here today and it's pretty packed.
[Rachel Haili] *modest smile* Well, we always can use more business. We've only been open for about 90 days now and, it's evolving. Customers are learning about us. The location is nice because it's close to Waikiki. We get more tourists coming in too. Before we used to service primarily local people so now we're getting a different mixture of people.
[Edward Sugimoto] You folks are big on using social media to market and stay in touch with the community. How did that come about and how are you enjoying it so far?
[Rachel Haili] That was something new for us too. When we did the lunch wagon, our friend suggested that we start using that more. So we're still learning to use the social media but it's amazing how fast you can spread the word, or you get more information out by using that. It's fun, but you gotta keep up with it because once you put information out, you get a lot of feedback right away, so you gotta be on top of it all the time. I hope we're doing good. *laughs*
[Edward Sugimoto] Yeah, you are! You have two poke items on your menu: Shoyu Ahi and Limu Ahi, and you mentioned that you had more in your display case…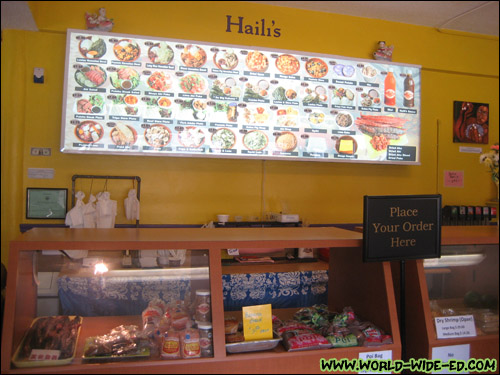 Haili's Menu
[Rachel Haili] Yeah, unfortunately our menu board could only hold like primary items, but our showcase over here also carries our larger selection of poke, which is you know like the poke awa, the aku palu, lomi oio. We specialize more in traditional poke so that's why we have like the raw crabs and the aku palu.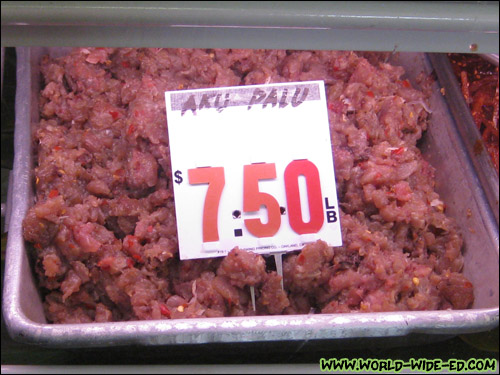 Aku Palu [Photo Credit: Arthur Betts]
Later we'll be doing our poke bowls also. But it's just that because we're busy getting adjusted in here, we're like slowly introducing or building up items. Poke bowls seem to be popular because it's fast and people can pick it up and go right away. And then they get to personalize it too.
[Edward Sugimoto] What are some of your personal favorites types of poke?
[Rachel Haili] My personal favorite type of poke is, well, we're gonna be creating this, um, sorta like a poke mountain. You know, where it's like with rice on the bottom, some sliced ahi with avocado, tomato and masago. It's really nice looking. When we were in Waikiki for a while, we sold those. However, we can't do everything all at once, so, but we're going to expand our poke bar and also our food menus. You know, we do catering too, so hopefully we'll be expanding our catering service.
[Edward Sugimoto] Do you have anything else to add to your current or future customers?
[Rachel Haili] Well I hope all of you have a chance to come in and visit us because we really try to create a spirit of Aloha here, where you're welcome to come in. We can mix and match whatever you want here and even if you don't see what you want, you can either pre-order or ask us if we're able to make it for you because that's how we started so that's how we still want to be. Also we make a really good dried aku, and that's hard to find in town, so come down and check our aku out.
[Edward Sugimoto] OK, thank you very much!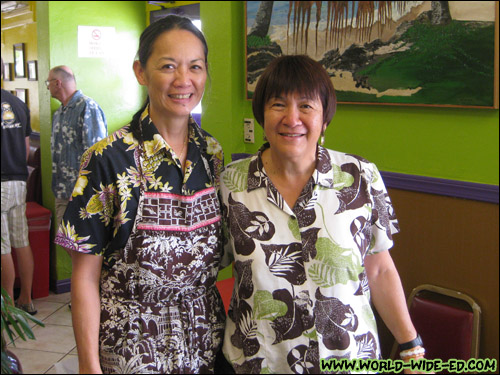 Rachel (right) with her sister Lorraine [Photo Credit: Arthur Betts]
For more information on the Haili's Hawaiian Foods, visit their web site at www.hailis.net or follow them on Twitter at @Hailis808.
Haili's Hawaiian Foods
760 Palani Ave
Honolulu, HI 96816
(808) 735-8019
Mon-Thu: 9am-7pm
Fri-Sat: 9am-8pm
Sun: 8am-3pm
—
Guy Tamashiro – Tamashiro Market
Also at the Honolulu Fish Auction, I made contact with Guy Tamashiro of Tamashiro Market. Spontaneously, we did an impromptu interview in preparation for my visit to his shop.

Guy Tamashiro of Tamashiro Market
[Edward Sugimoto] Describe your history with fish.
[Guy Tamashiro] OK, well, I think we first started with fish, actually my dad had a feed store and all that, the first Tamashiro Market, but then he started selling a little bit of fish. I think the story was that he bartered it at that time for some opelu. Then it sold, so he said "ok, that was fun." So he started going down to the auction across from Aala Park, then he started selling a little bit more, and it started selling well, so he just started expanding it from there. And then, in 1962, he constructed the building that it's in now, and then from there, it just started seafood as the emphasis.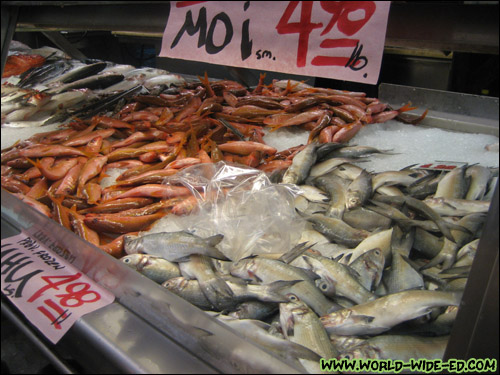 Seafood selection at Tamashiro Market
[Edward Sugimoto] And you guys started doing poke after a while?
[Guy Tamashiro] Yeah, yeah, actually, poke was just one/two pans. When I first started working it was only 1 or two pans, and then from there, we, I don't know, maybe 30 something?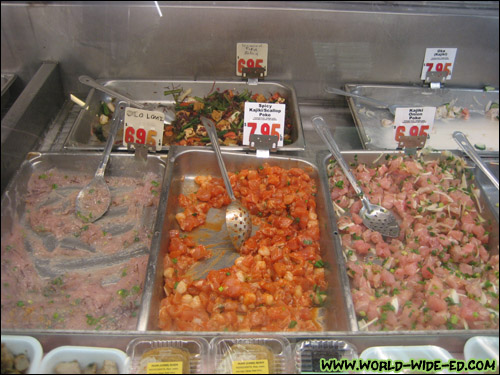 Partial selection of poke at Tamashiro Market
[Edward Sugimoto] Out of that, which one is the most popular one?
[Guy Tamashiro] Ahi is, by far, the MOST popular. And if aku is available, that's pretty popular too.
[Edward Sugimoto] Ahi limu or any kind of ahi?
[Guy Tamashiro] Ahi limu, ahi shoyu, ahi onion. We're getting new flavors in too now. As we go on, we want to add to the different tastes that you can get from it, not just the plain type, but also other tastes we want to try out too.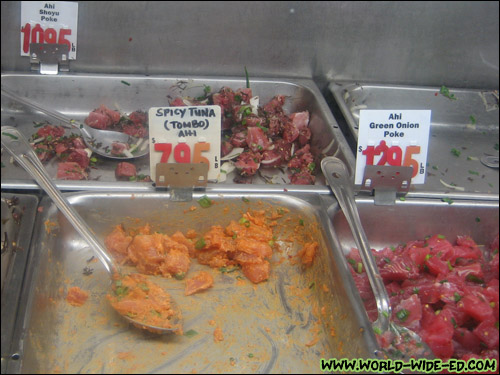 Ahi poke, all wiped out at the end of the day!
[Edward Sugimoto] What is your personal favorite?
[Guy Tamashiro] Oh, that's a hard one. Well, I love aku. Large aku. But for ahi, because they're coming out with different flavors now, I don't know. I have a poke lunch maybe 3/4 times a week, and it's not always the same lunch. Hard to have one favorite, it's just different flavors.
[Edward Sugimoto] What's in store for Tamashiro Market?
[Guy Tamashiro] Well, we just hope we do a lot more sales. *laughs*
[Edward Sugimoto] Do you have any words for your customers out there?
[Guy Tamashiro] Sure. You know where to shop. You know where we are. Come down, see us. *smiles*
Located on North King Street in the heart of Kalihi, Tamashiro Market boasts the largest selection of seafood (over 75 varieties) in the state. With their unmistakable pink building and trademark crab statue hanging above, Tamashiro's was definitely a can't-miss stop on this Poke in Paradise tour.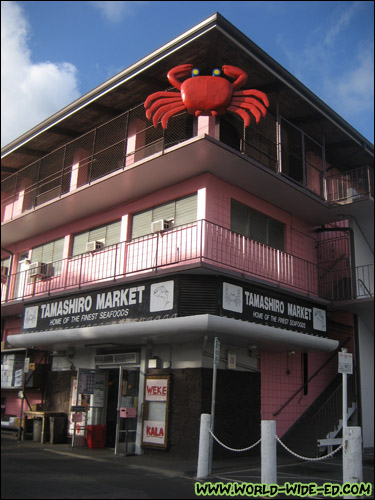 Outside Tamashiro Market
Showing their love of the sea (and perhaps an ode to the Japanese boat in the war bearing the same name), a good-sized fishing boat sits atop the center island, overlooking the store.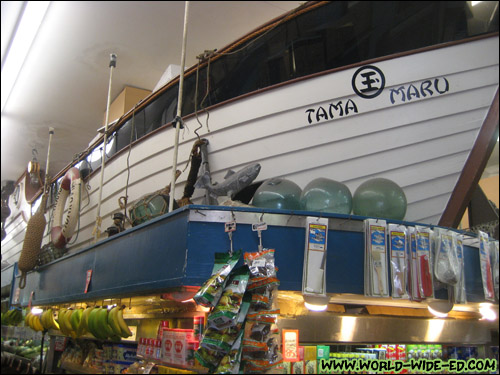 The Tama Maru boat in Tamashiro Market
It's always busy whenever I go, but on this occasion, I just so happen to be there right before closing, so the "getting-stuffs-for-dinner" rush was in full effect.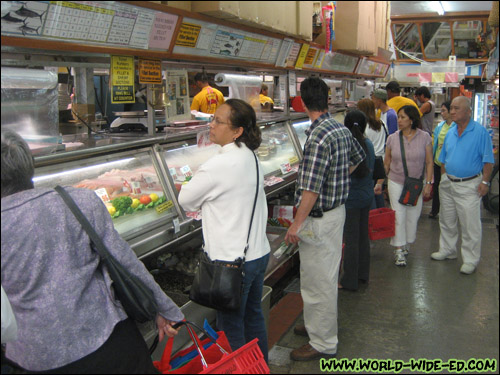 The evening rush at Tamashiro Market
As Guy suggested, I picked up some Ahi poke. Ahi Onion and Ahi Shoyu to be exact.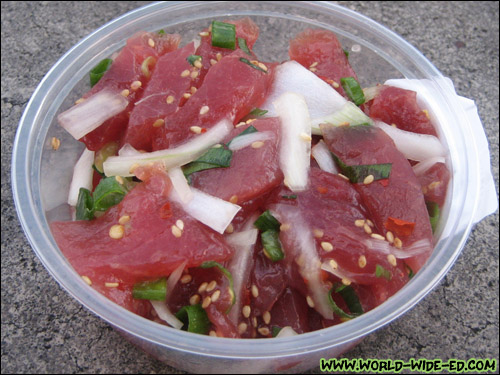 Ahi Onion poke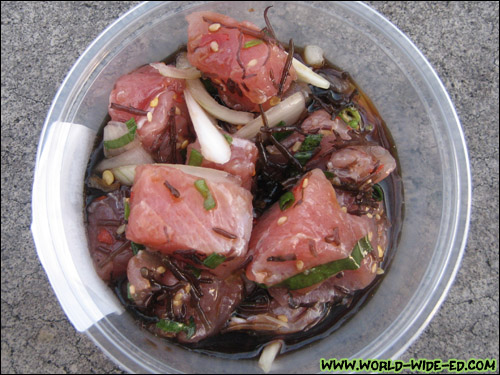 Ahi Shoyu poke
Sometimes, if I'm in the area for lunch, I'll pick up some poke from Tamashiro's and drive over to nearby Boulevard Saimin. The cold poke and hot saimin make for a good marriage (as mentioned before). Here's a photo at Boulevard Saimin, after I bought some Furikake poke from Tamashiro's and took it over.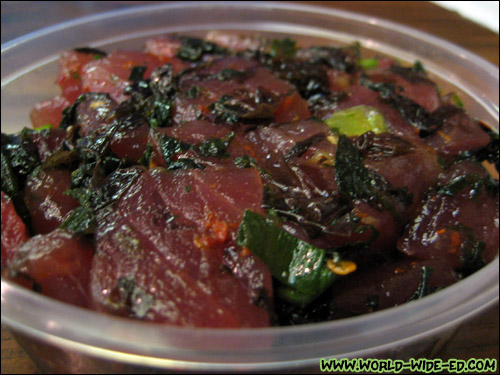 Furikake Poke
Tamashiro Market
802 N King St
Honolulu, HI 96817
(808) 841-8047
Mon-Fri: 9am-6pm
Sat 8am-6pm
Sun 8am-4pm
—
Poke to Your Taste – Hilo, HI
And finally, here's an interesting find while visiting the east side of the Big Island.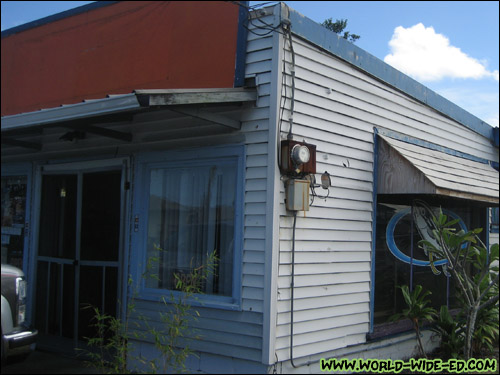 Poke to Your Taste building
Hidden in an inconspicuous building (with no visible signage to speak of) on Leilani Street near the airport, Poke to Your Taste caters to those who prefer to concoct their own batches of poke. "Mix 'em how you like 'em!" is their motto, which I, along with their logo/signage, was finally able to find under an awning on one of their smaller side windows.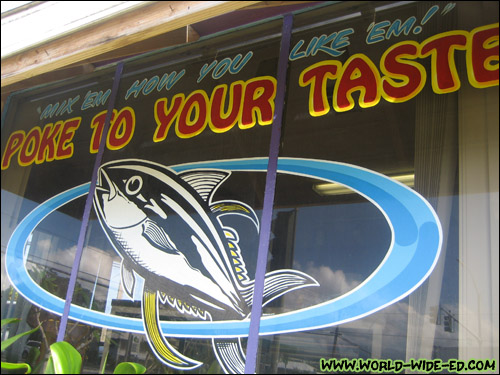 Poke to Your Taste sign
The inside of Poke to Your Taste is just as curious as the outside. Most of the usable space is empty or scattered with random items, while a small display case with just 4 items (Hawaiian Poke, Shoyu Poke, Kim Chee Tako Poke, and Imitation Crab Poke) sits to one side.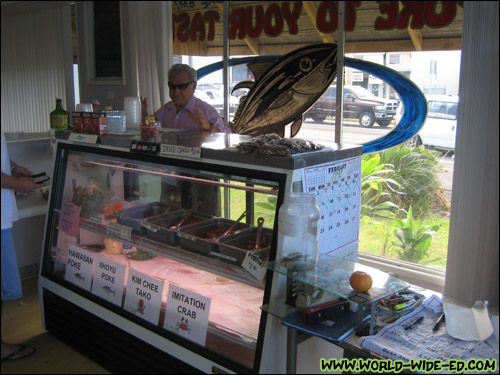 Display case at Poke to Your Taste
Solomon, or Uncle Sol as many call him, stands behind the counter and scoops out your preferred order. On this occasion my choices were to only be one of their two fish options: "Hawaiian Poke" or "Shoyu Poke".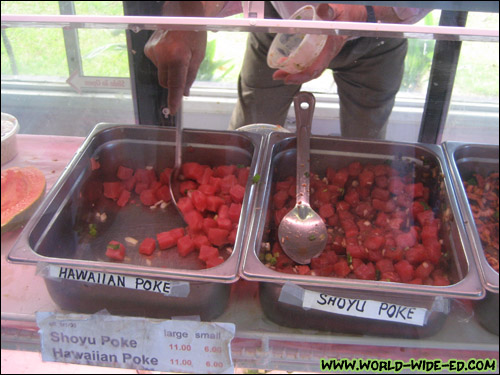 Starting with your basic poke (Hawaiian or Shoyu style) as your base
I went Haaaaawaiian because I wanted there to be as little flavor on there as possible to start. From there, Uncle Sol scooped it into my container…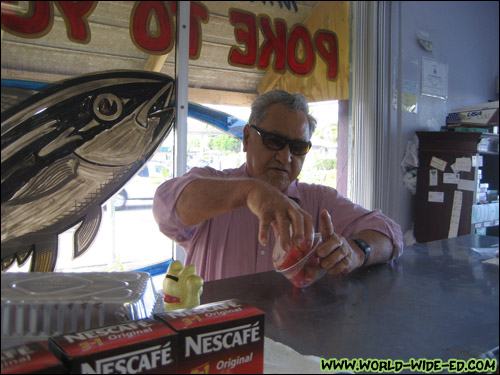 Uncle Sol serving up my poke
… and it was just my creativity between me and poke bliss.
You can add a variety of "spices" like Hawaiian salt, furikake, sesame seeds and chili pepper flakes…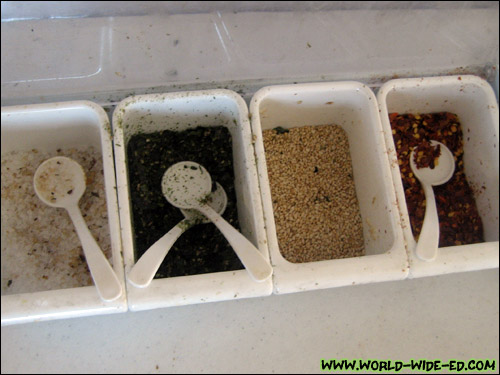 Hawaiian salt, furikake, sesame seeds and chili pepper flakes
… and, for lack of a better word, "toppings" like ginger, garlic, inamona, green onions, onions, and hot sauce.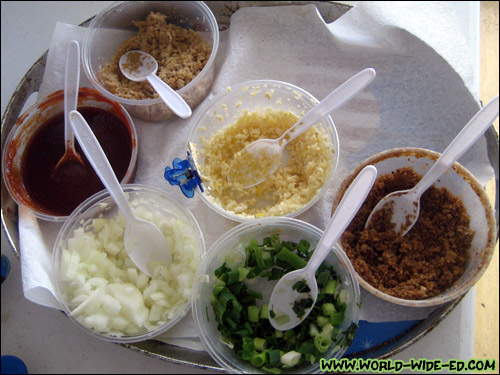 Ginger, garlic, inamona, green onions, onions, and hot sauce
No fo-get da sesame seed oil, shoyu and chili peppah watah! 😉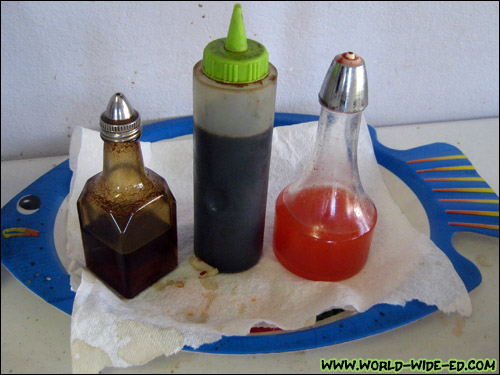 Sesame seed oil, shoyu and chili pepper water
I went with the super combo of furikake, sesame seeds, chili peppers, garlic, inamona, green onions, sesame seed oil and chili pepper water. She go!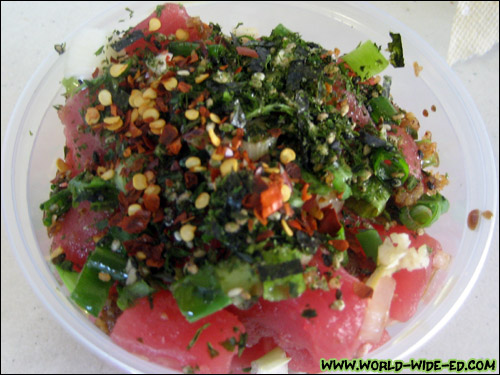 My batch of poke had furikake, sesame seeds, chili peppers, garlic, inamona, green onions, sesame seed oil and chili pepper water – $6
Definitely poke to MY taste.
Poke to Your Taste
790 Leilani St.
Hilo, HI 96720
(808) 989-9962
Mon-Sat: 10am-6pm
—
So there it is. Part IV is in the books. Honestly speaking though, this Poke Paradise is not even close to being complete. I'm seriously considering making this a 12 part series and carrying it through the entire year. Wanna help? Email me or comment below where you'd like to see me hit up next. I've still got many on my hit list (Ruger Market, Fresh Catch, Tamura's, Masa & Joyce, Da Pokeman, Young's Fish Market, Alicia's, etc.), but send me your tips k?
A special mahalo this month to Rachel Haili and the Haili's Hawaiian Foods `ohana, Guy Tamashiro and the Tamashiro Market `ohana, Uncle Sol at Poke to Your Taste, and Dave Oi for actually finding the hard to find Poke to Your Taste! LOL! See y'all next month gang!