Following Part I of this Poke Paradise series, I received an invitation from a Mr. Jed Inouye to come and spend the day with him. In my article, I had mentioned that I was planning on covering the poke from Sam's Club in a future article and Jed wanted to make sure that I got the inside scoops. You see, Jed is the president of Seafood Hawaii, Inc., a 100% local company who, for all intents and purposes, supplies and runs the seafood departments at both Sam's Club locations in Hawaii.
The problem with Jed is that he is painfully humble. Shy even. He refused to be filmed at all during the day and wanted the focus to instead be on the process and educating me on the ins and outs of it. He constantly wanted to divert the attention away from himself and towards his partner and employees, repeating his mantra for the day, "It's not a me thing, but a we thing."
This is normally where I'd embed my Youtube interview, but this was an unconventional interview with an unconventional guy. So instead, here's a pictorial glimpse of our "day in the life" activities, starting from the shores of the United Fishing Agency fish auction at Pier 38, to the display case at Sam's Club.
As described by Jed, the action all starts at the boat.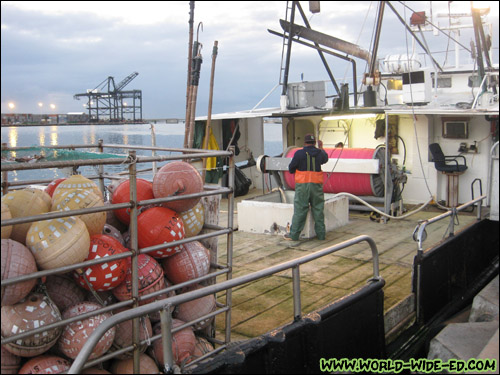 Boat unloading their catch [Photo Credit: Arthur Betts]
"This fish hole [image above] is well insulated yeah, so it's all packed in ice. Time and temperature is really important. The fishermen come in and unload their catch into carts."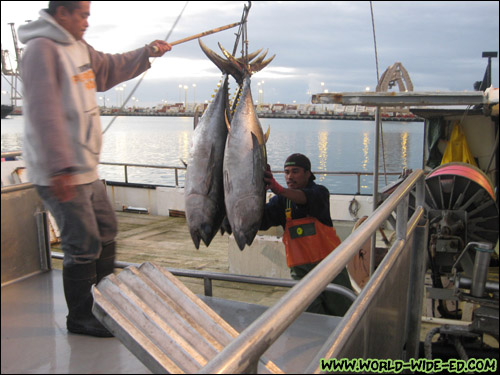 Loading their fish into the cart [Photo Credit: Arthur Betts]
"Nobody's throwing anything around. Everything is handled with care. Taking care of the fish is real important. Not to bounce it around… It all starts from the fishing. If it starts right on boat, it ends right on plate."
Every day is different. You have your slow days and you have days like this day when the bounty was quite plentiful. 85,000 pounds from 6 boats to be exact.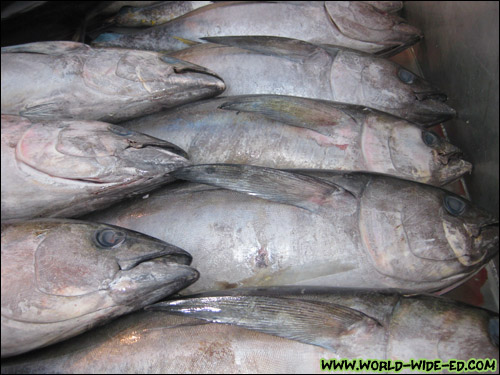 Ahi loaded up in cart [Photo Credit: Arthur Betts]
Once the cart is loaded up, the fish is taken to the receiving area where they are scaled, weighed and tagged, before hitting the auction floor.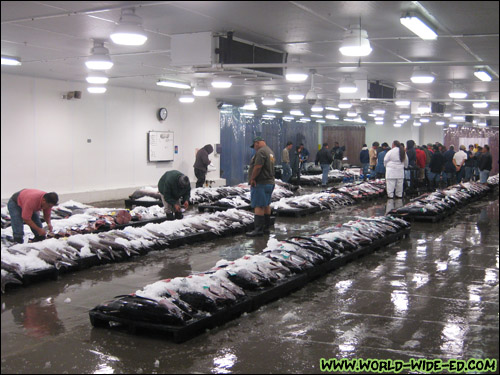 Auction floor at the United Fishing Agency fish auction [Photo Credit: Arthur Betts]
"The facility is HACCP managed by the federal government," says Inouye. "Food safety is of the upmost importance. Core temperature must be below 40 degrees. The longer the fish is out of ice, you get temperature fluctuations, especially when it's over 40 degrees, it's no good. You don't want that to happen. You want to be below 40 degrees all the time. If you noticed, it's all ice. Ice is 32 degrees."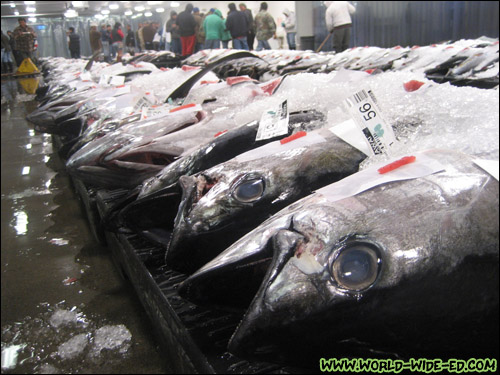 Fish is kept under ice to ensure that its core temperature is always below 40 degrees
"That's what's good about buying the fish here in Hawaii vs. other places. You know, you don't know where the fish has been, if it's been out of temp. We try to simulate the bin of the boat because that's how the fish is best kept: in the hole of the boat. In here, we put it in bins and we ice it again."
We were then allowed to go into a room at the far end of the auction where boatloads (literally) of swordfish were being stored until they were ready to be shipped away.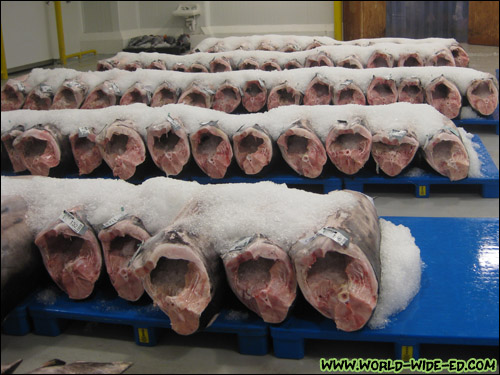 Lineup of swordfish, ready to be shipped away [Photo Credit: Arthur Betts]
"I used to send a lot of fish away, but I decided I just wanna take care of the local people. The difference is that there's no middle man for us. We go right from boat to the troat (throat). Taking care of the customer is essential. By doing this, there's a lot of value, so we can offer it at a cheaper price so everyone can afford it."
After the fish is auctioned off…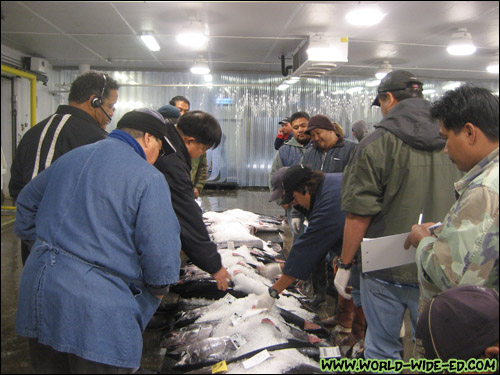 In the middle of an auction
… it heads straight outside to be loaded into the various refrigerated delivery trucks.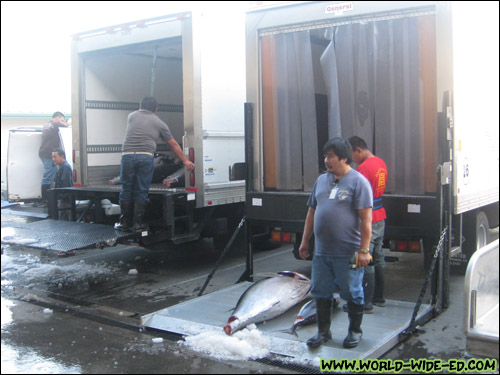 Refrigerated delivery trucks receive the fish that was just purchased [Photo Credit: Arthur Betts]
"This is a really good way of taking care of the fish," says Inouye. "Again, they go ahead and, after they buy it, they put it in bins, and re-ice it. Because it simulates the hole again, because you have ice right around the fish. The temperatures don't change. You're keeping the temperature constant."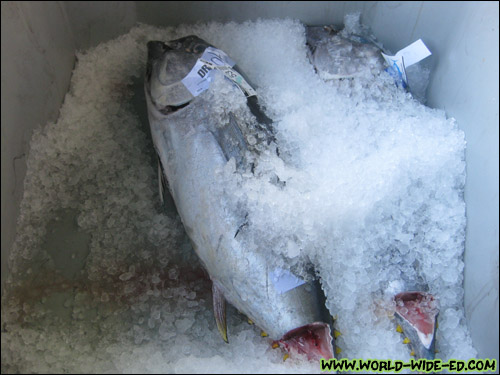 Fish kept under ice in delivery bins [Photo Credit: Arthur Betts]
Like a scene out of "A Night at the Roxbury", Jed then said it was time to head to "the club." So we loaded up Jed's truck with the fish he just purchased from the auction and headed to the Honolulu Sam's Club location. On the ride down, he opened up.
"You gotta be real passionate about this job or you're not gonna be able to last. Over the years, 7 days a week. So every day I pretty much do the same thing. My routine yeah. Nothing fancy. I like driving the truck [even though he's the president of the company] because I've always been with the fish so I know it's fresh. I enjoy this. I really enjoy this. The fish part, the work part, I really enjoy this."
Then I asked him about his thoughts on poke.
"Poke is something for the imagination. People in Hawaii, they do a good job with poke. It's just your preference. For us, we have to make sure that the product you start off with is a good product. Once you start off with that… and if you buy the fish in Hawaii, ahhh, can't get bettah than that. Look, we going to the market now already. I mean fish came off the boat, 5:30 they selling um, it's 8:30… three hours! How you goin' beat that?"
"From here, we go to the club. When you hit the club, I mean there's not much time change. So quality wise, you know. You saw the fish from the boat, it was purchased, went into the bin, all ice, BANG, right to the club. From there, we cut it."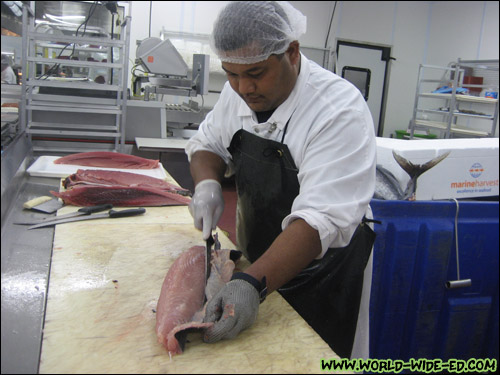 Preparing the fish for display
"When you take a look at the way we do things, you're gonna understand where the 'we' comes from. Our people do a lot of work. They do a good job. They spend a lot of time, they wake up early in the morning. It's a whole team. A lot of our workers make it what it is. I got my brother (Gerald aka 'Lucky'), my partner (Arick Yanagihara), my employees. That's why, keep the video off of me because we get plenny good, really good people. It's a 'we' thing, not a 'me' thing. Everybody works hard, so they're the stars, not me."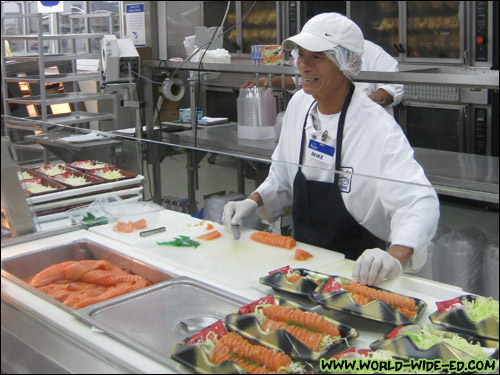 Mike is a professional sashimi cutter with 20+ years of experience [Photo Credit: Arthur Betts]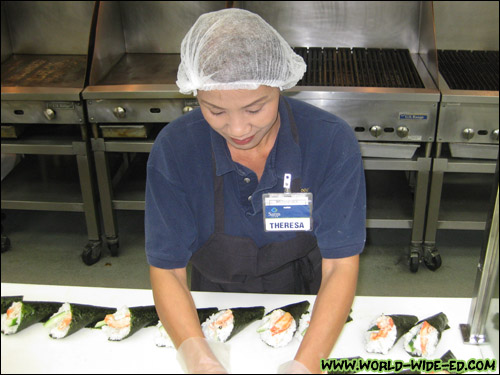 Theresa, an employee of 14 years [Photo Credit: Arthur Betts]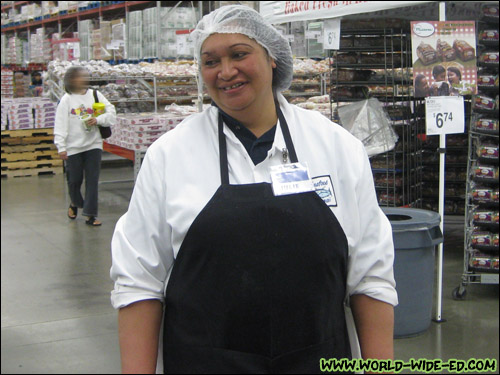 Julie, an employee of 20 combined years [Photo Credit: Arthur Betts]
"The product that you put out should represent the people behind it. If you put out a good product the sales should be reflective. But again, food safety and value. Those two things are KEY."

Imitation Crab Meat Masago ($4.37/lb), White Crab previously frozen ($6.87/lb), and 50/60 shrimp [Photo Credit: Arthur Betts]
"The main message is the fish. If the fish is of good quality, that's what makes everything. It's the fish."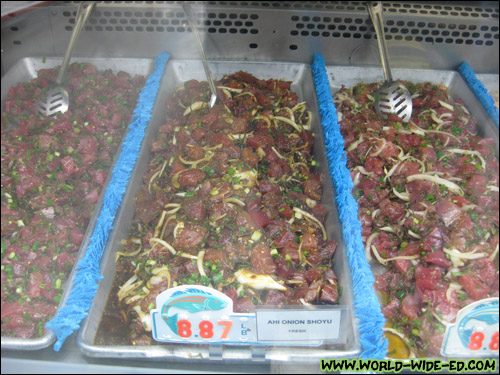 Fresh ahi poke – all under $9/lb [Photo Credit: Arthur Betts]
"The customer is your boss. No matter what, the customer is your boss. What they say goes. That's the one that you have to take care of all the time. You have to please your customer, no matter what. As long as they keep coming back, you know you're doing something right."
I asked him how he keeps his prices so low.
"For the average person, when the price of the fish gets too high, they cannot afford it. There are times when we do lose money. The main thing is that we want to make sure that the consumer knows that we're consistent and that we'll take care of them. I guess that's the message that really we try to push: We wanna take care of the local people. For our company anyway, we wanna take care of the local people."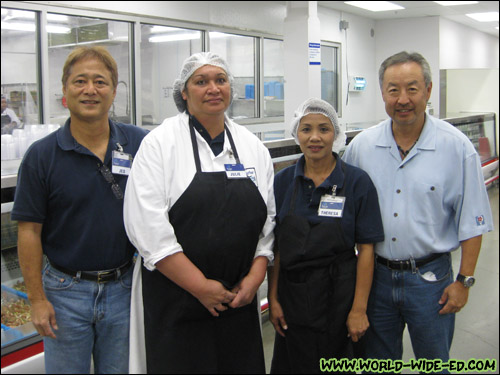 Jed Inouye, employees Julie and Theresa, and general partner Arick Yanagihara [Photo Credit: Arthur Betts]
Wow. If that didn't make you shed a tear, I don't know what will. 😉 At the very least, it should make you want to join Sam's Club and visit/support them. Jed Inouye and his Seafood Hawaii, Inc. family exemplifies the true meaning of what a giving, local company should be. And although he will humbly deny it to no end, this truck driving President truly is the star.
Sam's Club – Honolulu
750 Keeaumoku St,
Honolulu, HI 96814 (map)
(808) 945-9841
Mon-Fri: 10am-8:30pm, Sat: 9am-8:30pm, Sun: 10am-6pm
Sam's Club – Pearl Highlands
1000 Kamehameha Hwy 100,
Pearl City, HI 96782 (map)
(808) 456-7788
Mon-Fri: 10am-8:30pm, Sat: 9am-8:30pm, Sun: 10am-6pm
—
During my tour of the fish auction with Jed, I was introduced to Brooks Takenaka, the manager of the United Fishing Agency, the company behind the auction. I sat down with Brooks to get more info on his company and the history behind the fish auction.
Brooks Takenaka – United Fishing Agency
An Interview with Brooks Takenaka – Part I
[Edward Sugimoto] Describe a little bit about your history with fish in the islands. You know, hana battah kid time?
[Brooks Takenaka] Well basically I was born and raised in a fisherman's family. So my grandfather was a longline fisherman. My father and my uncles were fishermen as well. And until we were born, my father basically stayed on the boat, they stayed fishing. So I come from a fishing family, commercial longline fishing family, and, as a kid, I was always interested in fish, and I could tell you the scientific names of fish, the common names and all that. I used to raise some fish. They didn't want me to go into fishing. So I had done all the trolling and diving, all kinds of different forms of fishing and all of that, and they didn't want me to go into fishing, so I pursued a career in Marine Biology. I studied Marine Biology at the University of Hawaii. Then I did some research with the Oceanic Institute. Well, Coconut Island, worked out of Coconut Island, in the university system. And then I worked out at Oceanic Institute, and then I worked for the Sea Grant Program for a bout 3 and a half years and that's when I came to appreciate education and outreach. So I was working for those guys and then the industry was going through some changes and they made me an offer and so I came back into the industry and have been here ever since. I've been here for about 30 years now with the United Fishing Agency.
[Edward Sugimoto] To those who don't know, explain who exactly the United Fishing Agency is and its role is in the fish auction?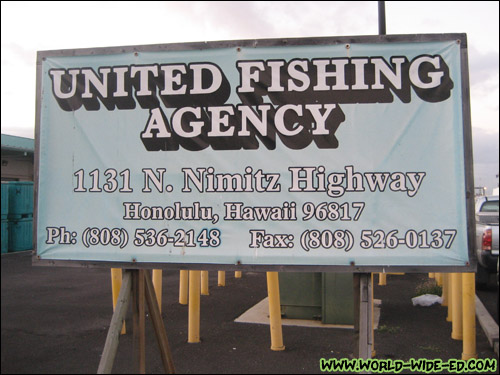 United Fishing Agency sign
[Brooks Takenaka] Well, the United Fishing Agency is the fish auction, and basically, it's a company that was put together many many many years ago, decades ago actually [incorporated in 1952]. And the whole idea, which is really a beautiful one, was put together by the senior Otani [Matsujiro Otani], and then basically it was a matter of bringing together wholesalers and fishermen to form an organization that basically put together a program that brought together the daily fish demand with the fish supply. And so back then, it was a far more expansive reality in terms of the type of species because you had reef fish, deep sea bottom fish, as well as open ocean pelagic fish. Maybe not in these kinds of numbers that you have today, but back then, when I was a kid, I remember going to the auction and there was a lot of reef fish. Trapping, netting, diving… all kinds of reef fish, and then there was a few bottom fish, and longline. Certainly the situation now is different in that the reef fish is pretty much sold as a different entity. They have their own market, and we don't get involved with the reef fish anymore. But we do sell the deep sea bottom fish and the longline stuff, the um, pelagic stuff. So how the auction works basically is that when these fishermen provision up to go out fishing, the purveyors they buy their products from – the food, the fuel, the water… those purveyors would send their billing here to United Fishing Agency. These fishermen go out fishing, they come back, first up on the dock, first up on the floor. And every day, six days a week, the list of boats is listed on the board there. There is a phone service that people can call in to find out you know what we've got, how much they've got. So then we basically put up their fish, we unload their fish and put up their fish. All of every boat's fish is color coded, and we sell one boat's fish at a time. So we start off with the bigeye tuna, which is the target species of this fleet, and then with the yellowfin, and then the different tuna species, like your albacore or tombo, and then your skipjack or aku, and sometimes some kawa kawa. But longline not so much kawa kawa. Then um, your marlins, then your mahimahi, ono, other species like that: monchong, walu, opah. One of the good things about the Hawaii fleet is that historically, they've always brought back all the species they catch, with the exception of the blue fish, the blue shark, they bring back everything. And the nice thing about the Hawaii situation is that there's a fond appreciation for all the species, so we don't waste any of these species at all. And with the cultural diversity that we have, there's so many different ways of preparing these fish, that you know people have a good appreciation for all these species. So that's basically how it works. In terms of how we get paid, we take 10% off the gross sales for our payment. Basically that's how it works.
[Edward Sugimoto] I read somewhere that this market is based off of the Tsukiji market (in Japan) in a little sense. Is that the true?
[Brooks Takenaka] Not in a little sense. Very very much so. We're actually a very junior version of Tsukiji. It's based after the traditional Japanese method of auction selling fish.
[Edward Sugimoto] You were kinda briefly walking us through the process. Can you in a little more detail (explain the process), how it comes off the boat, you do the scaling, you do the weighing and all of that?
[Brooks Takenaka] Yeah. How it all works is basically, when they come home, we unload the boats. If you go outside and take a look at some of the carts, the carts were built… Actually, prior to coming, moving to this facility, we were over in Kewalo, and what we used to do is we used to send trucks out to go pick up the fish at the various piers. Since moving here, the accommodations are great because we unload the boats right here. So it's much more timely and the freshness and quality are significantly better. So it's a far better facility. And basically how it works is these boats come home and we have an answering service, so first in, first up, and the answering service lets us know who's first, second, third and all this. So, in order for us to start the auction at 5:30 (AM), my guys come in at 1 o'clock. They call the answering service, they figure out who's first, then they just start unloading the boats. Those carts that we have now to unload the boats basically represent the same size of the truck bed that we used to go pick up fish with. And one of the reasons why we did that was because we have a good idea of about how many pounds are in each truckload. So that way, it's another form of checks and balance(s). So that, we built the carts to be the same size, and about the same amount of fish, so we know there's about 3,000 pounds of fish in that cart. Around there, yeah, depending on the species and sizes. So then, the boat unloads the fish into the carts. Those carts then are moved over to the facility, and then you see the weighing area where we stage it all out, and then the fish gets weighed and then tagged. And then you have a weight tag as well as a bar code and on the bar code, you have the information of the boat, the date, all this kind, what kind of species, how many pieces, that sort of thing. Then those fish are lined up, like I said, bigeye, big to small, yellowfins big to small, and then the others by catch species. And, that's basically how we started. At 5:30, the bell rings, and off they go. What we do with the tunas however, is that you'll notice that we do a tail cut, wedge cut, and then we'll do an anterior coring. So basically, that's all on each fish, each tuna in particular. And so the buyer has a good profile of what that fish is in terms of quality. And that facilitates and expedites their bidding on the fish. So that's how it works.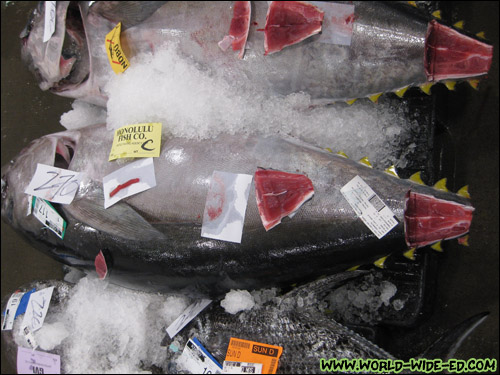 The tail cut, wedge cut, and anterior coring shows buyer the quality of the fish [Photo Credit: Arthur Betts]
[Edward Sugimoto] What do they kind of look for: bloodline?
[Brooks Takenaka] Well, what they're looking for is freshness and quality, also relative to their client base. OK, so in other words, they have a good feel for their client base and then they're bidding on fish that basically services their clientele. And so you have companies in there that play the whole gamut in terms of quality and range and prices, and you have those that are more of a niche market type of situation. And so, what's interesting is that you have a whole different approach by different people in terms of how they're buying, what they're buying, how much they're willing to spend, depending on what kind of client base they have. So some of these companies do send fish to the mainland. They work with people on the mainland, they'll send fish to the mainland. Others will send… they're even marketing in Vancouver. On occasion, you'll hear comments about some of these fish maybe going to Japan. Not as much as before because what's happened is that the world has come to appreciate sashimi and sushi and raw fish a bit more than it has in the past, and so what's happening is there… and people are beginning to appreciate the value, and so, there are more people that are buying tuna today as compared to before. So not as much ends up in the Japanese market. A lot of it does go to the mainland United States. Canada. Vancouver's a very strong market. So the rest of the world has figured out what's happening with fish and that's part of the reason why we're talking this sustainability today. So that's why we talk about those kind of issues today.
An Interview with Brooks Takenaka – Part II
[Edward Sugimoto] What kind of famous chefs/people come through here that you rub elbows with?
[Brooks Takenaka] Oh jeez. You name um, we've had um. Aw cheez, we've had Nobu (Matsuhisa), we've had Iron Chef (Masaharu Morimoto), we've had Paul Prudhomme, Ming Tsai, Chan Can (Martin Yan?). We've had a number. Of course and then there's people like Chef Mavro (George Mavrothalassitis) and Alan Wong and Roy (Yamaguchi) and D.K.'s (David "D.K." Kodama), you know, those people. And we also have a fair amount of visiting chefs from around the world and the country. So, far more than I can name. In fact we've also done tours for a lot of associations like nutritionists and people like that. I teach the coast guard… actually I also teach culinary classes, marine biology, oceanography classes, and I teach the coast guard.
[Edward Sugimoto] So your (Marine Biology) education comes in handy then?
[Brooks Takenaka] Yes, very much so. That was the purpose of it all. We have an incredible industry, but I think the industry was remiss for a long time because they pretty much did their own thing and kept to themselves. And then, in the meantime, what's happened is that of course there's interest that has just generated with respect to issues like sustainability and all this. And so we felt that it was important for us as an industry to get this message out, get some information out. And that's the reason why we started the program that we have. So the program that we have now is called the Hawaii Seafood Council. It's a non-profit organization, and we've set that up to develop the educational programs and materials to assist the industry.
[Edward Sugimoto] In terms of poke, what's your favorite type?
[Brooks Takenaka] It all depends on what kind of fish there is and what kind of ingredients there are and what I'm jonesin' for. I love aku poke and I happen to also love a lot of limus like waiwaihole and limu kohu, and lipoa, as well as the ogo. Actually the ogo to me doesn't have that much taste. Lipoa, which is a really stinky one, is to me a real good limu to use for poke, but most people cannot eat that because of the strength. It's kinda strong. So in terms of poke again, there's so many different ways of preparing it, and in reality you can use all kinds of fish to do this. So it really becomes a matter of how you want to prepare it, what you want to prepare. But for me, I like aku poke. I like ahi poke, marlin poke (either nairagi, kajiki), and then, there's also, you know again, like I said, poke is really a matter of imagination. You can do all kinds of things with that. Lobster poke is ono, you know, opihi poke is ono, so it depends. Crab, you can make crab poke, you know raw crab, stuff like that.
[Edward Sugimoto] It must be pretty hard to please you though since you're so used to the freshness here?
[Brooks Takenaka] Well yeah, I'm a stickler for quality. And so, if you know of like say Take's Fish Market in Moiliili, that's the kind of place my wife will buy sashimi. I mean you know it could cost us $60-$80 for a pound and a half or two pounds you know, but it's worth it. So here, again, it depends on what you're used to. And since I was born and raised with fish, I've eaten parts of fish that most people don't even consider. So again, my appreciation with fish is far greater or different than most. Like I said today, when I was a kid, I remember eating parts of fish that nobody else would eat. That was poor man's food. Today, because of health, people are looking into other parts of the fish too, so we're finally getting to… it's gone 180. I mean now people are beginning to appreciate some of the other parts of the fish too. So I would venture to guess that anybody learning how to eat fish from people in Hawaii, they really learn how to eat fish. Hawaii people know how to eat fish.
[Edward Sugimoto] Speaking of kinda "stranger" pieces of the fish, the abura mi, the fatty parts, that's of more value as opposed to the (aka mi)…
[Brooks Takenaka] Yeah well, you know, as the chefs say, the fat is where the flavor is. And so, in this case, one of the things that we teach the culinary kids of course is that the difference between the aka mi, or red meat, and the abura, or fatty fish vs. non-fatty fish, that doesn't mean that the non-fatty fish is no good. In fact, some of these non-fatty fish can be nice enough that it can go 7, 8, 9, 10, 12 dollars a pound. But, if that same fish had some fat in it, it can probably go dollar, two dollars more a pound. And there is a significant difference even from species to species, there's difference in terms of. So recently, I shared some fatty yellowfin and some fatty bigeye with Chef Mavro and Alan Wong, and they noticed the difference, the significant difference between the two species. Different kind of flavor, different kind of intensity in terms of the fat. So there's a lot of things we can do, to share with the public in terms of understanding about quality and appreciation for quality.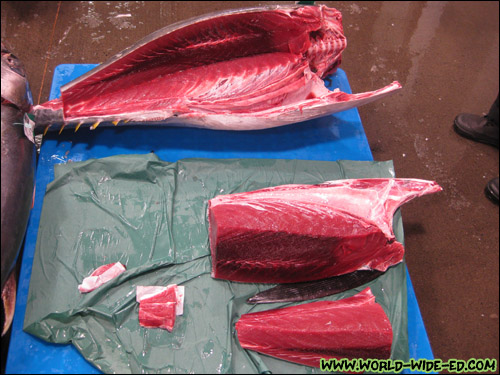 Ahi, freshly cut on the auction floor [Photo Credit: Arthur Betts]
[Edward Sugimoto] What's in store for the United Fishing Agency?
[Brooks Takenaka] Well, I hope that we can work our way through some of the issues that we have to deal with in terms of the sustainability issues, and protecting species like turtles and birds and things like that. We certainly, you know the United Fishing Agency has been around since 1952, and I certainly hope that in history, we continue to succeed and can move forward you know, for the next generation. And I hope that we can continue to be innovative and stay ahead of the curve in terms of doing things the right way for the right reasons, and being able to continue to supply fish for our people because I think it's a very significant part of our culture as well as lifestyle. And seafood of course, fresh seafood is, I think very very healthful. And so from that perspective alone, I certainly would like to continue to be able to provide good, healthy fish for the public. And, if you think about it, like I ask people think about this: what is the only form of food today that has no chemical additives in it? Wild fish, right? And you have concerns like bird flu, swine flu, all this other kind of stuff, but, you ever heard of fish flu? No. So the demand for fish, the concern for protecting the resource is important and we need to continue to do things to protect that resource. But, the thing is, I think people can also realize… learn and realize that some efforts are in fact being done the right way for the right reasons and I think the Hawaii effort is indeed one of those exemplary efforts. So I think if the rest of the world were to in fact conduct their fishing like we do here, then we may not have the kind of concerns that we have for the resources and stuff, so it would be better for the resources.
[Edward Sugimoto] And your auction is open to the public. Is there anything else you want to mention?
[Brooks Takenaka] Yeah, it's open to the public, but we gotta be careful about how many people we get over here. That's one of the things that again, we do these kinds of interviews, and I've got a few others to do within the next couple of weeks, but again, I do this with a grain of salt because the thing is, on one hand, we want people to know about our industry, but I also have a business to run and I gotta be careful about my time. But I mean people are welcome to come. It is open to the public.
[Edward Sugimoto] OK, thank you very much!
[Brooks Takenaka] You're very welcome.
For more information on the Hawaii Seafood Council and what Brooks folks are doing for the seafood community, please visit: http://www.hawaii-seafood.org.
—
Since we've already covered Sam's Club, let's turn this one into a "supermarket kine poke" piece and take a virtual stroll through some of the others doing poke here in the islands shall we?
Costco Poke
One of my favorites from Costco is their Japan Clam Poke, which, according to the label, contains: Japan clam meat, alae salt, chili pepper flakes, green onions, sliced sweet onion, and sesame seed oil.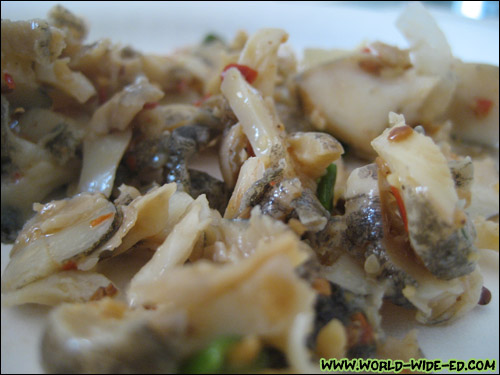 Japan Clam Poke – Japan clam meat, alae salt, chili pepper flakes, green onions, sliced sweet onion, and sesame seed oil ($11.99/lb)
I haven't seen it in some time though, but I'm hoping and praying that it's a "seasonal" thing as opposed to a "discontinued" thing. :
Other good ones include their Fresh Ahi Limu Poke,

Fresh Ahi Limu Poke – ($12.99/lb)
their Fresh Ahi Shoyu Poke,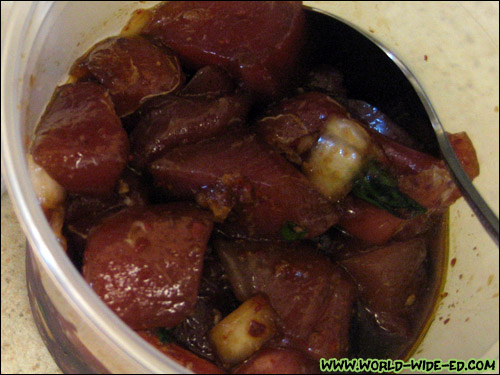 Fresh Ahi Shoyu Poke – ($11.99/lb)
and their Garlic Shrimp Poke.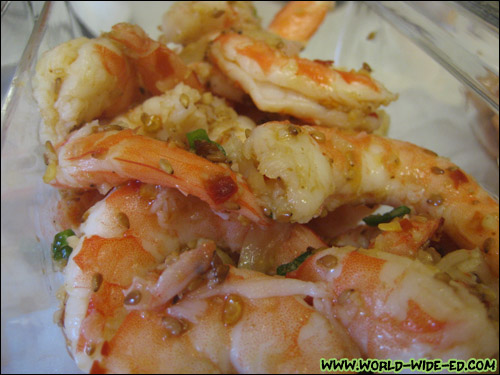 Garlic Shrimp Poke – ($9.99/lb)
—
Safeway Poke
I have a soft spot in my heart for Safeway 'cause they be my peeps. They were the ones to give me my first part-time gig during high school daze, where I eventually moved up to the "Fish Cutter" position in the seafood department. This is where I experienced my first taste (literally) of the art of poke making.
Back then, there was no such thing as "spicy tuna" (as it's known today), and some of the other "fancy" kine styles like wasabi, furikake, avocado, etc. My bread and butter was the ahi limu poke. A batch I recently picked up, though previously frozen, tasted eerily similar to the one I used to make.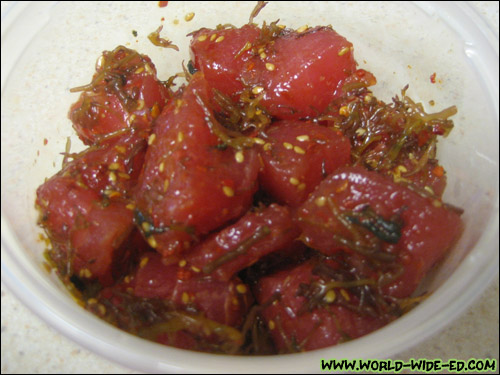 (Previously Frozen) Ahi Limu Poke ($7.99/lb)
If it's available, and you can at all help it (and can afford it), my recommendation is to always go for the "fresh" version. There's a HUGE difference in taste, texture and quality. Not to mention that a lot of times, places will treat/preserve their fish with carbon monoxide in order to "promote color retention" (keeps their fish looking red or from turning brown). Any time you can eat poke naturally (or any food for that matter) and avoid the chemicals, I advise it. Unfortunately, on this occasion, Safeway (and some of those below) didn't have many fresh options.
Next to the Ahi Limu Poke, wifey particularly enjoyed the Ahi Poke Furikake from Safeway.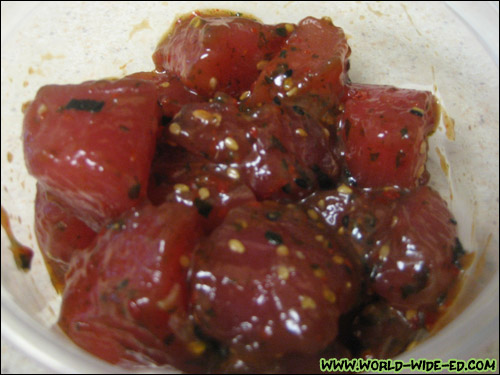 (Previously Frozen) Ahi Poke Furikake ($7.99/lb)
The current Fish Cutter told us that these next two batches were new, so we gave them a whirl. The Hot Ahi Poke (made with Sriracha sauce)…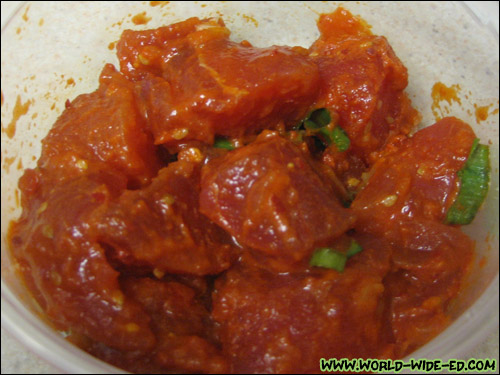 (Previously Frozen) Hot Ahi Poke ($7.99/lb)
… and the Ahi Wasabi Poke.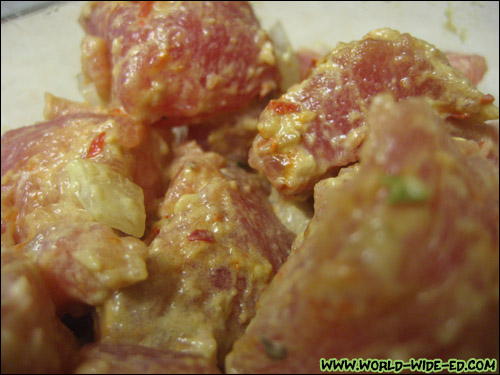 (Previously Frozen) Ahi Wasabi Poke ($7.99/lb)
In the mood for some octopus, we rounded out our visit to Safeway with their popular Kim Chee Tako Poke.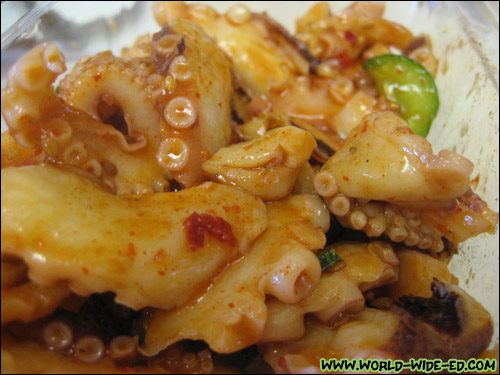 Kim Chee Tako Poke
—
Foodland Poke
I have to be perfectly honest. I've never been a fan of Foodland's poke, though I do strangely enjoy some of Sack N Save's versions on the neighbor islands. It could've been the taste/flavoring, the fish itself, the fact that I worked at Safeway (Ha!), or perhaps that I've just been unlucky whenever I ordered from there. To be fair, I picked up 4 types of their previously frozen styles: their Spicy Ahi…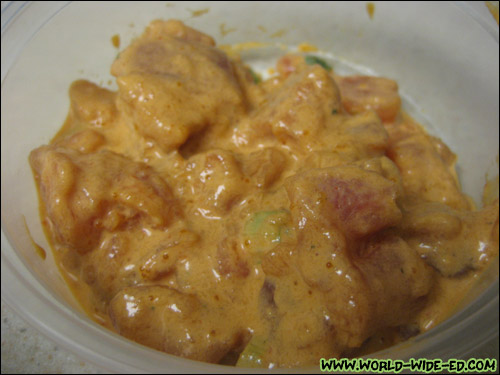 (Previously Frozen) Spicy Ahi Poke ($7.99/lb)
… their Ahi Limu…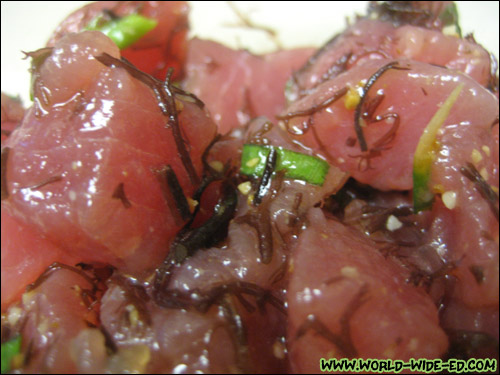 (Previously Frozen) Ahi Limu Poke ($7.99/lb)
… their Ahi Shoyu…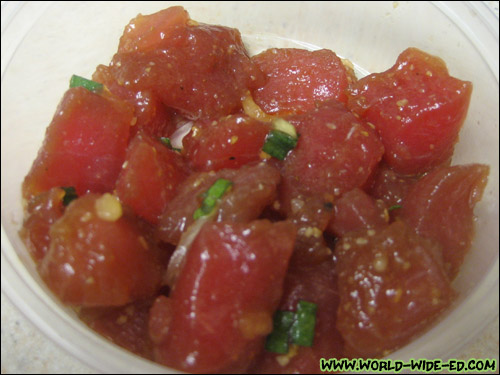 (Previously Frozen) Ahi Shoyu Poke ($7.99/lb)
… and their new Ahi & Avocado Poke.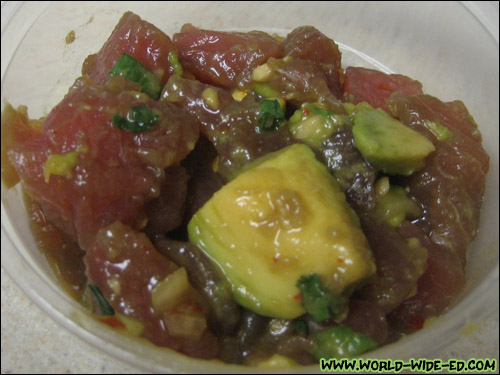 (Previously Frozen) Ahi & Avocado Poke ($7.99/lb)
They also had signage speaking of the carbon monoxide preservation methods, but interestingly enough, they also mentioned this: "From Philippines." Not quite sure why, but perhaps because it is not local to Hawaii?
If anyone from Foodland wants to fill us in, complete the feedback form on the right and I'll put your statement in here for ya.
—
Poke from TKS in Honokaa, Hawaii
To make sure I cover those doing poke well on the neighbor islands, I flew over to Hilo to visit my friend Dave. We found time to hit up KTA and Sack N Save, as well as the T Kaneshiro Store or TKS in "nearby" Honokaa.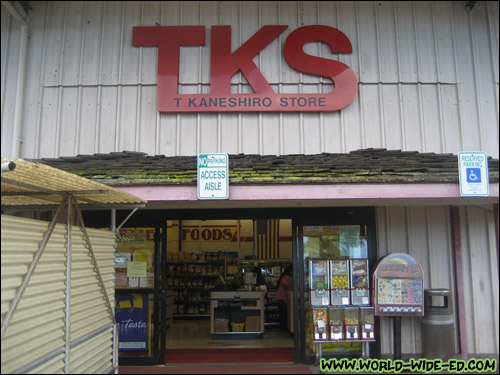 T Kaneshiro Store (TKS) in Honokaa, Hawaii
As with many mom and pop type groceries like this, they didn't have a dedicated seafood department, but they did provide a handful of poke options in their refrigerated section, including Ahi Poke – Korean Style, Ahi Poke with Sesame Oil, and Ahi Shoyu Poke.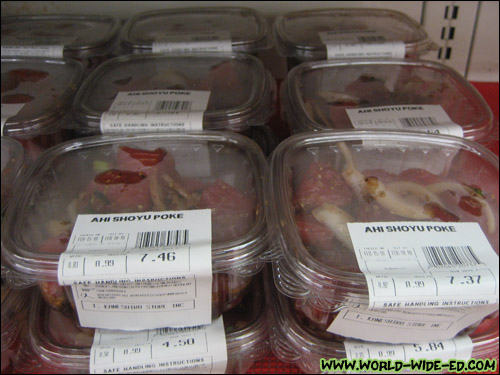 Ahi Shoyu Poke
T Kaneshiro Store
45-5002 Lehua Street
Honokaa, HI 96727
(808) 775-0631
(now Malama Market)
—
Poke from KTA Super Stores – Hilo
There are two KTA locations in Hilo: on Keawe street and Puainako Stree, but we made sure to hit up the significantly larger Puainako locale.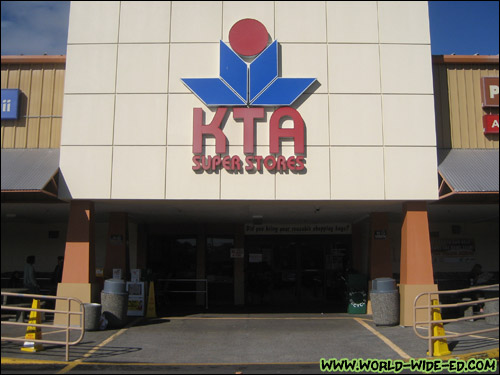 KTA Punainako
Woah. In order to match the sheer size of their store (I'm guessing), the size of their seafood department is equally enormous!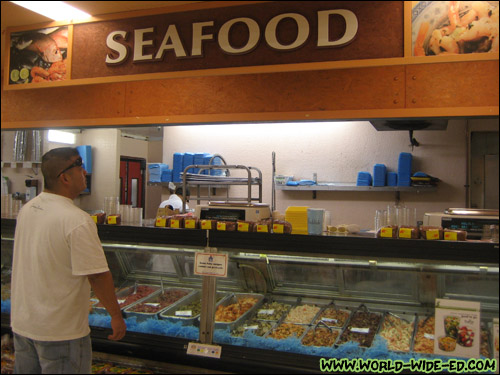 Bruddah Dave checking out the wide range of goodies
Their selection included such items as Tako Miso, Tako Hawaiian, Tako Kim Chee with Cucumber, Tako Shoyu, Tako Sesame, Spicy Tako, Marlin (Au) Korean, Marlin Nori, Marlin Low Salt Shoyu, Marlin Shoyu, Ahi Korean, Ahi Nori, Spicy Ahi, Ahi Hawaiian, Ahi Shoyu, Kim Chee Soybeans, Crab Poke, Shoyu Clams, Nori Tofu, Mussel Poke, Shoyu Hokkigai (Surf Clam), Pipi Kaula, Kim Chee Shrimp, etc.


Numerous poke choices at KTA
I know it's hard to tell (based on the amateur panoramic photo attempt above), but take my word for it, they had CHOKE options. 🙂
We sampled the Ahi Shoyu and Ahi Korean options (BTW, they weren't labeled, but they tasted of the pre-frozen variety).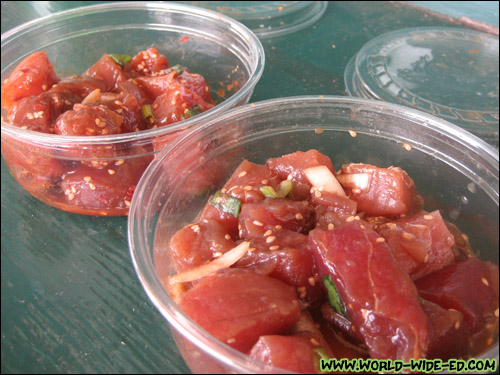 Ahi Korean Poke (left/top) and Ahi Shoyu Poke (right/bottom) and from KTA ($7.99/lb each)
KTA Super Stores
(Many locations)
—
Sack N Save Poke
And finally, we hit up the Kinoole Street Sack N Save location in Hilo.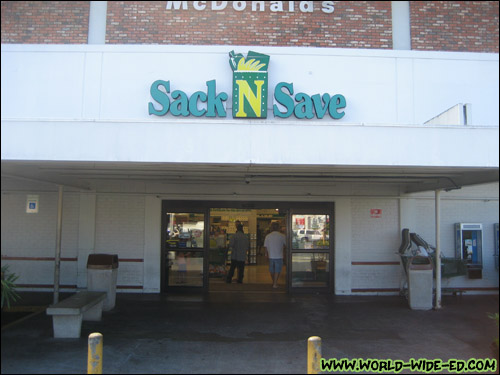 Kinoole Street Sack N Save in Hilo
They had a pretty reasonably sized selection that included Ahi Hawaiian Style, Ahi Shoyu, Ahi Sesame, Ahi Furikake, Spicy Ahi, Ahi Oyster Sauce, Ahi Limu, Ahi Garlic, Avocado Ahi, Korean Ahi, Ahi Wasabi and Fresh Ahi Poke, as well as Soybeans, Tako Kim Chee Poke, Tako Furikake Poke, Cooked Madako Tako Poke, and Smoked Tako Poke.


Sack N Save's Poke Selection
The Avocado Ahi was a big seller, so we picked up the rest of that tray along with some Spicy Ahi.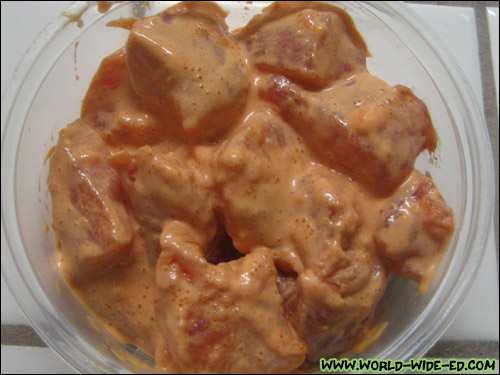 (Previously Frozen) Spicy Ahi Poke ($7.99/lb)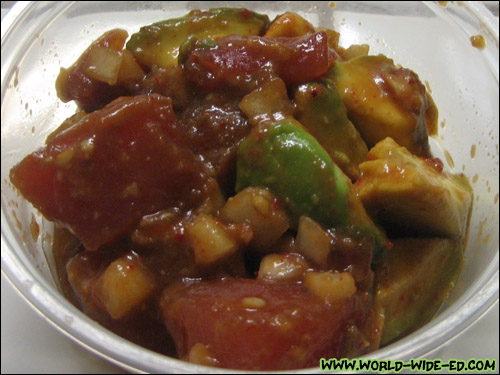 (Previously Frozen) Avocado Ahi Poke ($8.99/lb)
As with their sister/mothership Foodland, they had their previously frozen trays clearly marked with the "carbon monoxide" and "from Philippines" warning labels.
Comparing the poke from Hilo's Sack N Save to the Oahu equivalents from Foodland, I really enjoyed the Hilo versions more, especially the Avocado Ahi one FBI (From Big Island)! Good job B.I.!
Sack N Save
(Many locations)
—
Home Made Poke
And finally, as if I didn't bombard you enough with photos already 😛 , here's a step-by-step look at a home made batch I recently put together for a family gathering. Enjoy!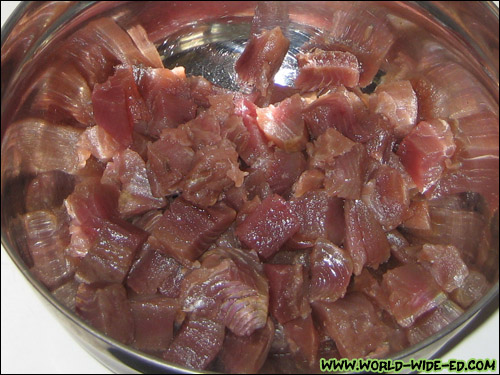 Cubed up Aku
I started by cubing up some aku that my mom had purchased from downtown. Aku has a stronger/fishier taste than Ahi, but to me, is a LOT better for making poke.
Below are some of the "ingrediments" I used including shoyu, chili pepper flakes, chili pepper watah (water), green onions, tobiko, and a generous serving of sesame seed oil (I have a preference for Kadoya brand sesame seed oil).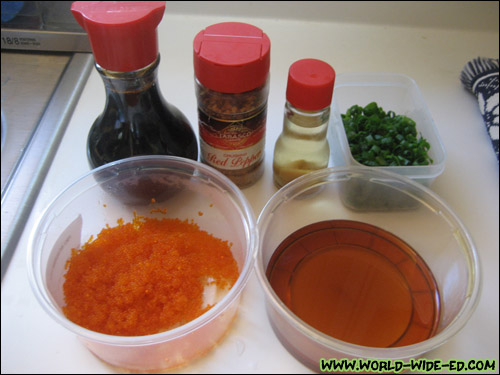 Ingredients for my poke – Shoyu, chili pepper flakes, chili pepper water, green onions, tobiko, and Kadoya sesame seed oil
Don't forget the limu/ogo!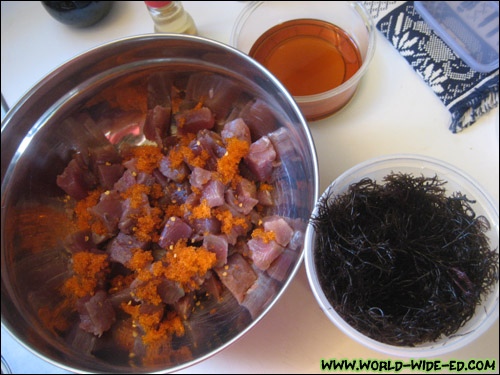 Mixing the ingredients together as the limu/ogo awaits
We add all the ingredients to the bowl (I like to save the sesame seed oil for last) and it looks a little sumthin' like this…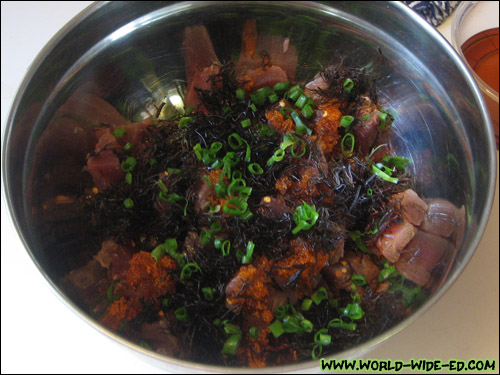 Poke mixture before mixing
Here it is up close.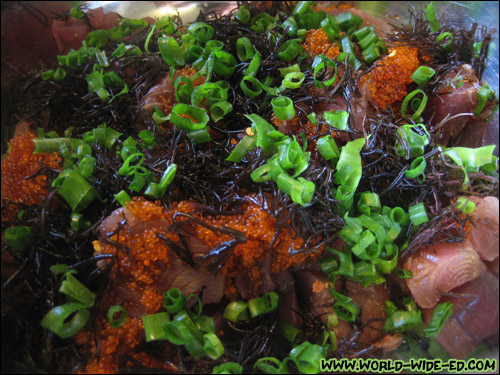 Poke mixture up close
I then added some furikake and the sesame seed oil and we got something that looked like this.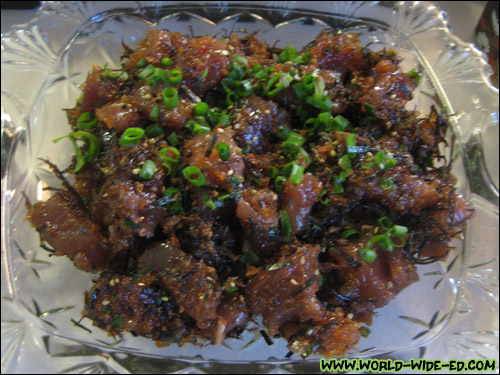 Ed's Aku Poke
Yeah, the color turned a little dark because of the shoyu, but it was yummy nonetheless… If I do say so myself. 😛
Ed's Fish Hut
1 Ono Way
Honolulu, HI.
(808) 999-NEVAH-MINE!
—
A-ight, that's it for Part III of this Poke Paradise series. Stay tuned for next month, when I interview Rachel Haili of Haili's Hawaiian Foods, Guy Tamashiro of Tamashiro's Fish Market, and visit a few other island favorite poke spots.
A big mahalo to Jed Inouye, Arick Yanagihara, Steve Rudolph, and the entire Seafood Hawaii, Inc. team, Brooks Takenaka and everyone at the United Fishing Agency fish auction at Pier 38, Dave Oi for the FBI Hilo hospitality and Grant Lau for assistance with the air accommodations. See y'all next month!