Local band Island Rhythms pretty much summed it up in their classic hit, "Is This the End?"
Is this the end?
Are you my friend?
It seems to me
We are to be free…
Over the last 4 months, we've been poke-ing it up across our great state. We've visited some great institutions like Yama's Fish Market, Tanioka's, the Honolulu Fish Auction, Haili's, and Tamashiro Market, and have met with some interesting folks in the industry like Sam Choy, Mel and Justin Tanioka, Hideaki "Santa" Miyoshi, Alan Wong, Jed Inouye, Brooks Takenaka, Rachel Haili, Guy Tamashiro, and Hilo's Uncle Solomon.
And though we've still got a loooooong way to go, we're going to (temporarily) wrap things up this month in the 5th part in the Poke Paradise series with Kahuku Superette, JJ's Seafood, Off the Wall, Paina Café, Ono's Seafood, and poke's new kid on the block Reno Henriques and his shop Fresh Catch.
Reno Henriques – Fresh Catch
Chef/Owner Reno Henriques grew up next to Kaneohe Bay and spent much of his childhood fishing, diving, and trolling in the ocean. After graduating from St. Louis School, he attended Western Culinary Institute in Portland, Oregon, where he honed his culinary skills. Reno returned to Hawaii to help with his family's businesses (brother Dominic Henriques owns RRR Recycling Services and parents Linda and Robert Henriques own Rolloffs Hawaii), until an opportunity presented itself to open his own place. Fresh Catch was born.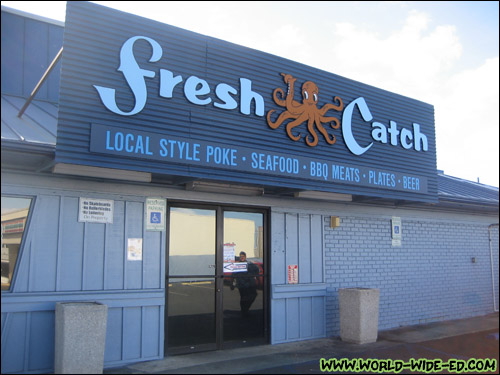 Fresh Catch on Waialae Ave
Customer response has been tremendous thus far, bringing in tourists and locals alike, even eliciting a visit from UFC Fighter, and Hilo native, BJ Penn.

BJ Penn Visits Fresh Catch
Wanna learn more about Fresh Catch? Here's a recent interview I did with owner, Bruddah Reno Henriques.

Reno Henriques Interview
[Edward Sugimoto] Give us a little history about yourself.
[Reno Henriques] I was born and raised in Kaneohe, fished my whole life, went to high school, St. Louis High School, and then after I graduated St. Louis, I went to Western Culinary Institute in Portland Oregon and did a lot of culinary up there. And then, when I came back, my parents own Rolloffs Hawaii, a rubbish company, and my brother does Triple R, I was working for them for about maybe 10 years. Then, my brother started a recycle thing in Kaimuki, so he asked me… 'cause the place was available and it's too big for him… if I would like to do poke with him. I mean do a poke thing, and then he do his recycling in the parking lot. At first I was like ah, might as well. I didn't cook for about maybe 10-15 years, but I figured, ah, I'll give it a shot, I always cook at home. So I came in, prior to that, about a year, I was helping somebody else in Kaneohe, used to be called Slow Poke, it was a fish market. I was just helping him after work, you know, mix poke. One day he got real busy, he was like, "Reno go back there and make your own poke." So I started mixing and next thing you know, people was telling me, "Oh I wanna try that one, try that one." So I started making for him, and then, next thing you know, he was like, "You know what. Come over, help me, and you can work off your bill." *laughs* Free poke and beer. And then he just helped me work couple hours a day, during the rush hour. So that's how I kinda got into it, and then he taught me a lot of things, and then he retired about 8 months ago and I took over that business also. So now I have two stores, the Kaimuki store and then the Kaneohe store.
[Edward Sugimoto] How many different types of poke do you have and what are some of your more popular ones?
[Reno Henriques] Huuu. Probably got maybe over, I'd say about, between 30-35 different types of poke.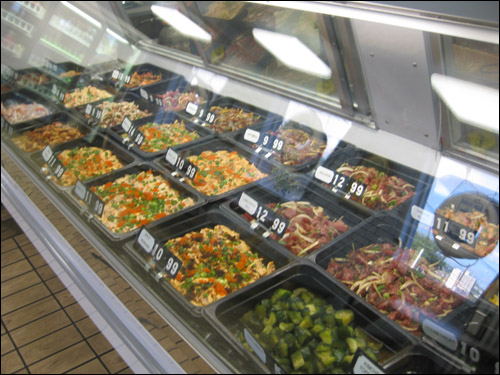 Fresh Catch's wide poke selection [Photo Credit: Arthur Betts]
[Reno Henriques] The most popular one is up to you. I don't know everybody has their flavor.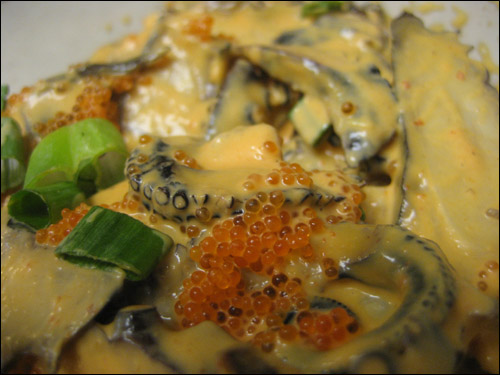 Close-up of one of my favorites: the Smoked Tako Poke
[Reno Henriques] You know, shoyu's a good one. Everybody likes shoyu poke.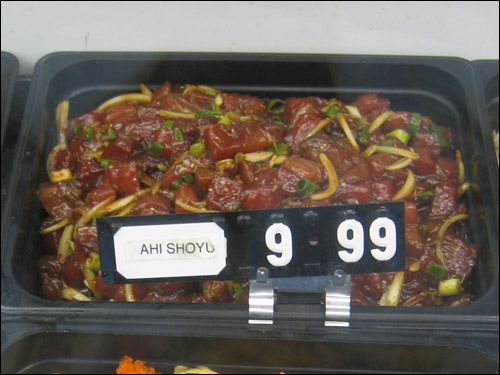 Shoyu Poke from Fresh Catch [Photo Credit: Arthur Betts]
[Reno Henriques] I started a new one, it's called the Spicy Hawaiian. It's kinda like an Ahi Limu Poke with spicy sauce inside. Different, but the thing is good, plus with the crunch with the limu.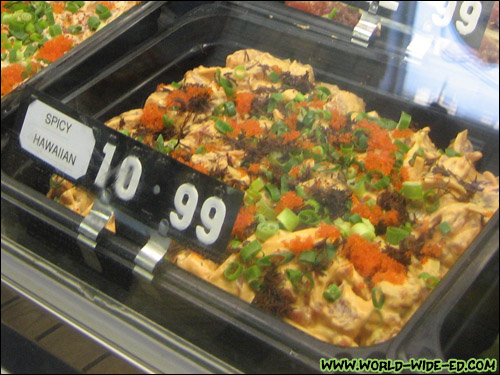 Spicy Hawaiian Poke from Fresh Catch
[Reno Henriques] And the salmon poke is one of my popular ones. Teri Furikake Salmon Poke, da buggah's ono.

Furikake Salmon Poke from Fresh Catch
[Edward Sugimoto] How about some of your personal favorites?
[Reno Henriques] My personal favorites is, you know the old school Hawaiian stuff like ake (liver), lomi oio…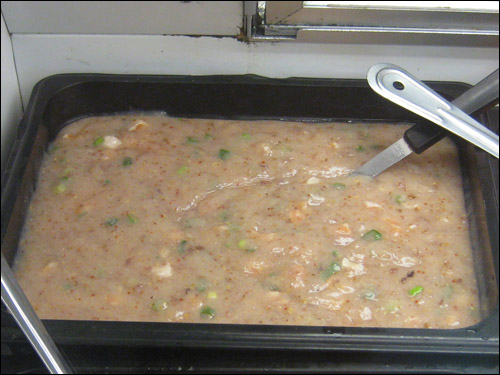 Lomi Oio [Photo Credit: Arthur Betts]
[Reno Henriques] … Dry aku, a real popular one too is our taegu dry aku. It's like dry aku, we cut it up, and then, got my grandma's special taegu sauce. Everybody's trying to get that one outta me, but cannot part with that one. *laughs*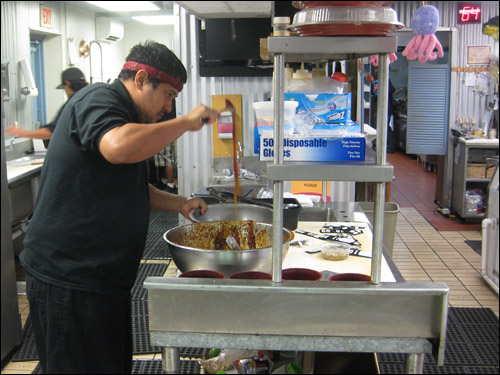 Reno mixing up a batch of Taegu Dry Aku Poke [Photo Credit: Arthur Betts]
[Edward Sugimoto] And you don't just have poke. You have plate lunches, marinated meats (party platters, and Red Velvet Cupcakes from Divine Desserts, etc.)…
[Reno Henriques] Yeah, we have all the different plate lunches. Our most popular plate lunch is the Teri Furikake Baked Salmon. That thing is deadly. Moist, juicy…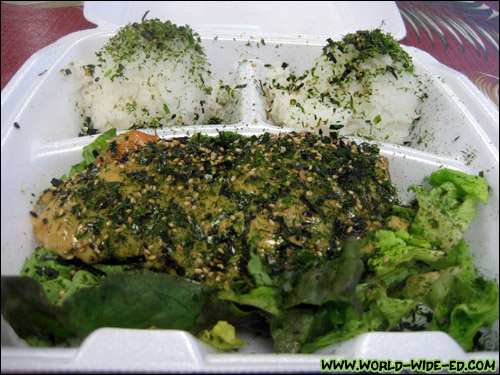 Teri Furikake Baked Salmon from Fresh Catch
[Reno Henriques] Then we got like local favorites like a Deep Fried Ahi Belly with a butter garlic heavy cream sauce.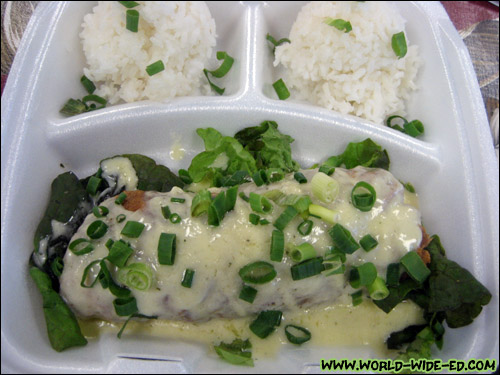 Deep Fried Ahi Belly from Fresh Catch
[Reno Henriques] We got grandma's fatty beef stew. Plenny gravy. And then we got pateles, lau lau, we make smoked meat, chopped steak, just all kine local styles. We also sell marinated meats for the barbeque grill, you know tailgate time?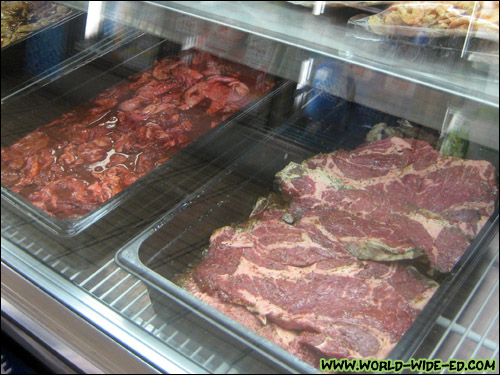 Marinated Meats from Fresh Catch
[Reno Henriques] And then we have some cold beverages. My wife and my cousins make red velvet cupcakes. It's the best on the island I'm tellin' you. *smiles* It's the cream cheese frosting with chocolate chips. Mmm.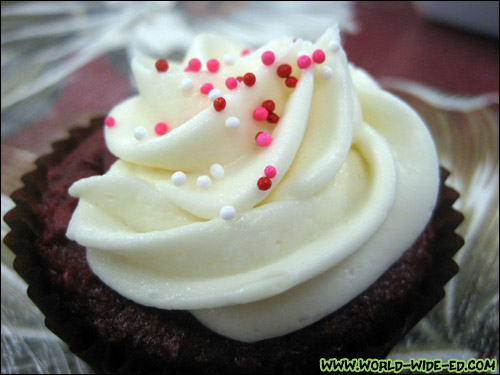 Red Velvet Cupcake from Divine Desserts (at Fresh Catch)
[Edward Sugimoto] So it's a whole family affair over here.
[Reno Henriques] Oh yeah, everybody's involved. Free labor ah? *laughs* Payback time!
[Edward Sugimoto] What's in store for Fresh Catch?
[Reno Henriques] You know like everybody else, become famous and rich. Nah! *laughs* I'm trying to bottle my sauces right now. So I've been going to the mainland. I went to Boston's seafood show, got some ideas. I want to start bottling a couple of my sauces and maybe one day, you know selling it throughout the world hopefully.
[Edward Sugimoto] Anything else to add to your current or future customers?
[Reno Henriques] Thank you everybody for your awesome business and your support. Fresh Catch will be coming up with a new special very shortly. I can't tell you guys too much but yeah.
[Edward Sugimoto] Plate lunch or Poke special?
[Reno Henriques] Plate lunch.
[Edward Sugimoto] Shoots, thanks ah?
Fresh Catch
3109 Waialae Ave
Honolulu, HI 96816 (map)
(808) 735-7653
Tue-Fri: 10am-7:30pm
Sat: 8am-7:30pm
Sun: 8am-5pm
Note: Fresh Catch will be holding their 2nd Annual Father's Day "Up In Smoke" Cooking Contest and "Nobody Cares" Hawaiian Style Car Show on Sunday, June 20, 2010 at the Aloha Stadium Nimitz Parking Lot. Click here for more details.
—
Ono Seafood Products, Inc.
Through one of my many blogs/tweets/status updates (I don't remember which), I asked where the best poke place in town was. One of the names that came up regularly was Ono Seafood on Kapahulu.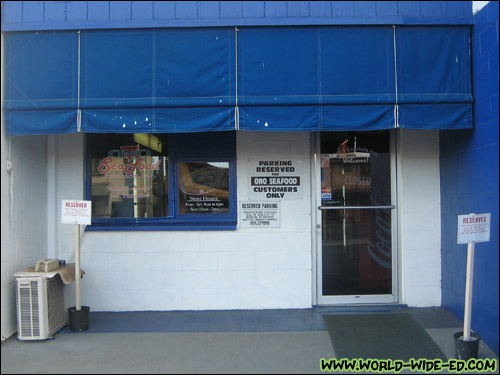 Ono Seafood Products, Inc
Self-proclaimed as "The Best Poke in Honolulu," this "Ono's" should not be confused with the Hawaiian Food restaurant "Ono's" with the same/similar name: Ono Hawaiian Food.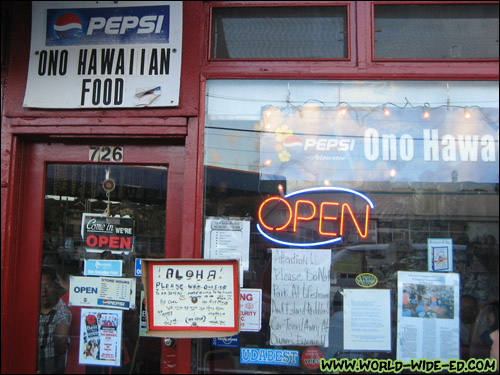 Outside Ono Hawaiian Food
The Hawaiian Food "Ono's" also resides on Kapahulu, and, to make things even more confusing, they serve poke as well.

Hawaiian Style Poke at Ono Hawaiian Food
But getting back to Ono Seafood Products, Inc… Here's a quote from my friend Dean Shimamoto, who teaches us what and how to order:
"Every order of poke is made in front of you… You have the option to pick what you want, but I usually get 'everything' which means fish, onions, ogo, some kind of chili sauce thing, inamona (i think) and their special sauces. Ogo is fresh and their sauce is mean (haven't tasted anything like it). How to order… 'One pound Ahi with Everything'. You can also specify the spiciness, but if you don't say anything it's assumed to be mild. I've gone enough to know not to go on Tuesdays before 2pm when they get their shipment of fresh ogo."
-Dean Shimamoto
As you may've noticed in the picture above, I arrived at Ono Seafood a tad early and was greeted with their delightful "Closed" sign. After killing an hour or so, I was the first, excitable patron through door. An older woman, whom I could only assume was the reverent "Judy," took my order.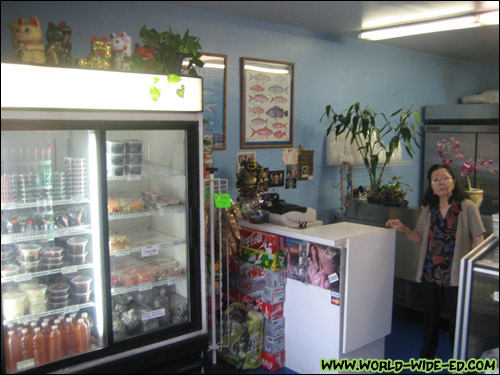 A confused Aunty Judy takes my order
Though Ono's has a reasonable variety of products beyond poke like dried goods (ahi, aku, squid jerkey, smoked tako, taegu, etc.) sashimi, party platters, boiled peanuts, and pickled products (kinilau, pickle onion, cucumber kim chee, lomi salmon, etc.), they're primarily known for their poke and poke bowls.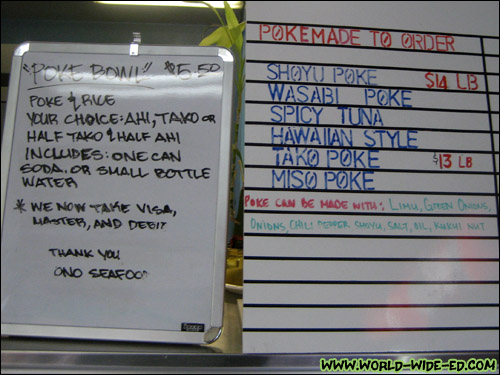 Poke options at Ono Seafood
On this occasion, I picked up a half pound of shoyu poke (ahi)…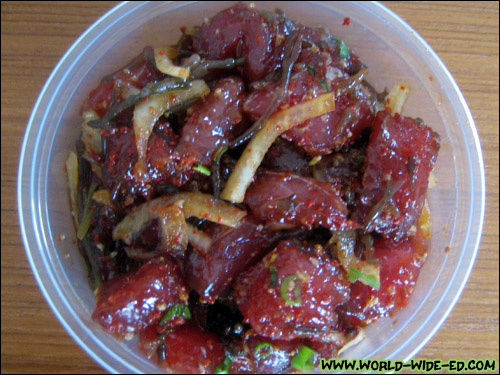 Shoyu Ahi Poke from Ono Seafood ($14/lb)
… and a half pound of miso ahi.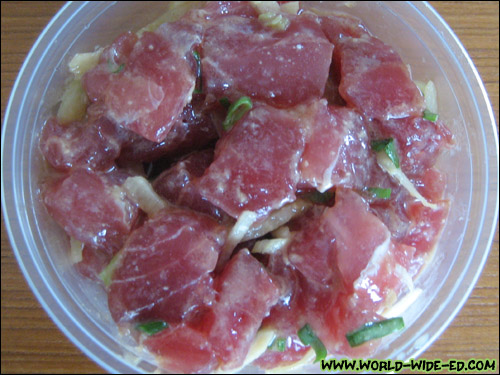 Miso Ahi Poke from Ono Seafood ($14/lb)
As mentioned by Dean-o, my orders were made to order. And though I didn't say anything about my spiciness preference, the Shoyu Ahi actually had some pretty good kick to it. If you no can handle (Randall), you should ask for mild regardless.
I don't know if I'd go as far as naming them "The Best Poke in Honolulu" but it was tasty. Made to order care using only fresh fish is tough to beat.
Ono Seafood Products, Inc.
747 Kapahulu Ave, Apt 4
Honolulu, HI 96816 (map)
(808) 732-4806
Mon-Sat: 9am-6pm
Sun: 10am-3pm
—
Pa`ina Café
A couple years ago, I broke the story about a place opening up in Ward called The Poke Bowl. Well since that time, brothers Derek and Craig Uyehara, along with their partners, moved shop across the street to the Ward Warehouse area. With the move came a larger property and menu (PDF), as well as a name change to Pa`ina Café.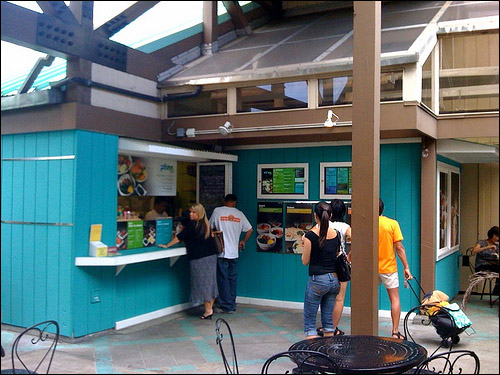 The line outside Pa`ina Café [Photo Credit: Ryan Ozawa]
If the Poke Bowl is what you're after, there is actually a science as to how to order. First you choose your size (small or large or extra large), rice (white or brown) and sauce (hot or mild). Then you pick your poke (Spicy Tuna, Shoyu Ahi, Hot Shoyu Ahi, or Limu Ahi), and cover it with one of 10 toppings at 50 cents a piece: Natto, Taegu, Kim Chee, Takuan, Shredded Nori, Fukujinzuke, Pickled Onions, Furikake, Green Onions, or Seaweed Salad.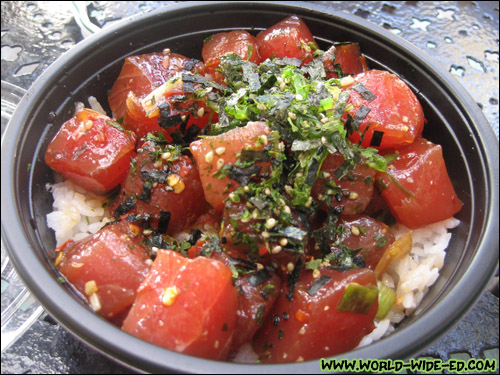 Small Hot Shoyu Ahi Poke Bowl with Furikake and Seaweed Salad on White Rice
Since there are so many options, you can literally go several times and never get the same thing.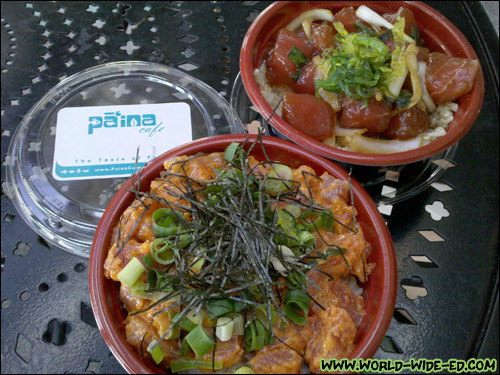 One Small Spicy Tuna Poke Bowl with Shredded Nori, Seaweed Salad and Green Onion on White Rice, and one Small Shoyu Ahi Poke Bowl with Pickled Onions and Seaweed Salad on Brown Rice
Derek has informed me that they will actually be moving again in August to the nearby location formerly occupied by the Chowder House. Even more space and seating for their loyal and growing following.
Pa`ina Café
1200 Ala Moana Blvd #24
Honolulu, HI 96814 (map)
(808) 356-2829
Mon-Sat: 10am-8pm
Sun: 10am-6pm
—
Off the Wall
The brother in law told us about this unique, Okinawan joint sitting in the middle of Pearl Kai Shopping Center. Wifey and I checked it out one day and were pleasantly surprised with their eclectic dishes, especially their andagi options: the Shoyu Pork Andagi…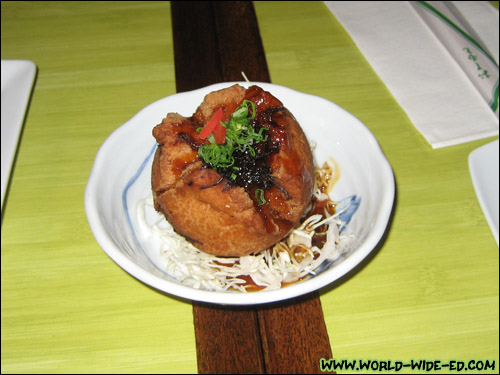 Shoyu Pork Andagi – Crispy andagi batter surrounding a shoyu pork filling. Served with a shoyu pork sauce and yuzu beurre blanc. $3 each
… and their house specialty: the Chocolate Filled Andagi…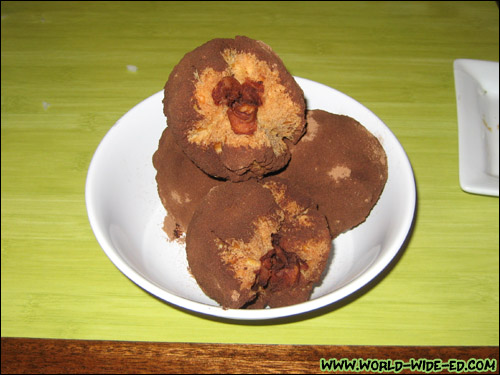 Chocolate Filled Andagi $2 each
Some notes from their menu regarding the Chocolate Filled Andagi FYI: "Absolutely made nowhere else! Warning: After eating our Andagi we are NOT responsible for any uncontrollable cravings to eat more than one! We cook our andagi to order and it does take some time to make (approx 20-30 min). Please order your andagi at the beginning of your meal."
Off the Wall also featured many izakaya-type dishes, including a poke one called the "Naked" Spicy Ahi Poke Musubi.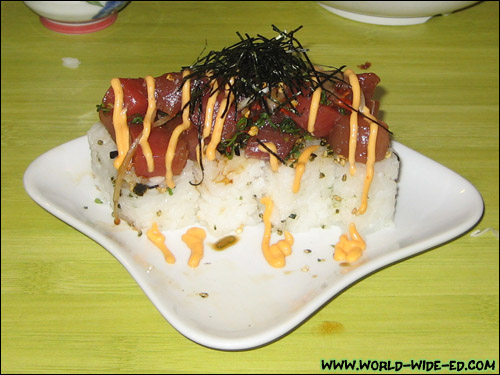 "Naked" Spicy Ahi Poke Musubi – Our poke layered on a bed of furikake rice and drizzled with a spicy aioli. – $8
Off the Wall
Pearl Kai Shopping Center
98-199 Kamehameha Hwy, B-10
Aiea, HI 96701 (map)
(808) 486-9255
Wed, Thu, Fri: 11am-2pm (take out lunch)
Wed, Thu, Sat, Sun: 5pm-9:30pm (dinner and drinks)
Fri: 5pm-2am (dinner and drinks)
Mon, Tue: Closed
—
JJ Seafoods
Another name mentioned in my informal survey was a place in Kaneohe called JJ Seafoods. Since I don't spend nearly as much time on the Windward side as I should, I wasn't exactly familiar with this place. I did though, remember driving by their very unique looking pink building many a time.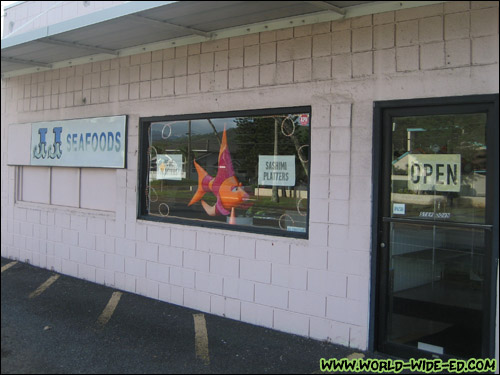 JJ Seafoods in Kaneohe
It's not a large place in the slightest. Very mom and pops-ish, which I love.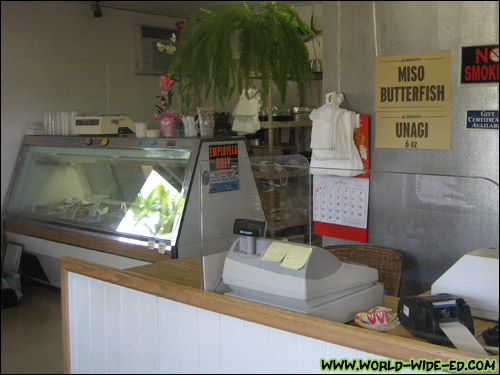 Inside JJ Seafoods
We were off to a party in the 'hood so we had to pick up at least two pounds. Unfortunately, we were strolling in just as they were closing and they were all out of their Shoyu Ahi. To our delight, they were willing to mix a fresh batch just for us to go along with our Tako Poke.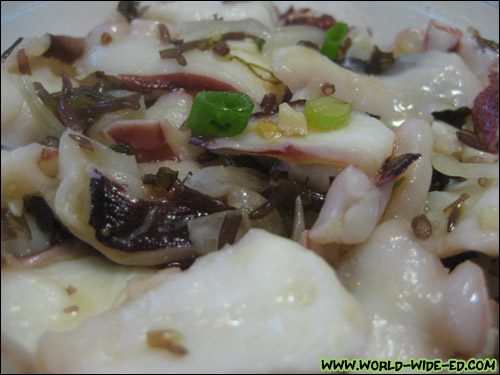 Tako Poke from JJ Seafoods ($11.99/lb)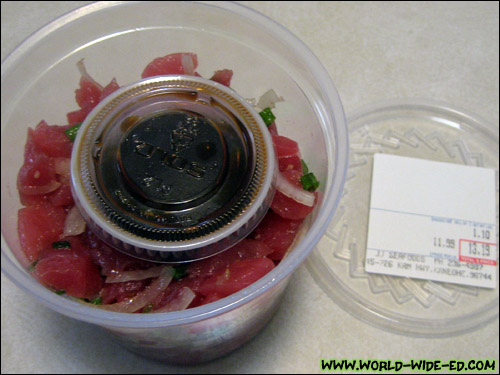 Ahi Shoyu Poke from JJ Seafoods ($11.99/lb)
Go and support small, family-run businesses like JJ Seafoods k?
JJ Seafoods
45-726 Kamehameha Highway
Kaneohe, HI 96744
(808) 236-4987
(permanently closed)
—
Kahuku Superette
Back in high school, I used to dread seeing "Kahuku" on our basketball schedule. Not only were they good and likely to wipe the floor with us, the bus ride over was a killer in itself. (There's only so many times one can listen to Boyz II Men on the Walkman. 😛 ) Now that I live somewhat closer to the north shore of Oahu and, more importantly, have my own car, taking that drive, like Rocky says, "ain't so bad!"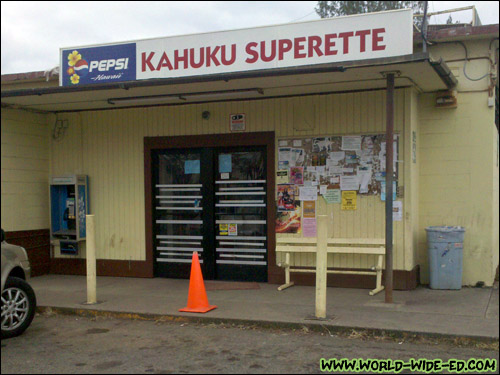 Outside Kahuku Superette
Inside you'll find your typical superette, complete with groceries and various knickknacks, but head to the back of the store and you'll find a setup that's uber popular.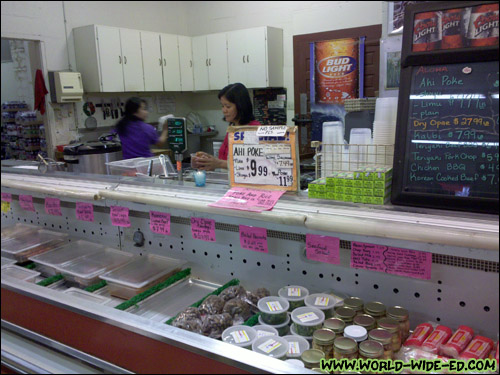 Inside Kahuku Superette
In addition to poke, Kahuku Superette also sells boiled peanuts, seafood salad, and various meats (like kalbi, teriyaki pork chop, chicken bbq and Korean cooked beef), by the pound. You can purchase your poke by the pound, on its own ($9.99/lb), or in a bowl ($9.99/lb + $1, $1.50, or $1.75 for the small, medium or large sizes).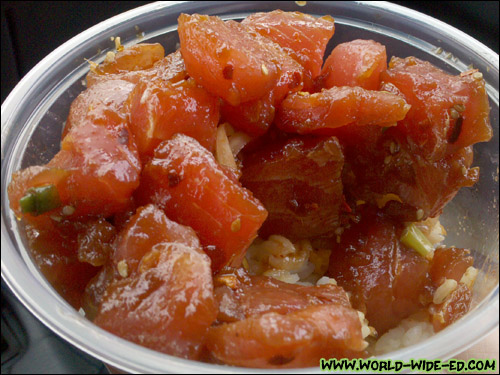 Small Ahi Shoyu Poke Bowl from Kahuku Superette ($9.99/lb + $1)
(Ed's Tip: If you can help it, I would recommend eating right away if you get the bowl version. Reason being, the rice is mega hot, so it actually cooks the cold poke on top just a tad.)
Here's a cross section of the poke bowl.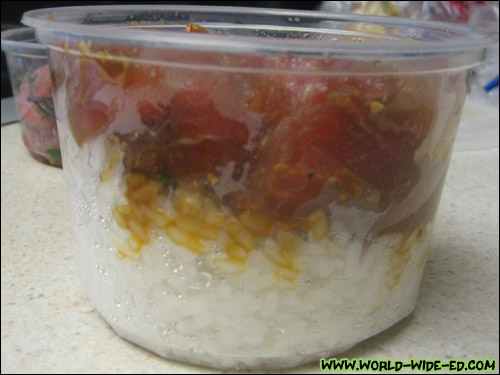 Side view of the small Ahi Shoyu Poke Bowl from Kahuku Superette ($9.99/lb + $1)
Wifey was particularly impressed with the meticulousness of their system. They actually took the weight of the container itself (before anything was in it), and subtracted that from the weight of the entire dish. Although, miniscule, I commend them for being that honest and fair about their pricing.
We also got half a pound of their Ahi Limu Poke.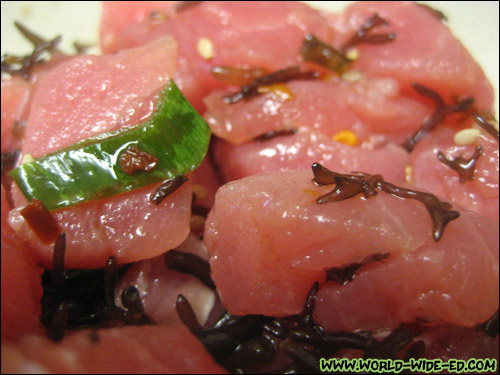 Ahi Limu Poke ($9.99/lb)
Oddly enough, ther Ahi Limu Poke tasted pre-frozen, though their Ahi Shoyu (on the rice) did not. Not sure if it was just a time of day situation or if their Ahi Limu is always pre-frozen (or they serve fresh fish in the bowls only?), but just a head's up.
Kahuku Superette
56-505 Kamehameha Hwy
Kahuku, HI 96731 (map)
(808) 293-9878
—
And that's it! Five amazing months of meeting and eating everything and everyone poke. When we return, I'm hoping to hit up other popular places like Alicia's, Ruger Market, Tamura's, Marujyu Market, Monarch Seafoods, Inc., Masa & Joyce, Young's Fish Market, and Da Pokeman, among others, but until then, kick back, relax and poke it up brah! Hope you enjoyed the series up until this point! Wow, I think I might get a little emotional here. Queue Island Rhythms…