Whenever anybody asks me where my favorite restaurant is, I always say "Tokkuri Tei" without any hesitation. Some will nod in approval because they've been, while others are curious because they haven't. For the latter, I usually like to send them a link to an article I wrote about them several years ago: Tokkuri Tei – The Izaka-ya to Die-ya For because it contains the food "pr0n" that everybody gets excited over.
Recently, I was re-skimming the article and noticed that there were only 8 photos in it and I asked myself "Is that it!? Just 8 photos!?"
I've been to both of Tokkuri Tei's locations dozens of times. Heck a single search for "Tokkuri Tei" on my computer box thing yields 296 items! Almost three hunny, and all I could muster up for that article was 8 measly photos? Must've been my rookie food blogging days. LOL!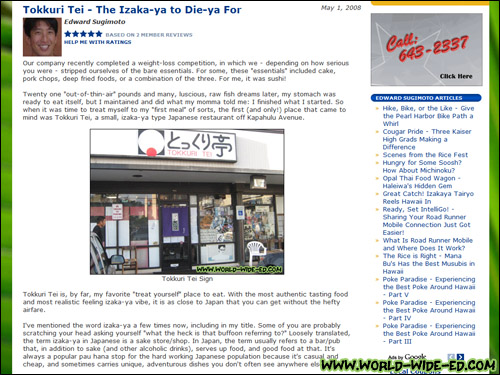 Tokkuri Tei – The Izaka-ya to Die-ya For
Needless to say, an update was long overdue… So when co-owner Hideaki "Santa" Miyoshi informed me that they would be moving to a new location (their 3rd in almost 22 years), I thought it would be the perfect time to update their story (and my photo count).
On Tuesday, December 21st, I answered Santa san's call. They needed help moving the "heavy stuff" after spending the entire previous day moving the "small stuff" over (guess he knew about the "gun" show *grin*). The plan was to move the entire Tokkuri Tei operation from their 611 Kapahulu location to their new 449 Kapahulu location and be ready to launch in one week! Whaaaat? One week!? Fo real? No can! Can! Although just 0.2 miles away, moving an entire restaurant, enormous refrigerators and all, is not an easy task as I was about to find out.
I arrived that morning to this: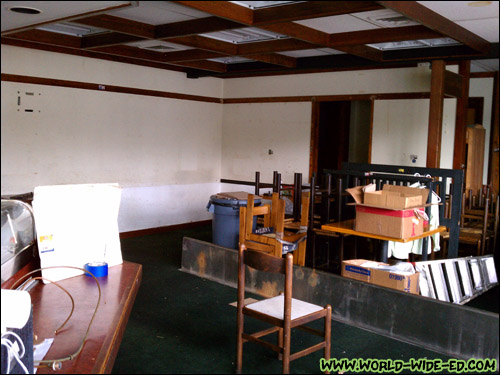 Dining area inside the old Tokkuri Tei

Kitchen and sushi bar at the old Tokkuri Tei
I gotta admit, I got a little misty. OK, not really, but there were so many memories made there!
Then, it was time to move one of the HUMONGOID refrigerators. Lucky thing this one had wheels!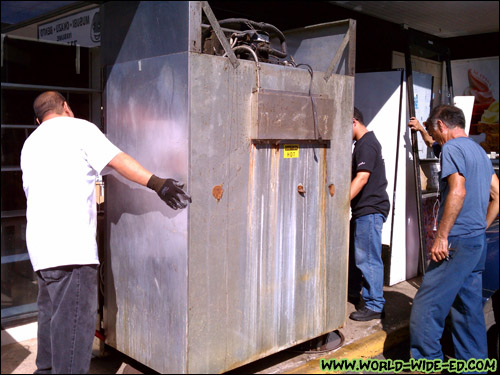 Moving the refrigerator. Why am I not helping? 😛
With the "heavy stuff" loaded up, we headed over to the new spot (the old Sam Choy's/Sergio's/Ranch House above Hee Hing). I've honestly never been here since it was Sam Choy's Restaurant, so I was particularly interested to see what kind of space we were working with.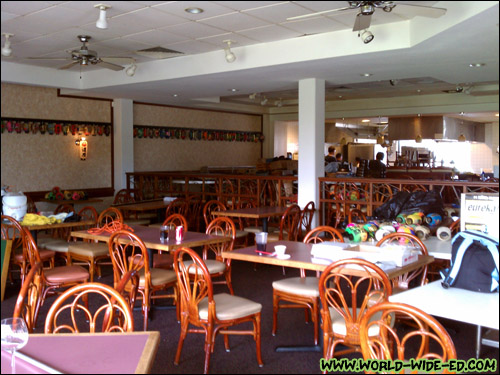 Partially furnished dining area inside the new Tokkuri Tei

Tokkuri Tei's other owner Kazu "Kaz" Mitake checks out his kitchen with Santa
As you can see, it's a fairly large blank canvas for which to paint. Thankfully, some familiar izakaya trimmings were brought in to spruce up the joint.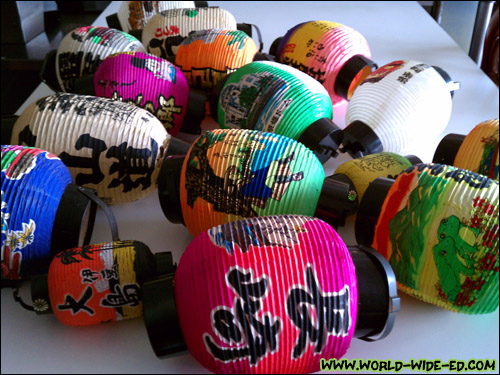 Japanese lanterns (chochin) waiting to be put up
Santa went right to work putting them up.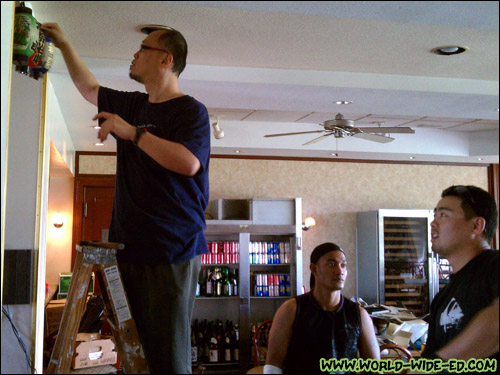 Santa putting up the lanterns
Less than a week later (Sunday, the 26th), Santa invited me to their soft-launch party. The guest list was only around 20, but we had a very important role. We were there so that the staff could get their bearings and do a dry run before going live to the public the very next day. Here are some shots from that night.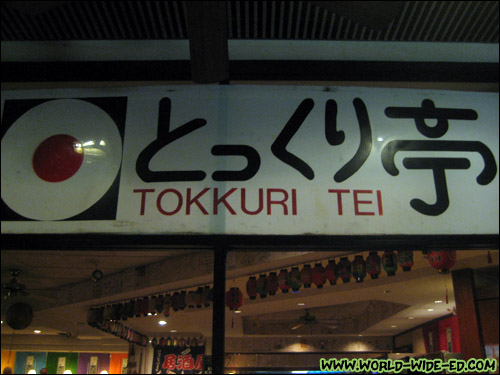 The sign is up!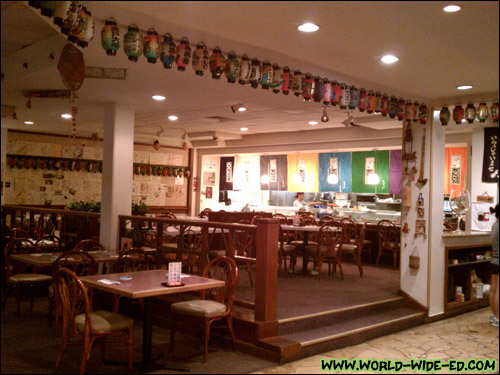 Tokkuri-Tei's new interior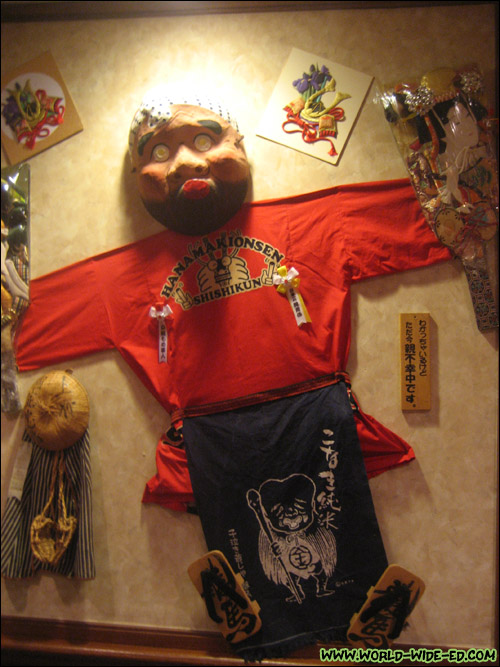 Hilarious display. Great photo opp location!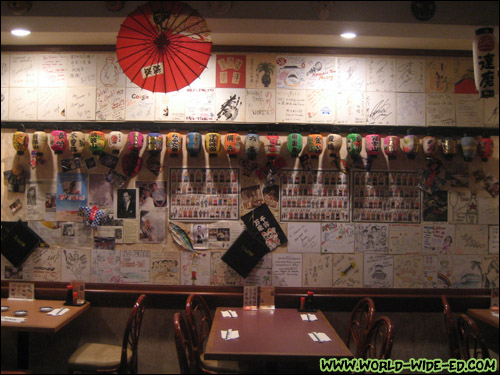 Most of the shikishi (signed cards) are back up!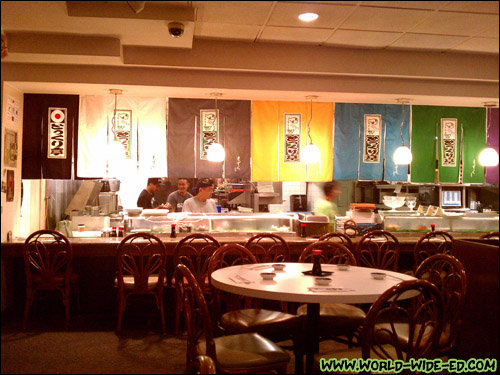 The new sushi bar. So colorful!
And then came the food. There was no ordering involved. It was a set menu as decided upon by the kitchen.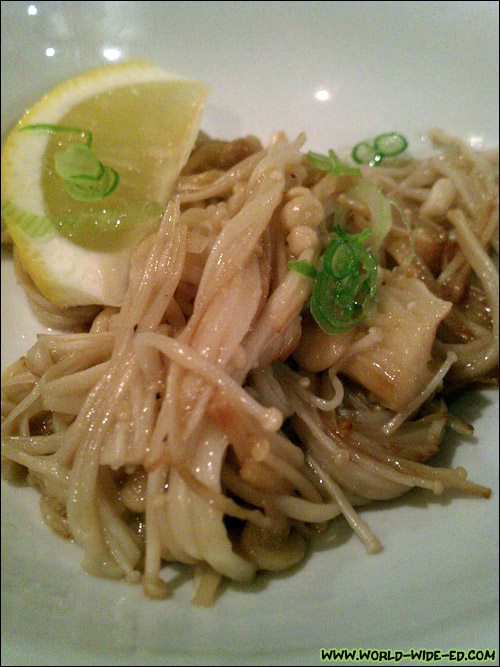 Enoki Bata (Enoki mushrooms sautéed in butter)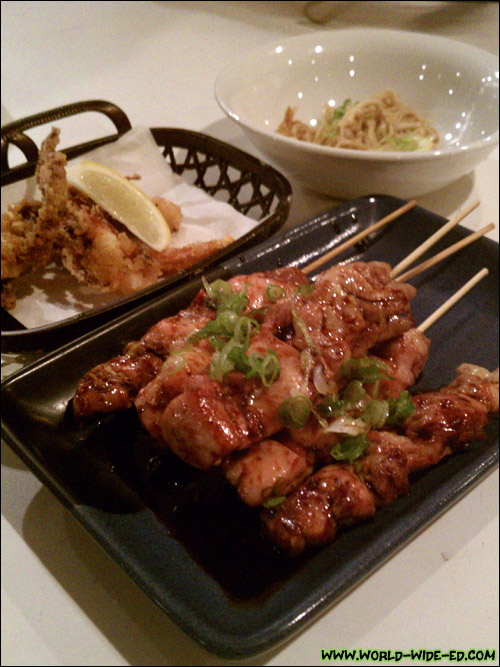 Yaki Tori Kushi Yaki (chicken skewers), Geso Kara Age (deep fried squid legs), and the Enoki Bata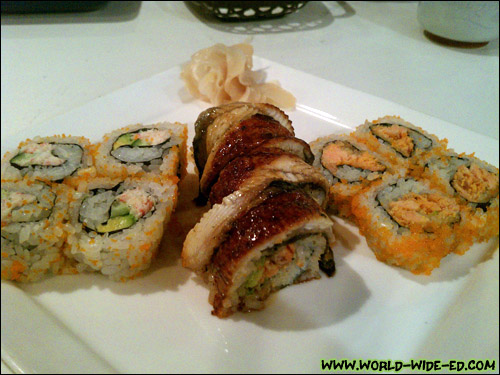 Samples of the California Roll, Unagi Cali Roll, and Baked Alaska Roll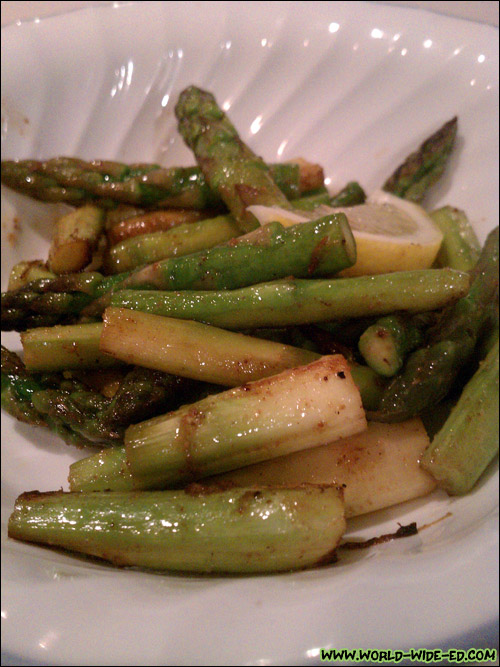 Asupara Bata (Butter asparagus)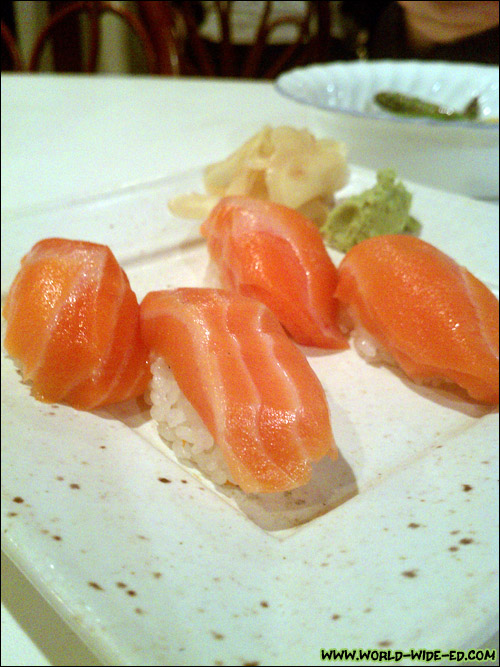 Shake (salmon) sushi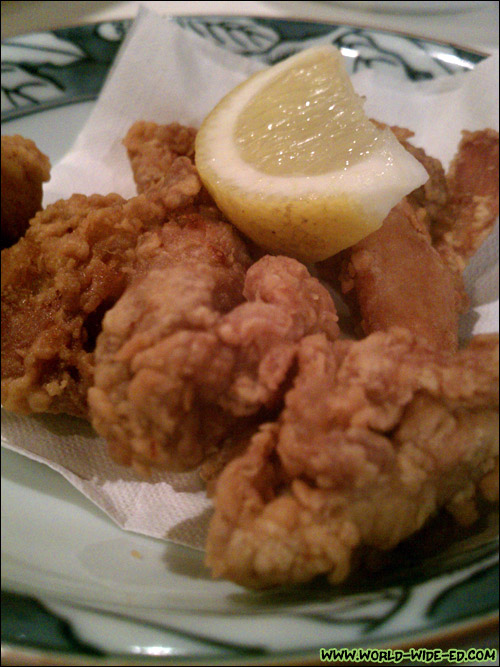 Chicken Kara Age (fried chicken)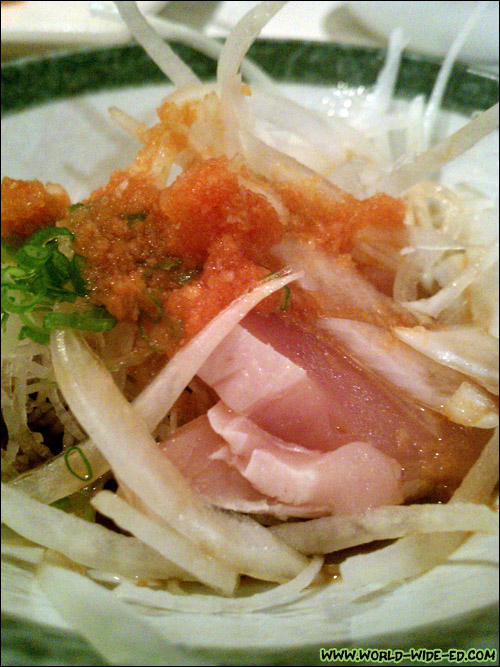 Bintoro Tataki (flash seared albacore tuna)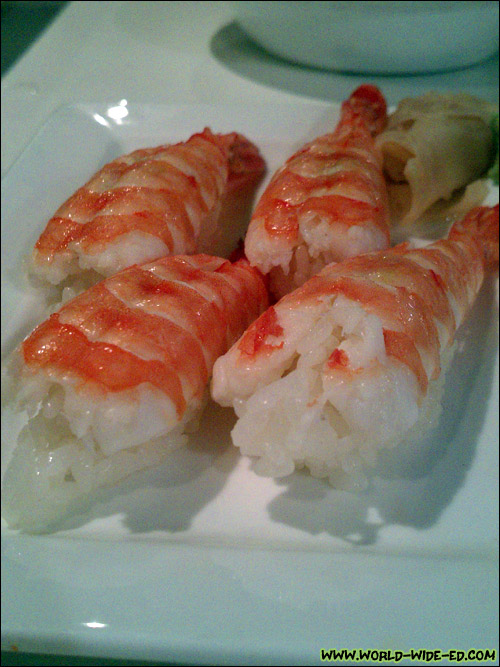 Ebi (shrimp) sushi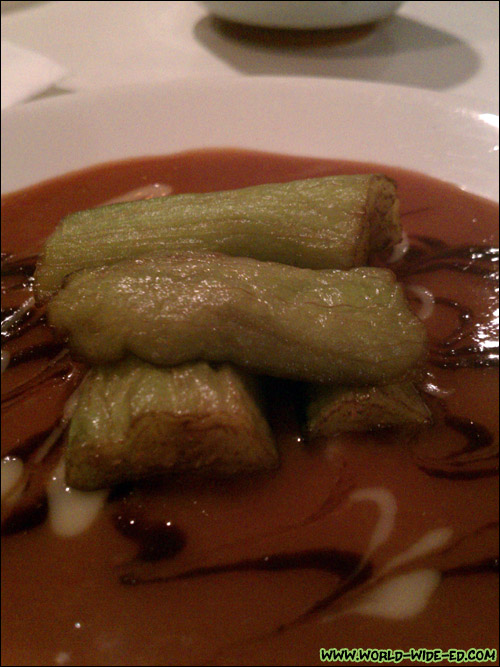 Yaki Nasu (Eggplant)
I gotta be honest. At first, I was a little worried. With a space that much bigger, I wasn't sure if they would be able to keep the "hole-in-the-wall" izakaya vibe/feel. I also thought that the taste might change. Well, I'm happy to report that neither has occurred. You still feel at home in their new digs and the YUM factor was still alive and well. The true test was when I went home and shmall kine kanak attacked! All pau!
The next day (Monday, the 27th), the Official Grand Re-Opening was set to happen, but it didn't come without some drama. Santa and crew had to wait for the health inspector to come and deliver their health permit and that didn't happen until around 2pm, just a few hours before opening! Yikes!
But with that outta the way, Tokkuri Tei was ready for lift off! I invited a bunch of (new and old) friends to join me. Here are some sights from that night.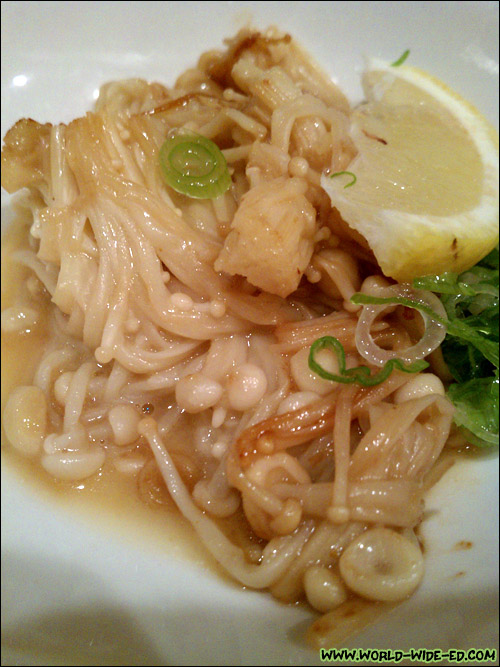 Well hello again Enoki Bata! 😛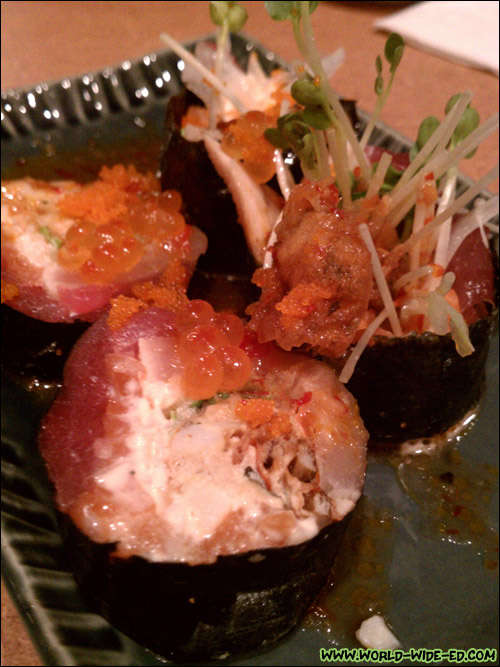 There's a Spider in Da Poke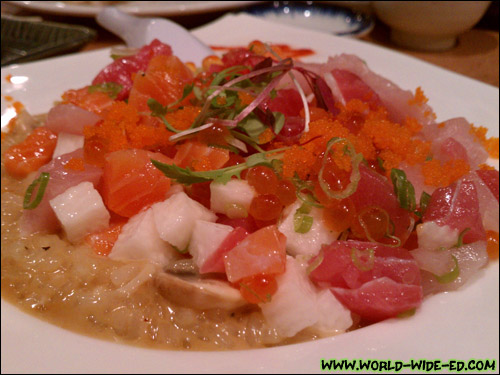 (Off the menu) Sugimoto Risotto, er, Seafood Risotto 8)
Note: This is my all-time favorite dish from Tokkuri Tei, hands down (it even took First Place in the "Rice-ipe" Contest – Professional Division, at the Rice Fest this past year). Problem is, it's not on the regular menu to order. In fact, Santa is the only one who knows how to make it! With that said, I have been petitioning (ok, begging) Santa to rename it from the mundane "Seafood Risotto" to the more catchy, and, dare I say, exciting "Sugimoto Risotto"! Ahahaha! While we're at it, maybe we can convince him to make it a regular item on the menu. Muhahahaha! A fella can dream right? But fo' real, I think this one would seriously sell like hotcakes! Or should I say Sugimoto Hotcakes? 😛 Guess that doesn't have the same ring to it…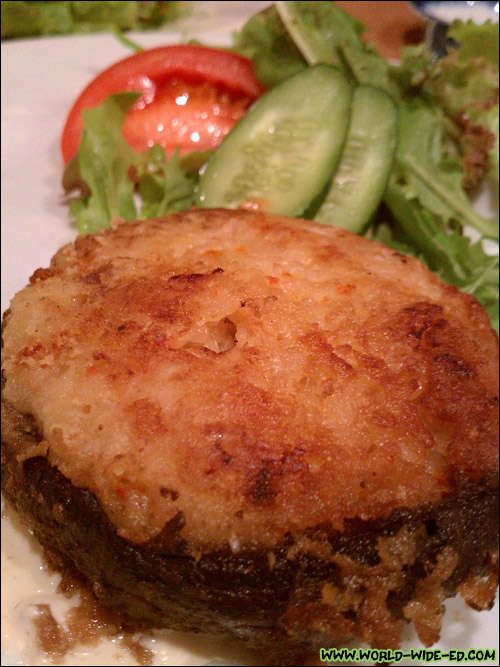 Stuffed Portobello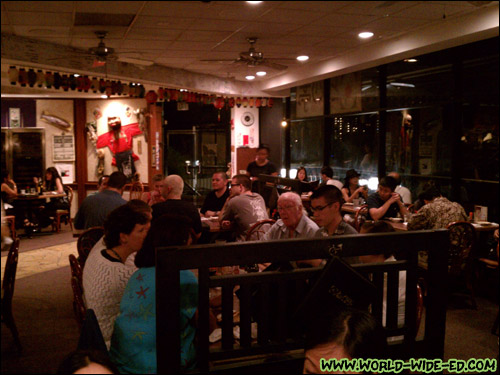 Packed house

Here's an artsy panoramic video Clayton Wakida shot from his iPhone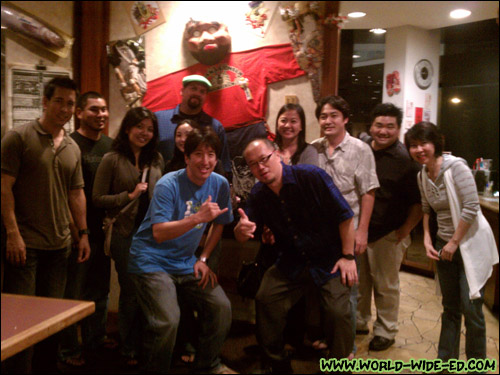 Group shot: Jason Kim (@turkeyboy808), Lee Kojima, Leanne Nakamura, Matt Duffy (@Shogunai_Tacos), Mai Sugimoto, me, Santa Miyoshi, Kelli Nakama, Rick Nakama (@RickNakama), Clayton Wakida (@jarofclay73) and Mari Taketa (@NonStopMari)
What an awesome night with great friends and ono eats…
But wait! *screeeeech* You think it's ova don'tcha? No way Jose! I still get choke photos fo' share! 🙂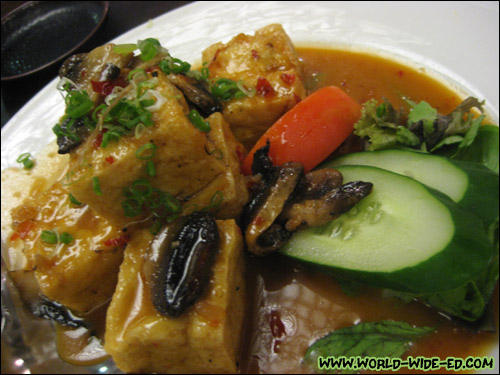 Teriyaki Cream Tofu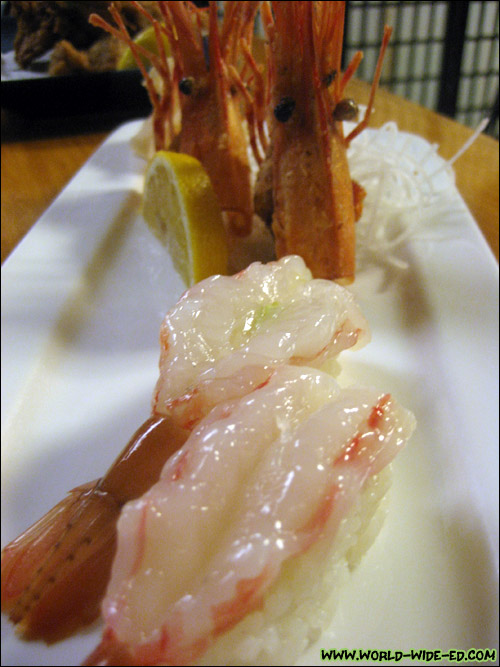 Ama Ebi (raw shrimp) with deep fried head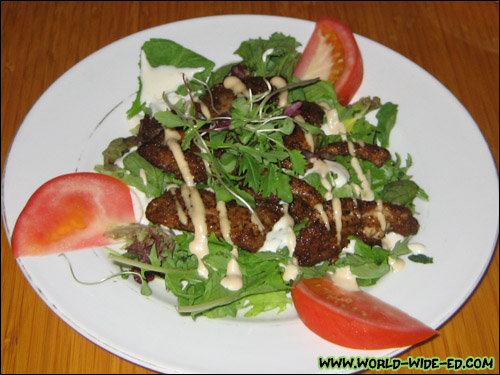 Cajun Ahi Salad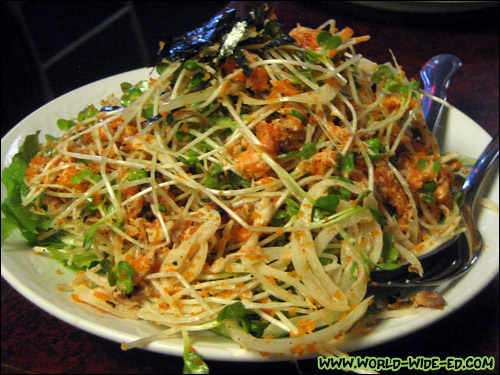 Salmon Skin Salad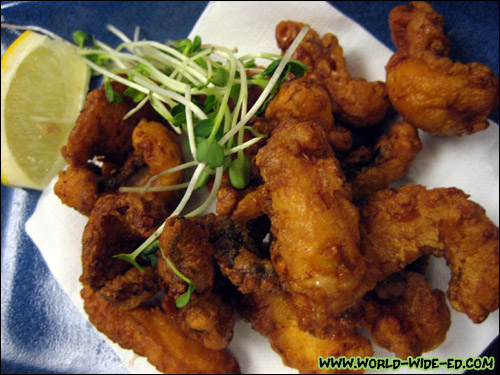 Sunagimo Kara Age (Deep Fried Chicken Gizzards)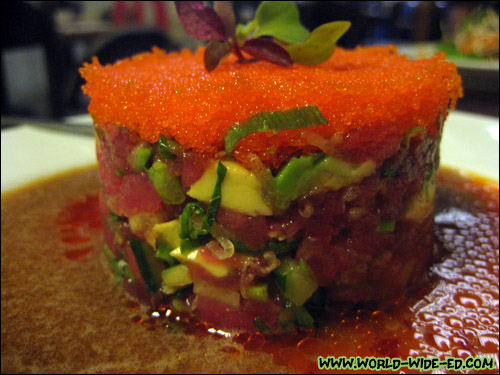 (Off the menu) Lilipuna Poke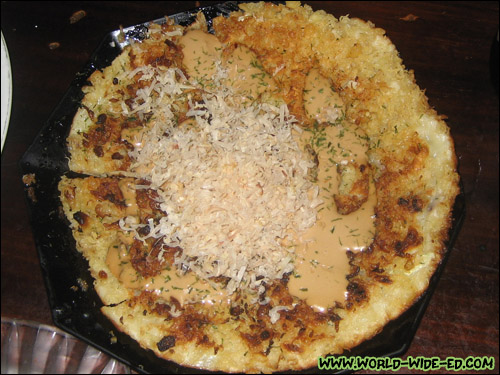 Ika Yaki (Squid Pancake)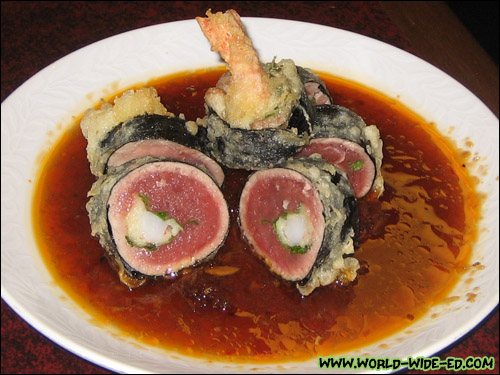 Ahi Tempura Poke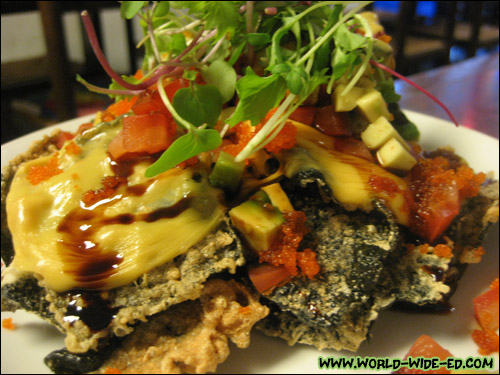 Nori-chos (Nori Nachos)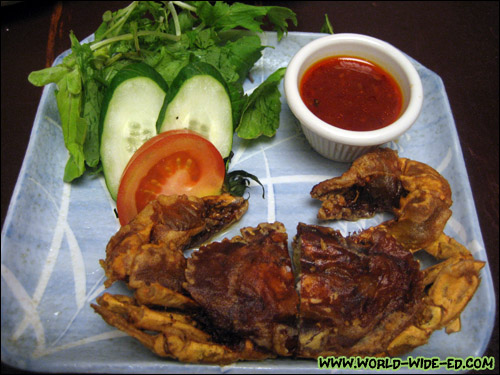 Soft Shell Crab Kara Age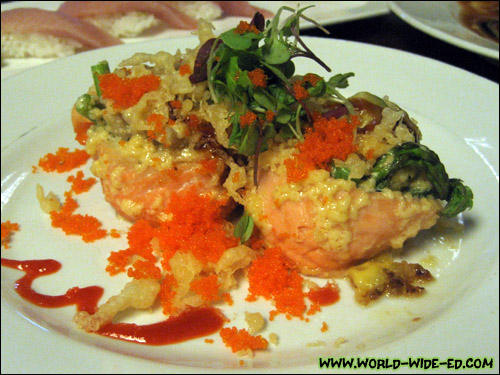 Salmon Dynamite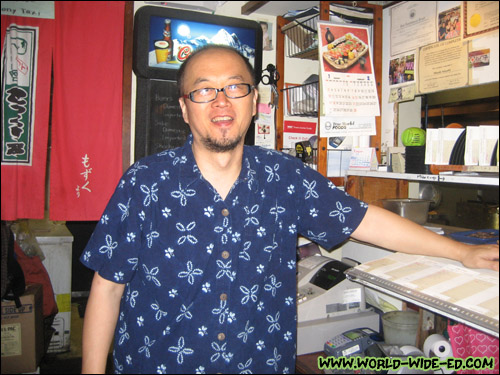 Hideaki Santa Miyoshi invites you to visit their new location
Wow! 40 photos this time around… Take that 8 photos! 🙂
Tokkuri-Tei Restaurant
449 Kapahulu (the old Sam Choy's/Sergio's/Ranch House, above Hee Hing)
Honolulu, HI. 96815 (Street View)
(808) 732-6480 <— NEW Telephone Number!
P.S. Happy New Year Everyone!
P.P.S. Omedetou Santa san!