Note: Since I made a promise and I'm a man of my word (not to mention being tired of speaking geek), we'll be taking a break from all that stuffy computer talk to do a fun column this month. And, by the looks of the amount of comments I got from last month's gem (zero as I write this), perhaps this little break will turn into a string of regular, fun pieces with periodic computer winners sprinkled in between…
As y'all know, we the people of Hawaii love anything and everything to do with Las Vegas. Some of us even go as far as christening the city as our ninth island. Now, I'm not sure I'm as fanatical about this place as one would think I should be (exploring new/different locations is my personal preference), but whenever I do get the chance to visit sin city, I try to go to places most from Hawaii have never been. I think I've done a pretty good job this time around, especially with the grindage. Let's see if you agree…
So my Vegas adventures started off early last month when I met a couple of buddies for the Ultimate Fighting Championships (UFC 58) at the Mandalay Bay Resort & Casino. Since I arrived the morning of the fight, there really wasn't much time to go gallivanting around town for new and exciting eateries.
It's been a while since my buddies had an ono plate lunch (they are ex-pats living in Virginia and San Diego), so it wasn't surprising that they were just itching for "local" kine food. We eventually found our way to a Hawaiian plate lunch place on Decatur Boulevard called Aloha Kitchen.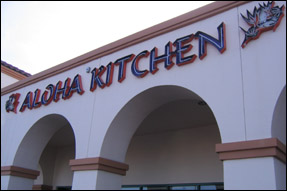 Aloha Kitchen, Las Vegas Nevada
I know, I know… Some of you have probably already been to or heard of this Aloha Kitchen and are rolling your eyes at me, thinking that this place is not some well-kept secret… No worries… I'm just starting you off nice and easy for now. By the end of this column, you'll be thanking me for helping you find the yummiest discoveries for your next time in Vegas. Guaranz-balbaranz!
The Aloha Kitchen we went to was on South Decatur Boulevard. They have another location on South Maryland Parkway that caters to the locals and UNLV students alike and I hear they have another one on Lamb Boulevard. Rumor also has it that these three locations are somehow affiliated with the Aloha Specialties store that we all know and love, located in the Cal in downtown, but that has been unconfirmed. Decorated with an almost over-the-top, stereotypical Hawaiiana theme (grass roofing, bamboo poles, brightly painted seating), the restaurant at least gave a certain sense of warmth and Hawaii feel.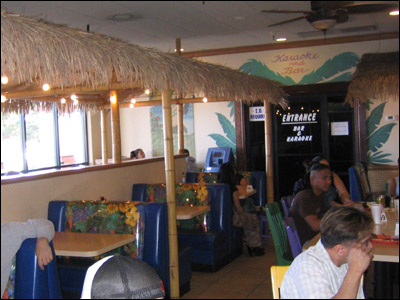 Inside Aloha Kitchen
But nevah mine all of that. Let's get to the food! I wasn't all too hungry myself, since I had landed not more than a few hours prior, so I ended up just going for the burger and fries combo. I wasn't expecting much because I'm not much of a burger eater to begin with. Well, to my surprise, the cooks at Aloha Kitchen did good with this one. Really good. In fact, I would even go out on the limb and say that this was one of the best burgers I've ever had in my life. And believe me, I'm getting up there… this life is not a short one anymore. 😉 There was just something about this burger that made it ohhhh so tasty. The saltiness, the butteriness, the sesame-seed bunliness… YUM! If you go to Aloha Kitchen, you just gotta try this one.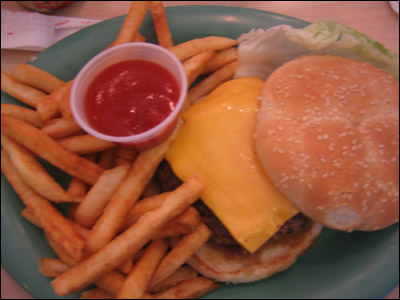 Cheeseburger and fries combo
Now, before I go on, let me just say that I am not being paid (with food bribes or otherwise) for any of the high praises, so whatever I say, I truly mean. You can count on me giving an unbiased opinion because, like you, I'm paying for these meals out of my own pocket and I want to get the most bang for my buck. If I have a bad meal or experience, I will tell you. I wouldn't want you wasting your hard-earned money on whatever it is I'm covering. Now, perhaps one day I'll be able to completely sell out and get free meals and drinks (and massages?) while I eat in exchange for a little pub and a positive review (*hint to those restaurants out there*), but until then, it's 100% honesty from yours truly.
* Note: You don't really think that I'd sell out do you? 😛 (*whispering* Restaurants… Call me!)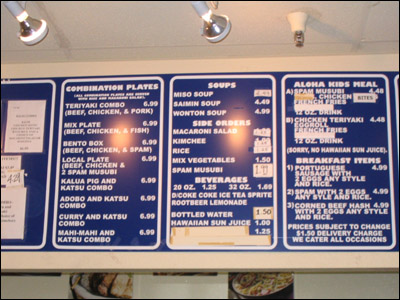 Aloha Kitchen Menu
Moving on… Choosing from a decent selection from the menu, my posse ordered a bevy of choices: the special Kalbi Combo, Kalua Pig and Katsu Combo, and the Teriyaki Combo (minus the pork). Mmm… Comfort food that would make any stomach growl.
Now I'm hoping that it was just a coincidence, but on this occasion, the service was very, VERY slow. From standing in line to order to waiting for the food to come out, if you're in a rush, then just be prepared for this long wait if this is a regular occurrence.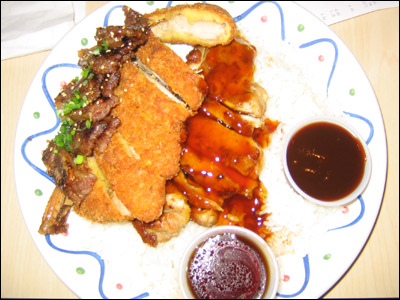 Special Kalbi Combo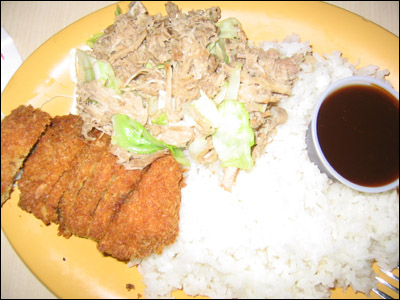 Kalua Pig and Katsu Combo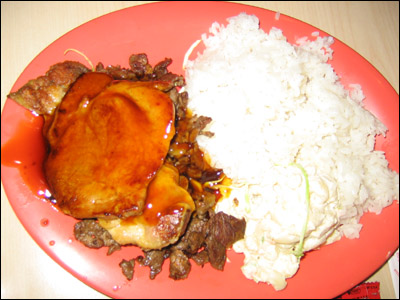 Teriyaki Combo (minus the pork)
The Decatur location even has an attached bar called Aloha Bar, complete with pool tables, slot machines and a pretty decent sized stage and dance floor. It was pretty barren in there since it was in the middle of the day, but I can imagine that it becomes a happening joint as night falls.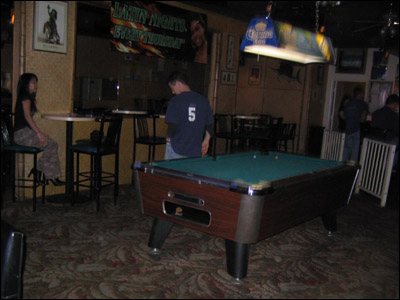 Aloha Kitchen & Bar
2605 S. Decatur Blvd., Ste. 110
Las Vegas, NV 89102 (map)
(702) 364-0064
——————————————————————————–
The next day, our hunger pains (or was it our hormones?) led us to the greatest thing to come to Vegas since gambling… Hooters Hotel & Casino. So it was late and we weren't that hungry and the wait was long and we had an early next morning, and so on and so forth… It's HOOTERS for Pete's sake!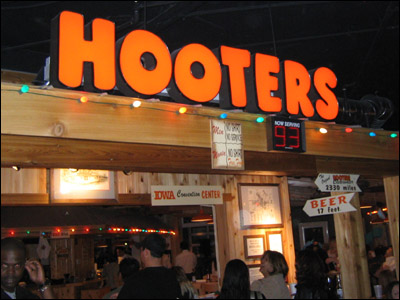 Hooters Restaurant signage
All kidding aside, here's the real scoops on the Hooters Restaurant, nestled within the confines of the hotel: it's nothing special. If you've been to the Hooters at Aloha Tower Marketplace on Oahu (or wherever you're tuning in from), the menu and tastes aren't all that different here.
Taking over the old Hotel San Remo property, Hooters had just opened on February 2, 2006, so quite simply, it gave us a good excuse to eat and stay there. Even though we got there fairly late (around 9PM), there was still a pretty hefty line wrapping around the side of the restaurant. The wait wasn't too bad though (we were let in less than 15 minutes later) so if you really want to eat here, stick around for a bit.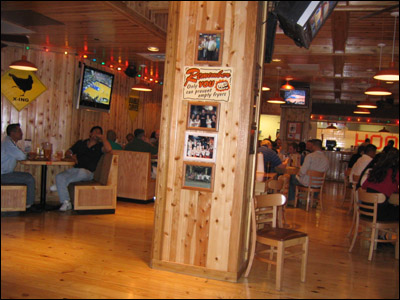 Hooters Restaurant's wood interior
The interior of the restaurant was bright and spacious, with color televisions sprinkled all around, and a definite & recognizable wood theme. There was even live music, trickling in from the bar next door.
My buddy Tommy ordered the "Nearly World Famous Chicken Wings" splashed with 3 mile island hot sauce that made him sweat (and cry?). For all you toughguys out there, Tommy's pretty good at handling his hot stuff, so heed this warning… If you're afraid, go tamer! You can order the chicken wings in the following ways: 10 pieces for $7.49, 20 pieces for 14.29 or 50 pieces for $29.99, and your choice of hot sauces: mild, medium, hot, 3 mile island or 911.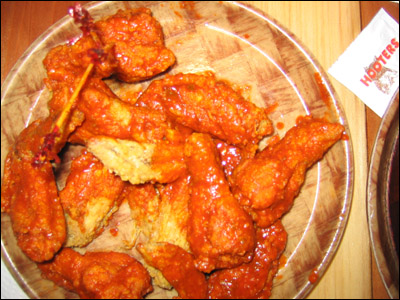 Hooters' Nearly World Famous Chicken Wings with 3 mile island hot sauce
I'm a wimp when it comes to hot sauce so I settled on the Buffalo Chicken Sandwich for $7.49. The description from the menu says "A fried chicken sandwich, shaken in your choice of our famous wing sauce. Like a wing on a bun, without the bone! All sandwiches served with pickle, lettuce and tomato, and either cole slaw, baked beans or potato salad." You can order extra sides: sliced cheese, bacon, chili or mushrooms for 99 cents each and/or cole slaw, potato salad, or baked beans for $1.19 each.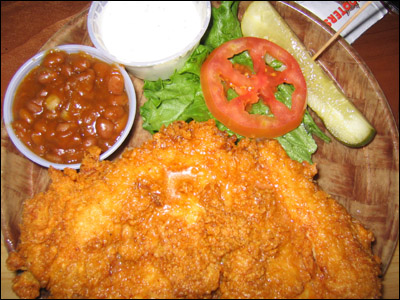 Buffalo Chicken Sandwich with baked beans
While there, we were even treated to a little celebration for an unknowing bachelor in the crowd.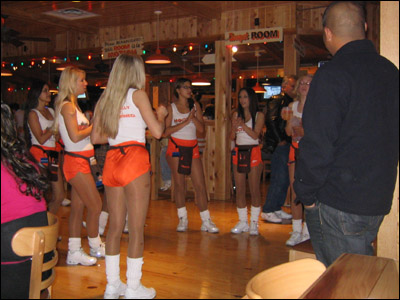 Impromptu bachelor celebration
A little side note: If you're in the mood for a unique, White Castle-esque burger, pay a visit to Pete & Shorty's Book and Bar and try their "world famous" Shorty Burger for $1.50 each (or $7.49 for 1/2 dozen or a full dozen for $14.99 dozen). After watching Harold & Harold & Kumar Go to White Castle, one of my most favorite movies of all time (yeah, sad isn't it?), this is probably the closest I'll get to one of them Slyders until my next trip to the East coast.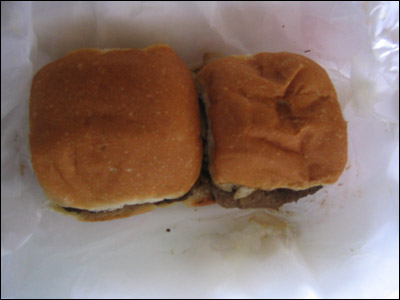 Shorty Burgers
(! – If you plan on doing any shopping at the gift shop, be sure you join Hooters' Player's Club called Club Orange beforehand. Coincidentally, I had done this and when the gift shop employee rang me up and asked if I was a Club Orange member, I got a $7+ discount on about a $30 purchase. I'm sure results and rules vary, but it doesn't hurt right? Besides, if you're like me, you now have bragging rights of being one of the first in your area to join Club Orange! 😛 )
Hooters Hotel & Casino
115 E. Tropicana Ave.
Las Vegas NV 89109 (map)
Phone: (702) 739-9000
Toll Free: 1-866-LVHOOTS
Fax: (702) 736-1120
——————————————————————————–
Alright, alright, let's get down to business! Yes, some of you may have heard about Aloha Kitchen, and although new in Vegas, most of you have probably heard of that ol' Hooters joint too… Now, as they say in Fantasy Football drafts, let's go for our sleeper pick: Sushi House Manda!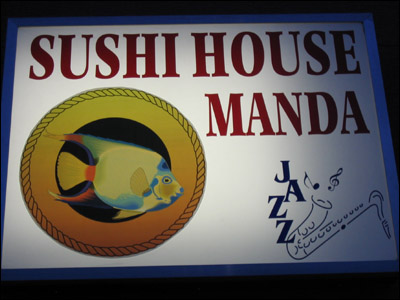 Sushi House Manda sign up close
Some of you may remember Sushi House Manda from back in the day when they were located on West Sahara Ave, near the World's Largest Gift Shop. Since then, they've moved west to South Ft. Apache Road, sharing property with Doc Holliday's Saloon. If you're like (the old) me, you're probably wondering how fresh fish can be sitting in the middle of a desert. Now before you get your panties in a bunch, give me a chance to show you some pics and explain…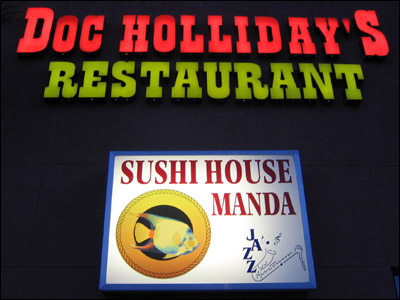 Signage for Doc Holliday's Restaurant & Sushi House Manda
This all-you-can-eat sushi powerhouse has gone through major upgrades to create the ambience that you will find at their new location. When you enter the building, just turn left to see what you've been missing (Doc Holliday's is to the right). Panning the room from left to right will show you the following: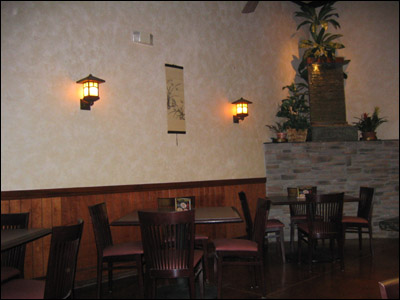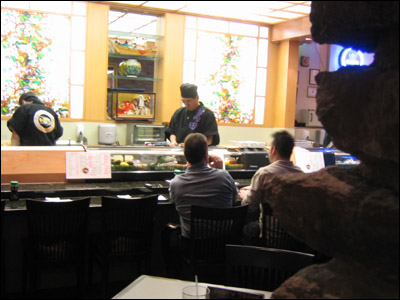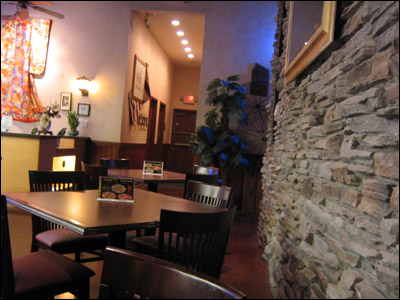 Yes, I know… Why so empty? Well, we were so excitable and anxious to get there that we arrived way too early! But that leads me to my next hint/tip: (! – Arrive early! You'll secure yourself a seat and the freshest fish of the night.)
So since we're here early, let's grab a seat at the "bar". From here, we'll get a good view of the fish, Jimbo (owner) and his crew (all from Japan) preparing the delicacies for you.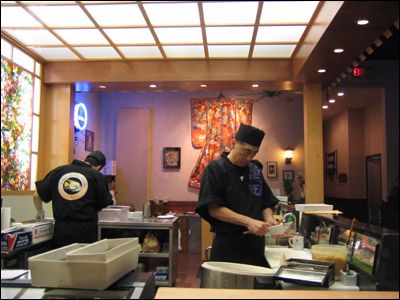 Sitting at the bar
Check out the menu and order away! Don't worry about getting carried away because it's all you can eat for just $29.95.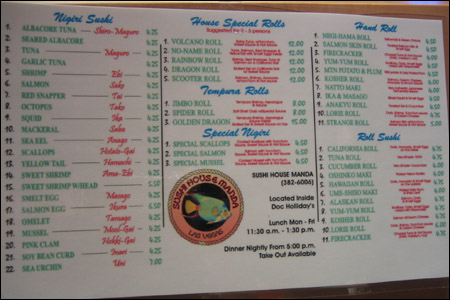 Sushi House Manda menu
My friend felt like eating "poke" so that's what we ordered. What we got wasn't what we in Hawaii traditionally think of as "poke" though.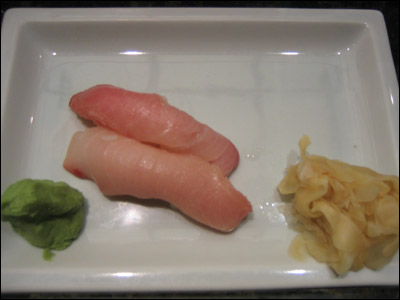 "Poke"
Listed #1 on their Nigiri Sushi list, Manda's Shiro Maguro is their marquee item. Literally translated, the "white tuna" is one of the fattiest portions of the fish. We doubled our order on this one!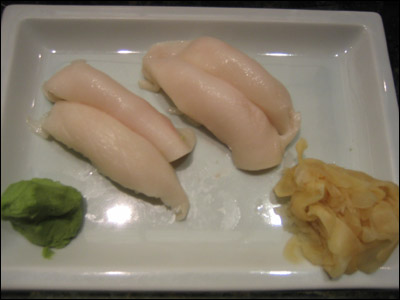 Shiro Maguro
Next up, the Jimbo Roll, named after Jimbo, the bossman of Sushi House Manda. The Jimbo Roll contains Tempura shrimp, Asparagus and a special sauce.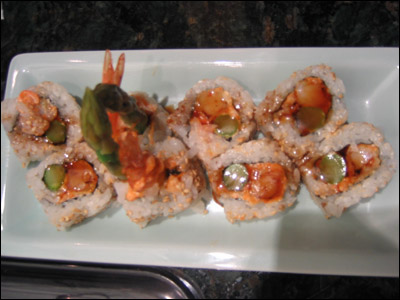 Jimbo Roll
One of my favorites is the surf clam called Hokkigai. Hokkigai onegaishimasu!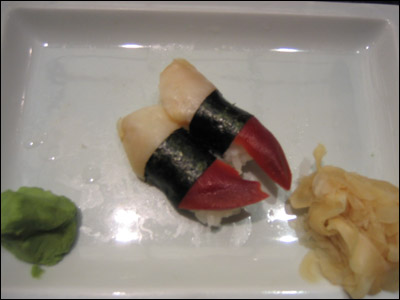 Hokkigai
You can't go to an all-you-can-eat sushi joint and NOT order amaebi ("raw shrimp"), though some places don't include this in their menu because of the difficulty to prepare. Not Manda! They even included the heads, deep fried to perfection.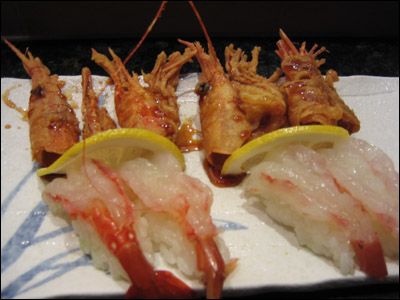 Amaebi
If I didn't order the ahi here, it would be like going to Morton's and not ordering steak.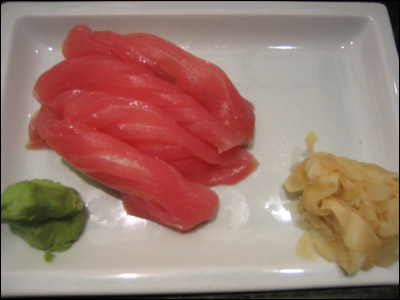 Maguro
To round it all out, we pounded the Spider Roll (Soft shell crab with special sauce).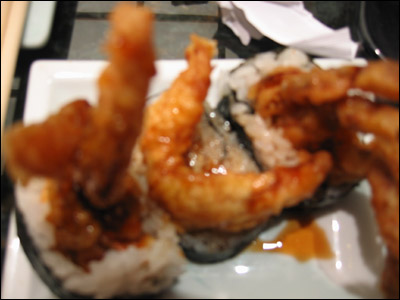 Spider Roll
Jimbo, Leslie, Lisa and the gang make you feel right at home when you dine there. For me personally, Sushi House Manda is one of those MUST-EAT places on each and every trip to Las Vegas. AOL's City Guide visitors also agreed, voting them the City's Best Sushi of 2006. I guess the secret's out!
If you decide to go to Sushi House Manda, "Tell 'em Ed sent ya!"
(It won't get you anything, but I've just always wanted to say that! 😛 )
Sushi House Manda
4790 South Ft. Apache Road
Las Vegas NV 89147 (map)
Phone: (702) 382-6006
Lunch: M-F, 11:30am-1:30pm
Dinner: Nightly from 5pm
$29.95 Buffet, Reservations are suggested.
(permanently closed)
——————————————————————————–
Dishes, the buffet restaurant in the Treasure Island Hotel & Casino opened in November, 2004. Hardly new by Las Vegas standards, it seems like an establishment that's sometimes overlooked.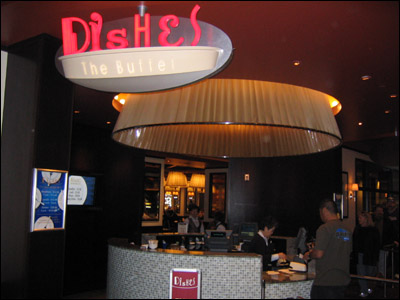 For just $15 (Breakfast – $12, Champagne Brunch – $15, Lunch – $15, Sun-Thu Dinner – $20 and Fri-Sat Dinner – $26), one could fill up with an assortment of delightful delectables ranging from sushi, Chinese cuisine, Italian fare, southern food, and more.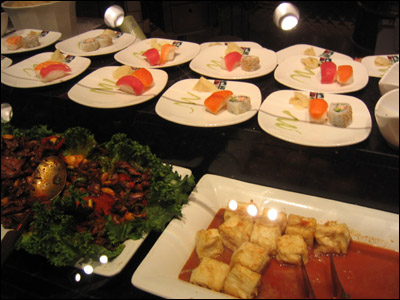 Sushi selection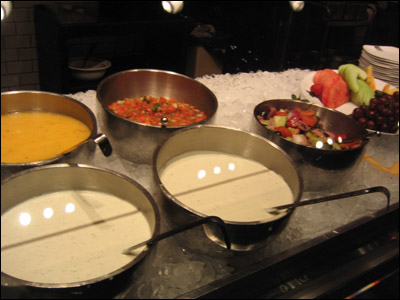 Fruit selection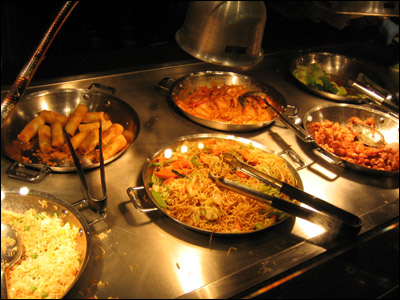 Chinese cuisine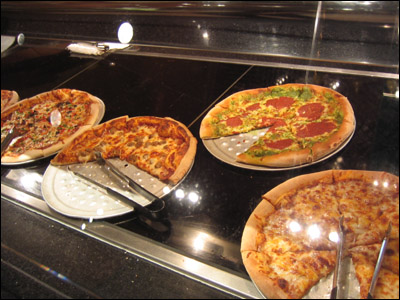 Pizza options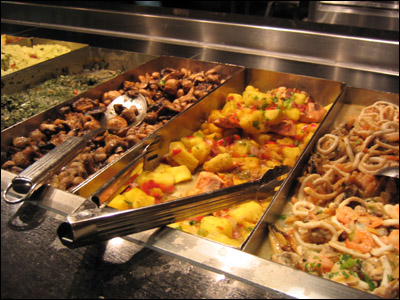 Italian choices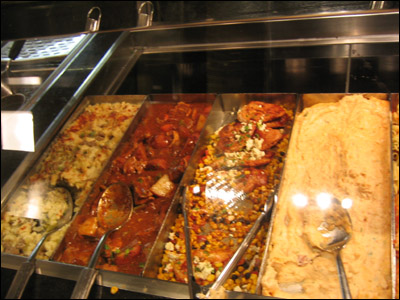 Italian choices

Salad choices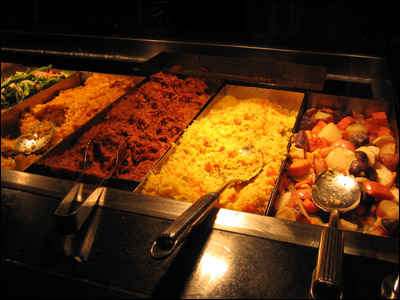 Mexican choices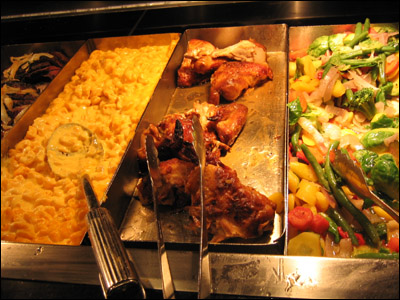 Southern foods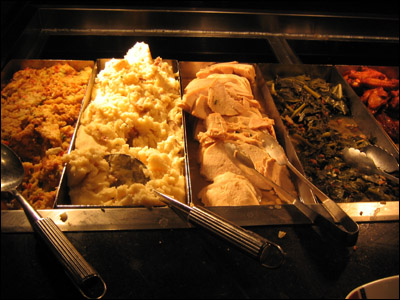 Southern foods
(! – Not so fast! Don't leave without dessert… The dessert table is a little inconspicuous and out of the way and could be missed without the trained eye, or nose. Take the time, or ask an employee to help you find it. It'll be worth it!)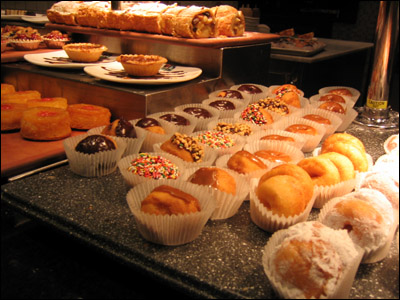 Don't forget dessert!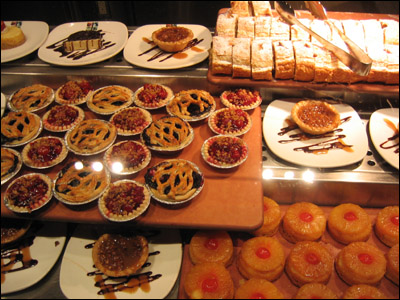 Don't forget dessert!
Dishes, rumored to be changing their name in the next few months, was the staff's pick for the 2005 best buffet of Las Vegas by the Las Vegas Review-Journal.
Dishes – Trasure Island Hotel & Casino
3300 S. Las Vegas Blvd.
Las Vegas, NV 89109 (map)
Phone: (702) 894-7111
Breakfast: 7am to 11am, Mon-Fri
Champagne Brunch: 7am to 4pm, Sat-Sun
Lunch: 11am to 4pm, Mon-Fri
Dinner: 4pm to 10:30pm, Daily
(permanently closed)
——————————————————————————–
I hope you'll agree with my choices above by screaming at the top of your lungs, "World Wide Ed's Vegas Kine Grindz is da Winnahz!" C'mon, no shame! Alright fine, I'll settle for your pleasant comments below…
See you next month!