We're down to our final three days on this whirlwind vacay. One in Ketchikan, one in Victoria, and the final in downtown Seattle after de-boarding. Three left of our seven days on sea. Guess we should hurr'up and make the most of what's left to see!
According to our daily program, "the city of Ketchikan stretches along the southwestern shore of Revillagigedo Island for several miles, facing Tongass Narrows. With 14,000 inhabitants, this fourth largest community in the 49th state is known as 'Alaska's First City,' because it is the first town that travelers reach when ferrying north."
Unfortunately, we weren't able to experience anything other than the welcome sign…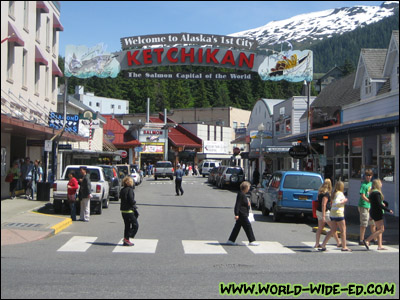 Ketchikan Welcome Sign
'cause at 9AM sharp, we had to go a ziplinin'!
The land tour is via Bear Creek Zipline Adventures, lasts approximately 3 and a half hours, and was $176 per person ($125 for children).
Rather than listening to me babble on, let's let my photos and the description in the Shore Excursions pamphlet narrate thangs for us:
Enter the fly zone! An eco-rainforest adventure for those seeking excitement and exhilaration! Featuring 7 zip lines, 10 lofty tree platforms, Alaska's longest skybridge, 250 foot long mountain slide, and rappelling. The ultimate Alaska action experience.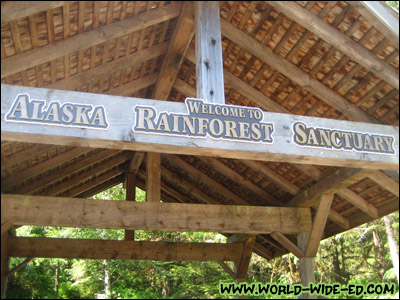 Alaska Rainforest Sanctuary
Your adventure begins with a ride up the steep hillside in a custom all-terrain 4×4 Mercedes Unimog, to the outfitting chalet.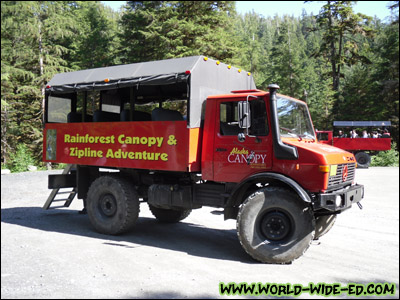 Custom all-terrain 4×4 Mercedes Unimog [Photo credit: Lee Kojima]
Steep hillside ride in our custom all-terrain 4×4 Mercedes Unimog.
After outfitting and orientation…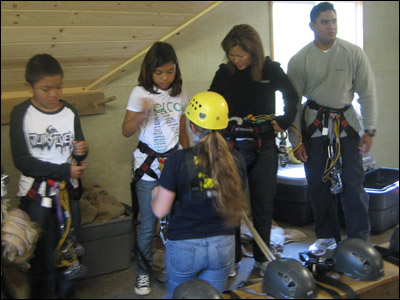 Chris, Kerri-Ann, Aunty Amy and Uncle Mike strappin' up!
Ed's Tip: If you're a germaphobe like us, I would recommend bringing along a bandana so you have something you can put between your head and that sweaty, stinky helmet. 😉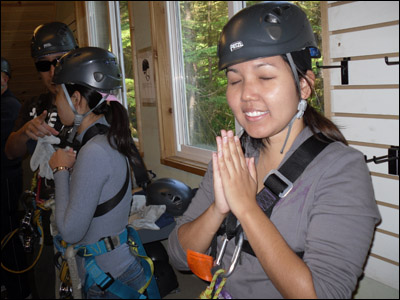 Leanne saying her prayers before flying through the air. [Photo credit: Lee Kojima]
… it's an uphill hike via an improved rainforest trail to a ground-based practice zip line, where your guides introduce you to zipping.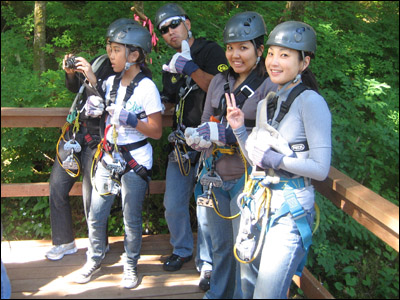 Aunty Amy, Kerri-Ann, Lee, Leanne and wifey waiting their turn for the practice zip line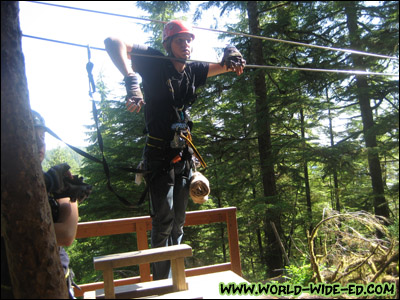 Our guide briefing us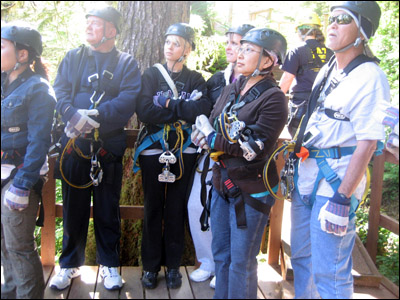 The group listens intently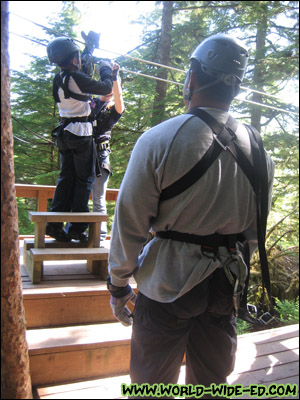 Chris getting ready for his practice run, while Uncle Mike looks on

Dad doing his practice run ground-based zipline.
This is your introduction to 5,200 feet of dual cable ziplines…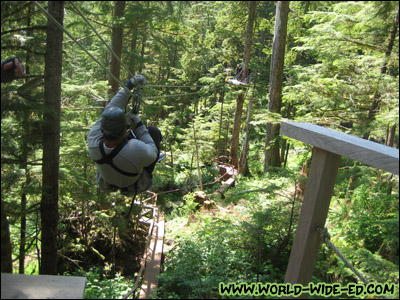 Uncle Mike going through his first zip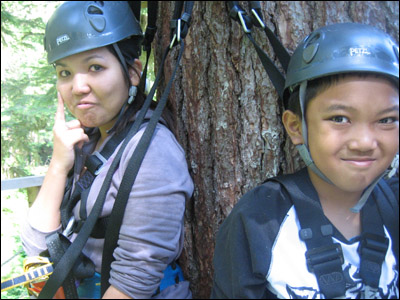 Leanne, who is deathly afraid of heights, holds back the tears after her first zip, while Chris smiles on
… intersected with a 250 foot long suspension bridge…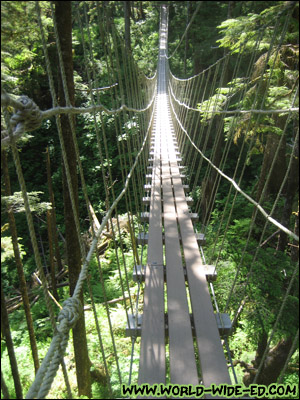 The suspension bridge ahead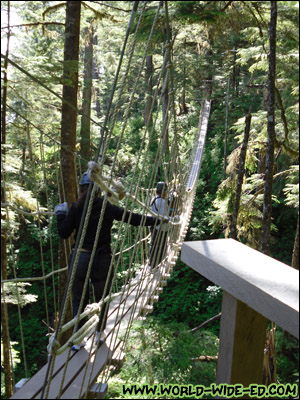 Aunty Amy and Uncle Mike take on the suspension bridge [Photo credit: Lee Kojima]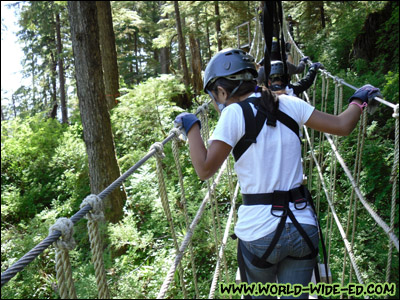 Kerri-Ann looks over the edge [Photo credit: Lee Kojima]
… providing an aerial view of Bear Creek and a forest waterfall.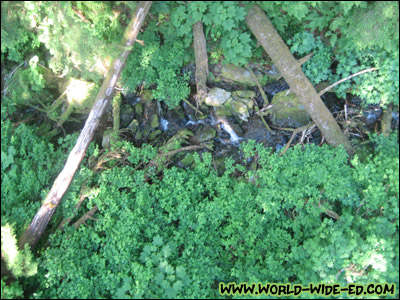 Looking down into the river from the suspension bridge above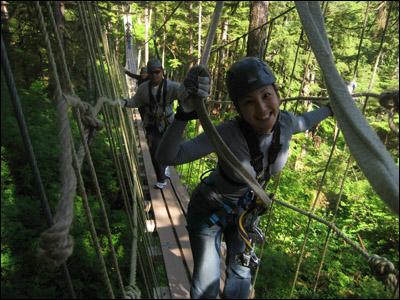 Wifey makes it across as Uncle Mike and Aunty Amy look on
Experience panoramic ocean, forest and mountain views from the tree platforms on this exciting and safe adventure at the lush Herring Cove rainforest reserve, an 8 mile coastal drive from Ketchikan.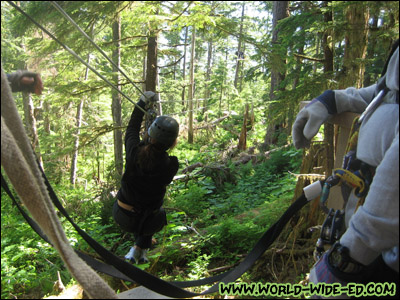 Aunty Amy gets a zippin'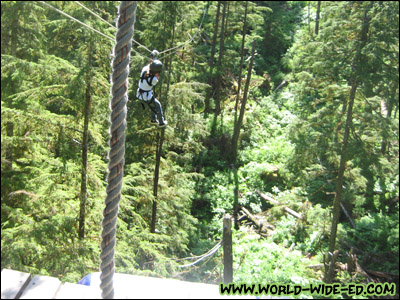 Kerri-Ann gives it a go
Ed's Tip: By now, it becomes pretty obvious that getting that perfect shot is a challenging task. You are latched in at all times and must go in sequential order so capturing a certain angle or person will really depend on where you are in line and how much slack your line has (usually not much). You might want to ask your guides to take photos and videos of you (if they are willing) as they will have the better angles and expertise.

First person perspective of Zip-Lining in Ketchikan Alaska
In addition to tall stands of spruce, hemlock and cedar, the ecosystem here supports an extensive wildlife population. Although sightings cannot be guaranteed, guests often see eagles and bears. You will then rappel to the ground from the last tree platform.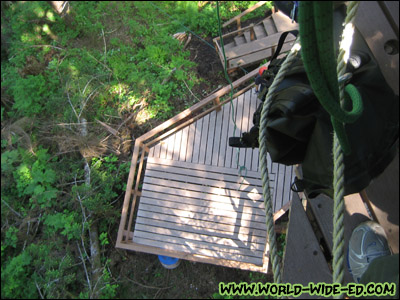 The view below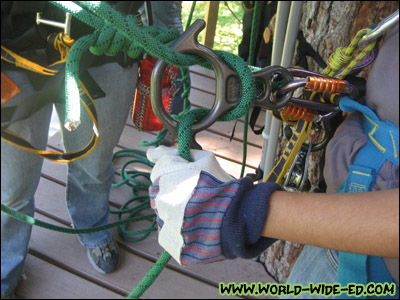 Leanne's rappelling gear. Notice her vise grip? 8)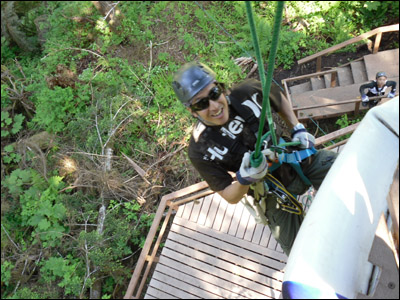 Ain't no thang. 😛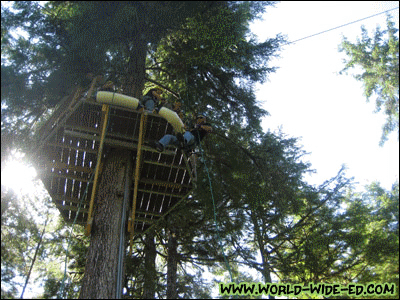 Animation of the Brother In Law rappelling down
And then you get to the grand finale: The mountain slide!
Speeding down the mountain slide will be one of the highlights of your zipline adventure.
(While we're animating the BIL, let's keep it going with one of him going down the mountain slide!)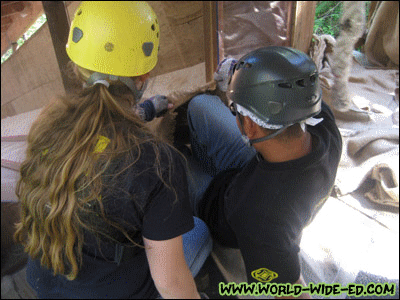 Wheeeeeeeeee!
Ed's Tip: At the bottom, in order to slow you down, there is a carpet-like material on the ground. Don't try to stop yourself with your feet, or let them get caught under you as you may do a forward flip. I won't mention any names, but this may've happened to somebody in our group. 8)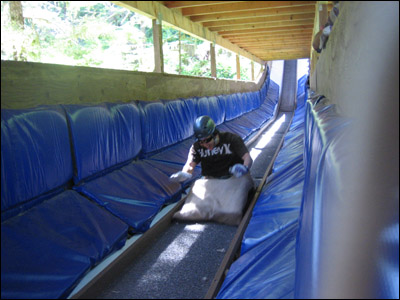 Just let the ground stop you gradually
And then, you reach the end. Time to celebrate!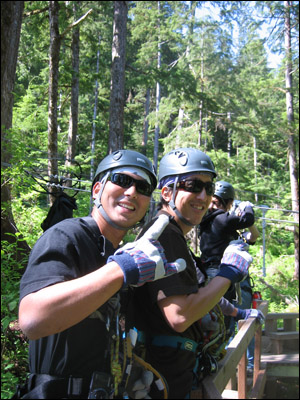 Lee and I are stoked!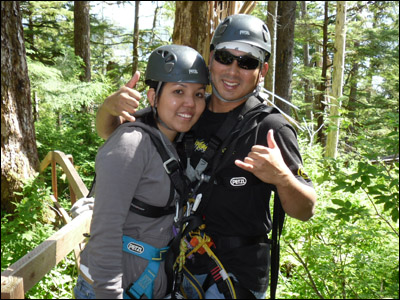 What tears? I don't see any tears… 😛 [Photo credit: Lee Kojima]
Board the Unimog for a forest hillside descent and transportation to the base camp…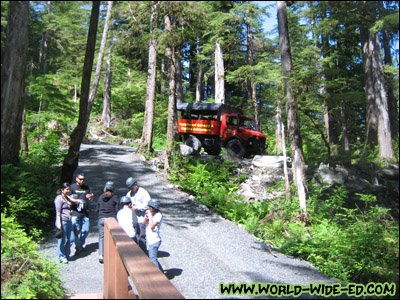 The Unimog awaits us
… where you will be presented with a special award in recognition of your achievement. View your action photograph and shop in the General Store before departure for the dock.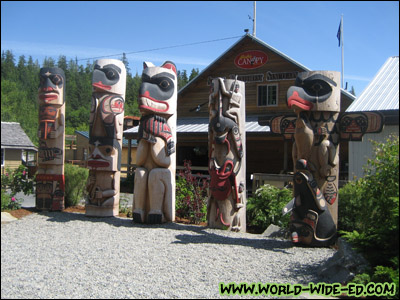 Alaska Rainforest Sanctuary General Store
Ed's Tip: If you can help it, try not to go too fast on the zips that have the cameras set up for them. The action photographs for some of us caught nothing but the air behind us. LOL! Perhaps they fined tuned their camera's timing since then?
Before long, it was time to board our shuttle and head back to the boat where the mad rush and long lines awaited us.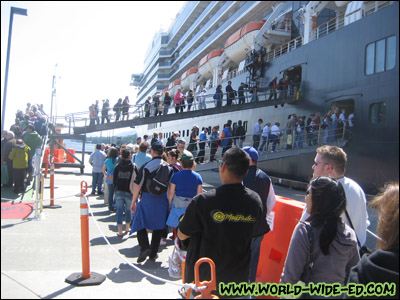 Waiting in line to board our ship
Not too long after that, the gangway was raised and we were off to Victoria, British Columbia. Before we got there however, we had time to sit down at the 5:15pm early seating of what was called the Master Chef's Dinner. Here's a description:
Tonight, "dinner theater" takes on a while new meaning. Your dining room stewards sing, dance, and juggle tableside as they serve a very special meal created by Holland America Line's Master Chef Rudi Sodamin. For this one night only, there are only two dinner sittings. The fun begins at 5:15pm for early seating and at 7:45pm for main seating. Bring your cameras. It's all capped off by a big finish and a dessert you won't want to miss!
Dinner Theater was right. Here's a clip of the entertaining intro:

Intro for the Master Chef's Dinner aboard the Holland America
Even grandma got into the act!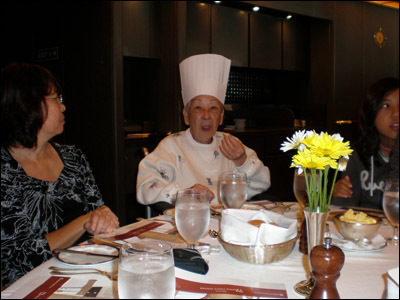 Grandma having fun at the Master Chef's Dinner [Photo credit: Norman Kubota]
As usual, the eats was supah onoz!
Act 1 started with "The Ballet Service", a mushroom mousse.

Chef's Amuse Surprise – Mushroom mousse with asparagus in bouche
"The Swing Service" in Act 2 was referred to as the Show Salad Spectacular.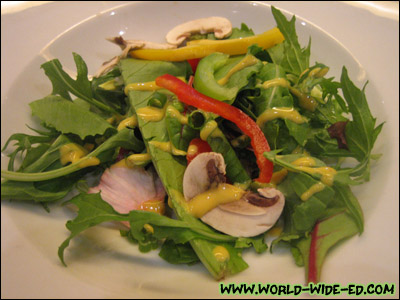 Show Salad Spectacular – Assorted baby greens, pepper rings, mushroom, scallions, and cherry tomatoes with a honey mustard dressing
We then we moved on to the starters…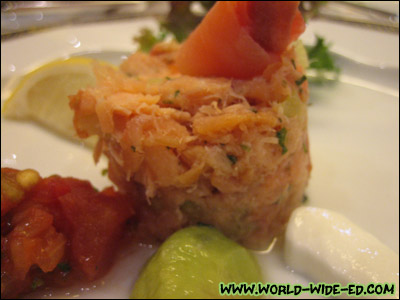 Dialogue of Alaskan Salmon Tartare with Avocado – Cold-smoked, pickled and chipotle-hot-smoked salmon with lime-avocado-tomato salsa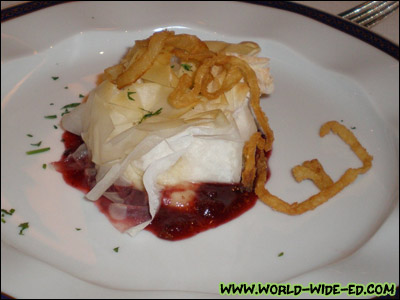 Golden Baked Brie in Phyllo Dough – Served with a cinnamon-spiced apple cranberry compote [Photo credit: Andi Kubota]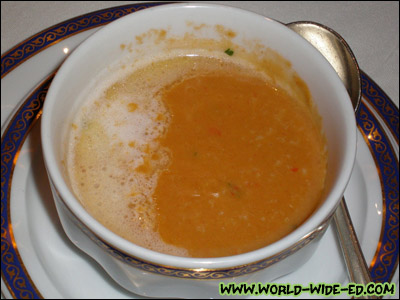 Lobster Bisque – Sensuously smooth classical shellfish soup enhanced with aged French cognac and whipped cream [Photo credit: Andi Kubota]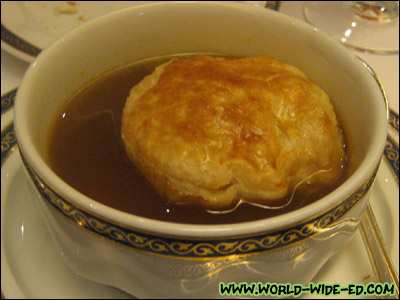 Oxtail En Croute – Flavorful classical soup slow-simmered and served in a crisp pastry crust
And then it was off to the entrees…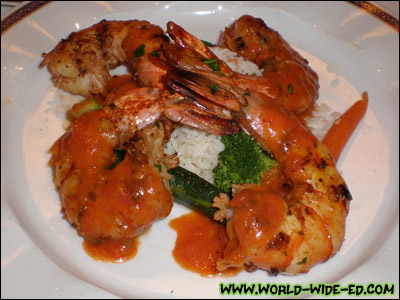 Sauteed Shrimps "Provencales" – Scented with Mediterranean herbs, tomato concassee, florets of crisp, tender broccoli and sticky rice [Photo credit: Andi Kubota]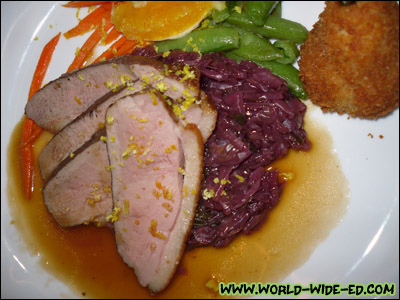 Duck Breast a l'Orange – The old-time favorite, oven roasted until crisp and served with a Grand Marriner sauce, braised red cabbage, pea pods, carrots julienne and William potato [Photo credit: Lee Kojima]
They closed the show for us with a Baked Alaska in Act 3, "The Final Service"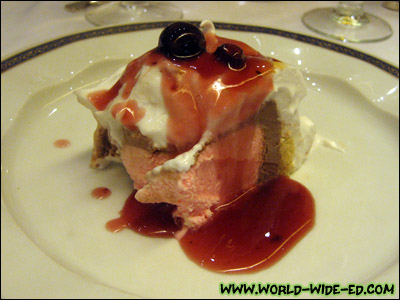 Baked Alaska – A not-so-traditional Baked Alaska with a warm brandy bing cherry sauce
In my feeble attempt to train for the Tinman, I took a leisure jog around the ship's Promenade following dinner. As the sun set, I felt like I had to run back up to the room to grab my camera to snap the beauty before me. Good thing I did!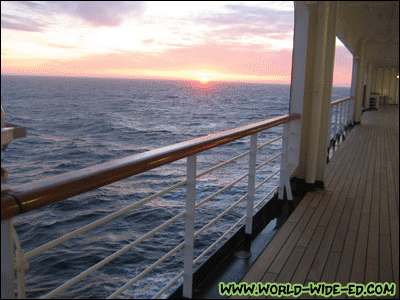 Sunset views aboard the ms Westerdam
What an awesome way to close out the night leading into the final full day aboard the ship.
The next morning, we celebrated the 4th of July with the "Happy Birthday America" BBQ. Before that though, we participated in the Basketball Free Throw contest on the 11th floor Sports Deck, hosted by DJ Jazzy.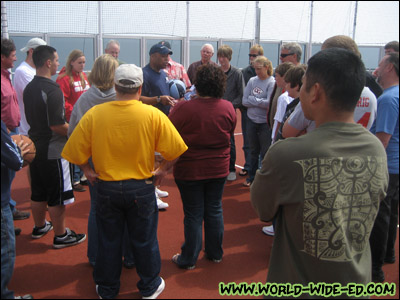 DJ Jazzy briefing the contestants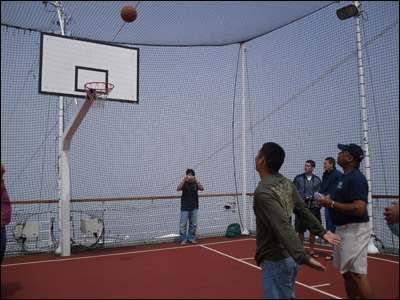 Lee taking his shot [Photo credit: Leanne Nakamura]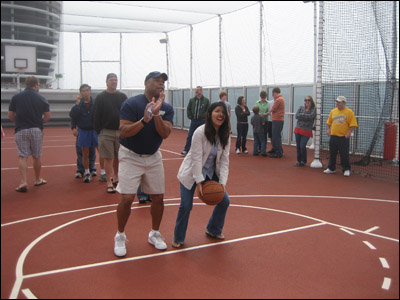 Leanne getting pointers from DJ Jazzy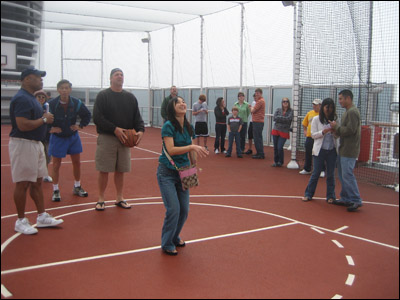 Wifey smiling at her shot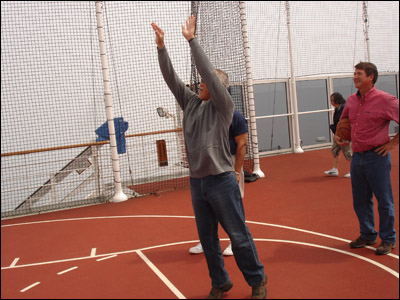 Dad shoots [Photo credit: Mom Kojima]

Yours truly
Then it was off to the "Happy Birthday America" BBQ at midship on Lido Deck 9.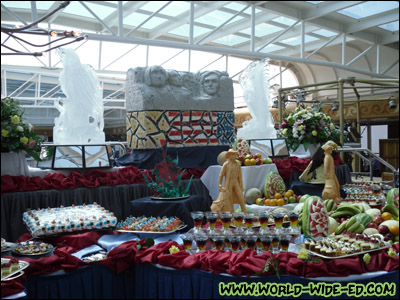 4th of July desserts and decorations [Photo credit: Lee Kojima]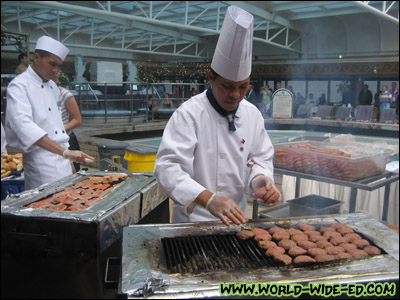 The chefs manning the BBQ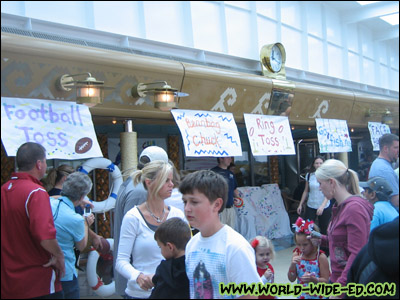 Games for the keiki
Celebrate America's birthday with live music, pool games, kid's carnival and a traditional American BBQ. The Beverage Staff has prepared unlimited Stars & Stripes Drink Specials for $14.95 and unlimited tap beer for only $20 – both served in a souvenir glass.
D'oh! Had I known about the unlimited tap beer, we would've stayed. 8) Instead, we headed to the Vista Dining Room for a light lunch. Sorry, I didn't take a picture of the menu this time so I don't quite know/remember what these dishes were called. :o)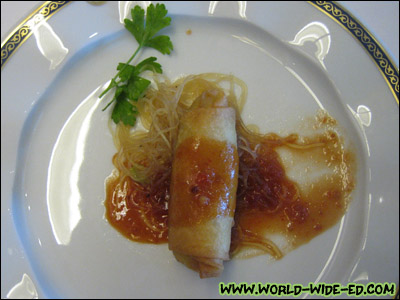 Eggroll appetizer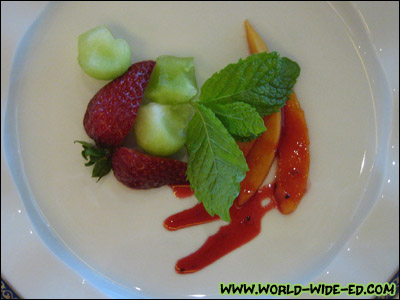 Fruit medley appetizer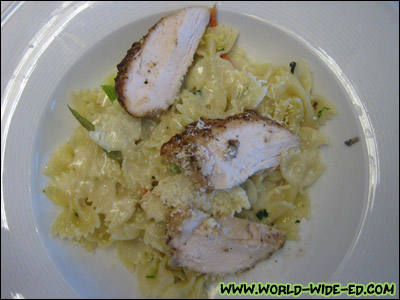 Chicken pasta dish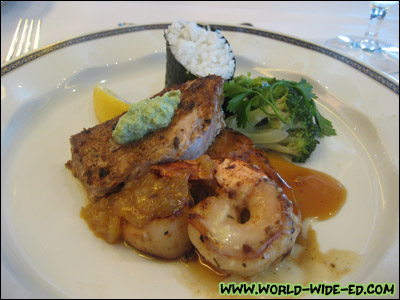 Fish and shrimp dish
After lunch, we took a break and just relaxed, until it was time to eat again for dinner. Where did we head? You got it: the Vista Dining Room. And look who we were randomly placed next to!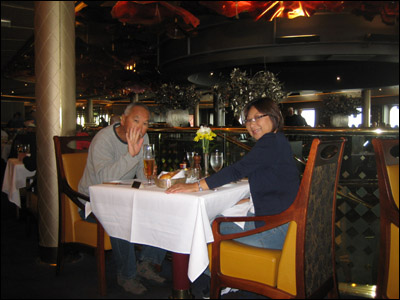 Dad and Mom
Here are more blah captioned food shots for your viewing pleasure. 😛 Sorry!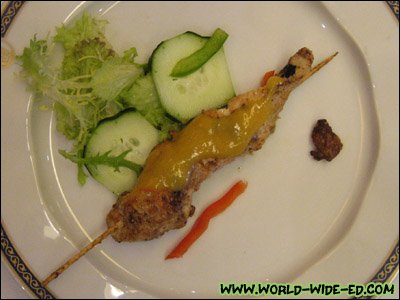 Chicken Satay

French Onion Soup "Les Halles" – A Parisian classic of golden simmered onions topped with melted Gruyere cheese

Scallops and Rice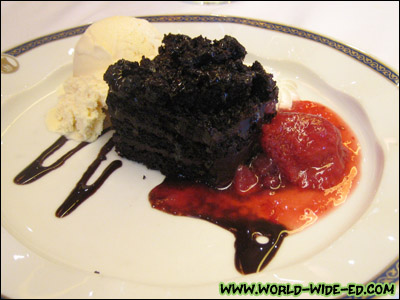 Chocolate dessert
As scheduled, we docked in Victoria, Canada shortly after at 6pm. Our scheduled land tour was "Enchanted Butchart Gardens (Evening Calls)" which was $69 for adults and $39 for children. Here's a description:
As darkness falls, an extraordinary world comes to light at the Butchart Gardens near Victoria. Colored lights provide an interplay of light and shadow, transforming the famous Gardens into a fairyland scented with summer blooms. One of the largest underground wiring installations in North America helps this vibrant wonderland of flowers, rare trees and winding paths to take on an enchanted aspect. The magnificent Ross Fountain, the centerpiece of these lush gardens, dances with creative lighting effects. Enjoy the cascading fountains, footbridges, music and outdoor entertainment while you learn how a barren rock quarry metamorphosed into a world renowned horticulture attraction. On select dates in July and August on Saturday evenings you may be treated to the Butchart Gardens fireworks display, choreographed to music. During early May and September, daylight is limited and this tour is operated predominately in low light with subtlety illuminated gardens. Please note: This tour operates during evening calls in Victoria.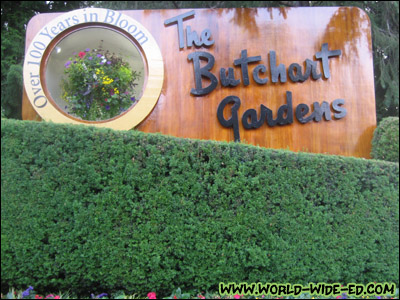 The Butchart Gardens sign
For those like me, with a short attention span when it comes to flowers, 🙂 here are the highlights.
The Sunken Gardens
The Limestone deposit was exhausted in 1908 and the quarry abandoned. Mrs. Butchart conceived the idea of transforming the barren pit into a garden and thus the Sunken Garden came into being. In 1910 she planted Lombardy poplar trees in an attempt to block the view of the cement factory. By 1912 the development of the garden was underway and it was completed in 1921.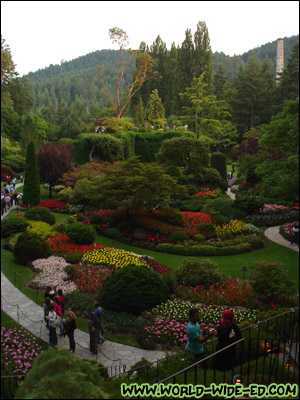 Overlooking the Sunken Garden at Butchart Gardens [Photo credit: Mom Kojima]
Ross Fountain Lookout
This smaller quarry was a source of limestone in the 1860s. It was here that Ian Ross, grandson of Mr. and Mrs. Butchart, devised his spectacular fountain with the assistance of his plumber, Adrian Butler and his electrician, Vic Dawson. The Ross Fountain commemorated the 60th Anniversary of the Butchart Gardens when it was installed in 1964.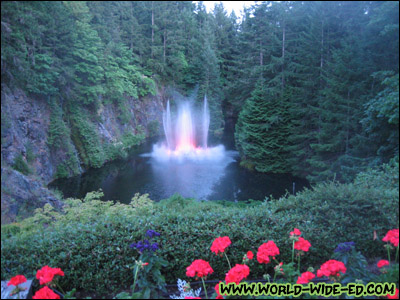 Ross Fountain Lookout at Butchart Gardens
The Rose Garden
The Rose Garden is home to 2500 roses in 250 varieties and is the only part of the garden in which the plants are labeled.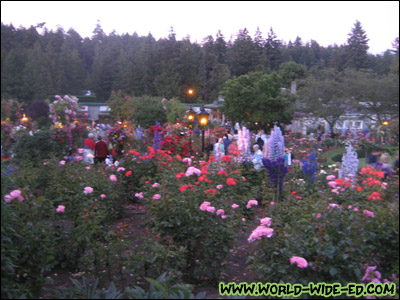 The Rose Garden at Butchart Gardens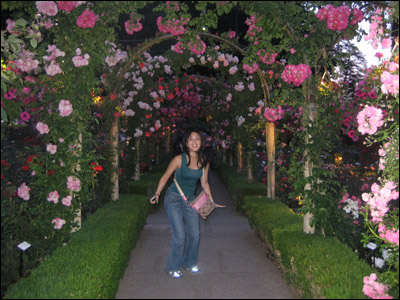 Wifey having fun at the Rose Garden
The Japanese Garden
Reflecting their world travels, the Butcharts created this Japanese Garden in 1908.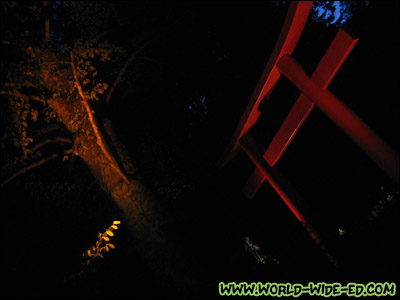 Japanese style arch/gate at the entrance of the Japanese Gardens
They also had a Japanese style bridge, rock steps, and much more!
And then it was off to the northwest portion of the gardens where the fireworks were ready to go off.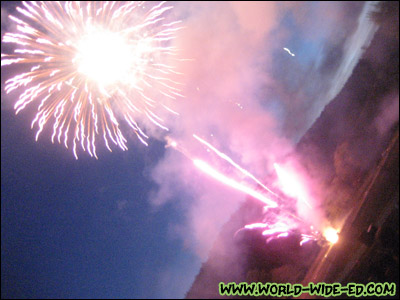 Fireworks at Butchart Gardens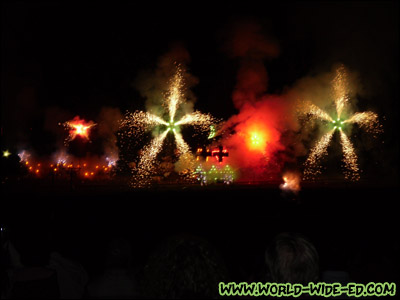 Fireworks at Butchart Gardens [Photo credit: Lee Kojima]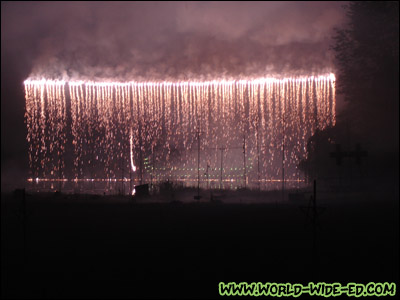 Fireworks at Butchart Gardens [Photo credit: Mom Kojima]
Immediately following the end of the fireworks show, we had to rush back to our bus to get back to our boat. There was major traffic pulling out of there, but we weren't too concerned as we booked this tour through our ship (see below).
Ed's Tips: If you are on the same schedule as us, there will be no time to stop anywhere else. Have your camera ready to capture the Victorian sights along the way from aboard your shuttle. Also, when you get to Butchart Gardens, sunlight will be minimal as daylight falls, so be prepared to set your camera settings to long exposures for the best shots. If you can help it, try to aim for one of the dates in July or August, as mentioned above, to catch the fireworks display. Let's face it. As a guy, I'm not a huge fan of flowers and shrubbery, so the fireworks really made it worth my while. Also, book this, and probably all of your land tours through your cruise as opposed to direct. Reason being, sometimes, they will run the duration of your entire stay in that particular city. If it was booked through the cruise, then they are aware of your whereabouts and will not set sail without you. In the case that the ship must leave, they will arrange alternate transportation to the next stop for you on their dime, not yours.
At about midnight, we finally set sail for our final destination. One final night on the boat and we were to hit land – in the form of Seattle Washington.
At 7am, we arrived in Seattle and caught a shuttle to our hotel, the SpringHill Suites in Downtown Seattle. Unlike our stay at the Comfort Inn & Suites SeaTac on our first night, this hotel was a little more convenient as it was a brisk walk away from Pacific Place (aout 7 blocks), Westlake Center (about 8-9 blocks), and Pike Place Market (about 12 blocks).
Naturally, our first stop was the touristy Pike's.

Famous Pike Place Market sign
I won't get into too many scenic shots here as my photo count for this article is already at a whoppin' 68 (good lord!), but here are some nice family shots from mama's camera.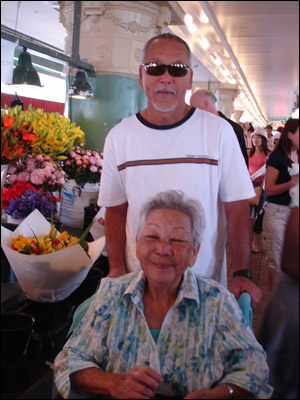 Dad and Grandma at Pike's [Photo credit: Mom Kojima]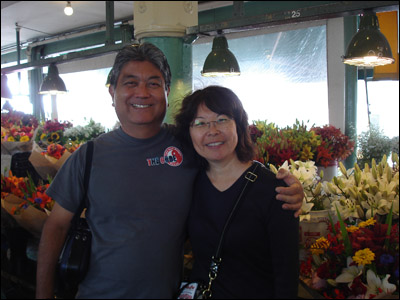 Uncle Norman and Aunty Andi at Pike's [Photo credit: Mom Kojima]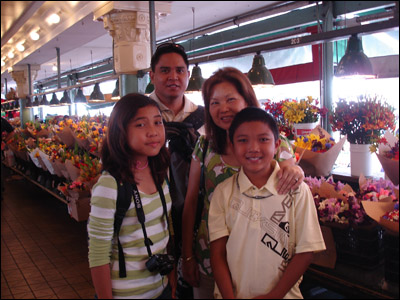 Kerri-Ann, Uncle Mike, Aunty Amy and Chris at Pike's [Photo credit: Mom Kojima]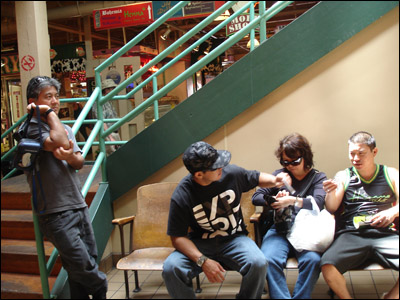 Paparazzi shot of Uncle Norman, Evan, Aunty Andi and Travis [Photo credit: Mom Kojima]
We mostly went for our Pike's favorites/usuals like Piroshky, Piroshky, Starbuck's (the first location), Beecher's, etc. For more Seattle info and photos, check out Part I and Part II of my "See and Eat Seattle" series from a couple years ago.
After playing tourist, we headed back to our hotel to rest and freshen up before dinner. I suggested one of my favorites in downtown Seattle: Umi Sake House. We went to town there, grinding such items as the Dynamite Bake, Mochi Sato Age, Seafood Gyoza, Yakisoba Seafood, First Ave Roll and Hottie Roll.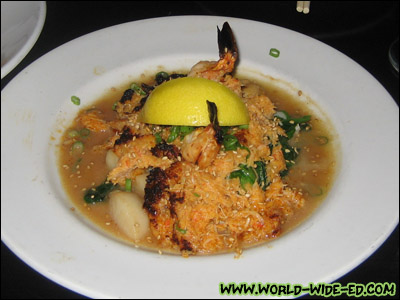 Dynamite Bake – assorted clams & shrimp baked in spicy crab mix – $10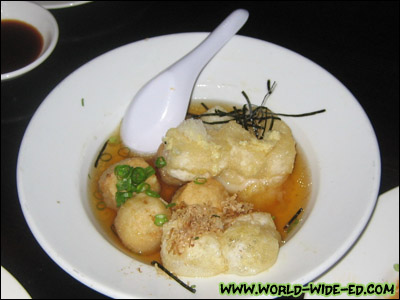 Mochi Sato Age – fried taro potato & mochi in tempura sauce – $7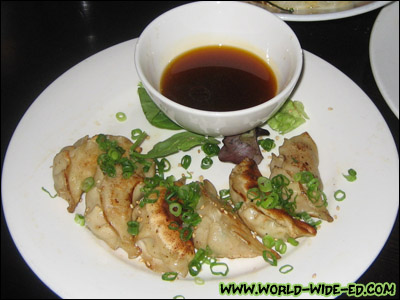 Seafood Gyoza – homemade shrimp & scallop dumplings served with chili soy – $9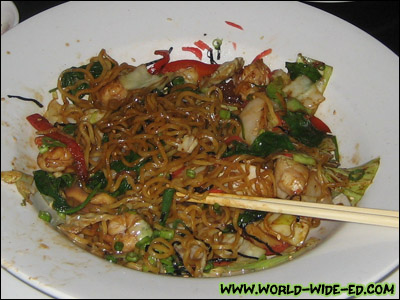 Seafood Yakisoba – seafood stir friend with egg noodles & vegetables – $15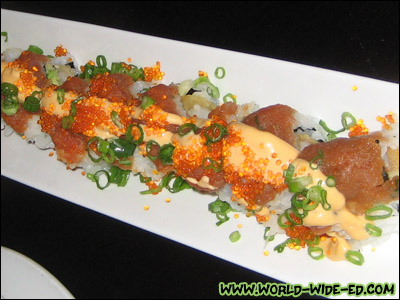 First Ave Roll – shrimp tempura, avocado, cucumber, tobiko topped with spicy tuna & spicy mayonnaise – $12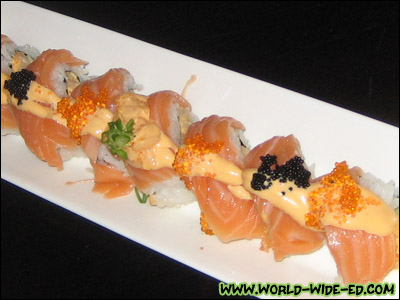 Hottie Roll – spicy scallops, tobiko, cucumber, weapped with salmon – $12
And let's not forget to wash it all down with one of the best beers on earth. 8)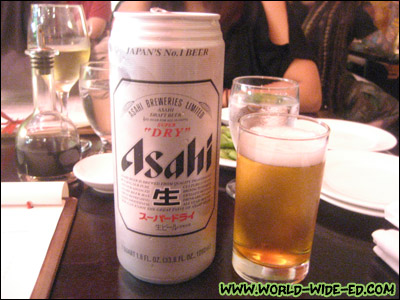 Umai!
After posing for a photo opp outside of Umi's…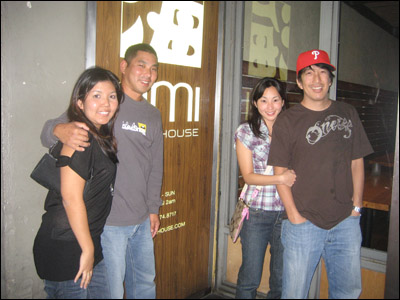 Us outside of Umi's
… it was off to Ohana's across the street. That's a given.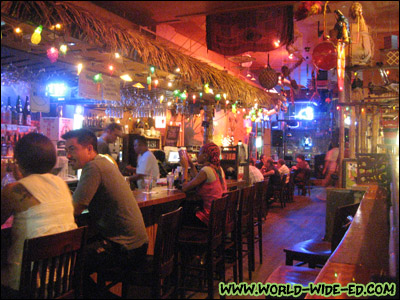 Inside Ohana's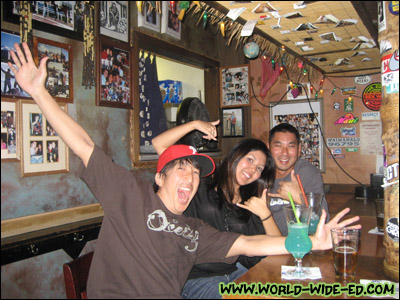 One too many
After filling up with liquid courage, the BIL and I dragged the lady friends through a "scary" alley – just because – to see if anyone wanted to mess. Nobody did.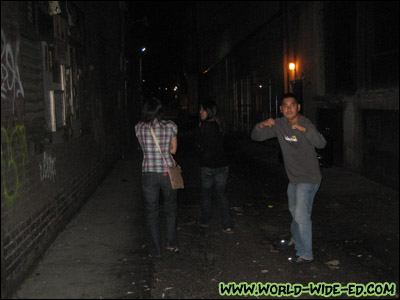 BIL's ready to throw down
Then it was off to meet some of Leanne's friends at Belltown Billiards.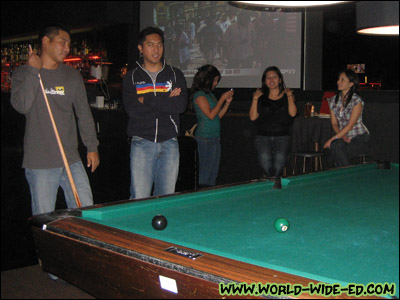 Shooting pool at Belltown Billiards
As we were walking out of Belltown Billiards, the doorman hooked us up with Voss bottled water. Either he liked us or knew that we needed it. 😛 Whatever the case, much love BB door man guy! It hit the spot.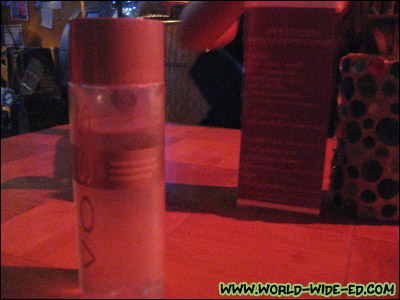 Voss Water
A wonderful close to our wonderful Alaskan vacay.
Mahaloz for sticking through it and reading all 4 parts. If you have any questions or comments about any part of the entire cruise experience, feel free to post them below. Shoots!